Solaray
Horsetail Extract 400 mg
Horsetail is well known for its mineral content, specifically silica, which is concentrated in the shoots of the plant. Solaray® Guaranteed Potency Horsetail provides a consistent level of 10% silica and is extracted from the shoots of the plant.
Horsetail, Equisetum arvense L. [Fam. Equisetaceae], also known as scouring rush, was traditionally used in Europe and is approved by the Commission E as a diuretic to treat post-traumatic and static edema (water retention) and to treat urinary tract problems including gravel. Horsetail also served as a food for many First Nations Peoples and the roots were traditionally given to teething babies. American Indians also used the tea as a diuretic to treat kidney gravel, urinary incontinence and to treat constipation. Horsetail extract is used medicinally to stimulate healing of broken bones, treat connective tissue injuries and to promote healthy eyes, hair, skin and nails. The essential element, silicon, is present in very large amounts in horsetail. Because silica is essential for growth and healing and is a major constituent of bones, cartilage, connective tissue and skin, horsetail is recommended to prevent and treat disorders pertaining to these areas of the body. A developing fetus contains high levels of silica and this element makes up part of the mucopolysaccharides (glycosaminoglycans) that play critical structural roles in bone, cartilage and connective tissues. Horsetail extracts are also well known as anti-aging beauty aids with products often promoted by famous actors and actresses in Hollywood. It is true that with age and declining hormonal activity, levels of silica decline in the arteries and skin. Horsetail extracts also abound in selenium, and because this element and silica help to promote circulation to the scalp, it helps to maintain hair, according to naturopaths. Because of its antibacterial and astringent effects, horsetail tea is also used externally to treat wounds and prevent infections. Horsetail is often recommended to treat bone and joint inflammation and to strengthen bones in osteoporosis. Horsetail has also been traditionally used to treat respiratory catarrh (mucous), respiratory inflammation, bronchitis, cough and tuberculosis.
Directions: Use only as directed. Take one capsule twice daily with a meal or glass of water.
Supplement Facts
Horsetail Extract
Serving Size: 1 capsule
APS
%DV
Horsetail (Equisetum arvense) (aerial extract) (Guaranteed 40 mg [10%] silica)
400 mg
~
Horsetail (Equisetum arvense) (aerial)
100 mg
~
~ = Daily Value not established.
Other Ingredients: Gelatin Capsule, Cellulose and Magnesium Stearate.
Caution Statements: Do not use if safety seal is broken or missing. Store in a cool, dry place. Keep out of reach of children. Keep your licensed health care practitioner informed when using this product.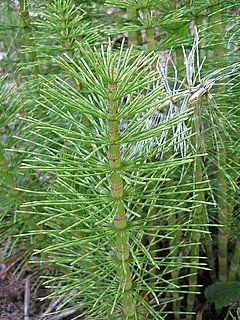 References: Duke, J. 1997: The Green Pharmacy, The Ultimate Compendium of Natural Remedies from the World's Foremost Authority on Healing and Herbs. pp. 36-37; 98; 132-133; 415. Rodale Press.
Foster S, and Duke JA. 1990. Horsetail in Medicinal Plants. Houghton Mifflin Co., New York, NY, p. 304.
Flynn, R. and Roest, M. 1995. Your Guide to Standardized Herbal Products. One World Press, 601 Granada Drive, Prescott, AZ, 86301; Library of Congress: 94-80040; pp. 50-51.
Turner N, and Kuhnlein H. 1991. Traditional plant foods of Canadian indigenous peoples. Nutrition, botany and use. In Food and Nutrition in History and Anthropology Vol. 8. Gordon & Breach Science Publishers, Philadelphia, PA, p. 48.
Wichtl M (ed). 1994. Equiseti herba – Equisetum (English translation by Norman Grainger Bisset). In Herbal Drugs and Phyto-pharmaceuticals. CRC Press, Stuttgart, pp. 188-191.
Compare to these:
Explore More Products