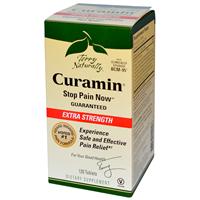 Full price 83.95
Savings 6%
Curamin Extra Strength (120 tablets)
| | |
| --- | --- |
| | |
| | Buy 3 - Get free delivery on whole order |
Stop Pain Now with Curamin Extra Strength. The award winning pain formula is a natural, safe and effective choice for healthy inflammation response and relief from occasional muscle pain due to exercise and overuse. Curamin may be taken daily as a maintenance product for those who suffer from arthritic pain and inflammation.
BCM-95 Curcumin absorbs up to 10 times better than standard curcumin extracts.
BosPure Boswellia is clinically studied for its profound impact on balancing the bodys own natural inflammation response especially the 5-LOX pathway.
DLPA helps maximize the effects of endorphins and enkephalins, supporting the body's own response to pain and promoting a healthy mood.
Nattokinase helps promote blood flow, aiding the other ingredients in Curamin Extra Strength to reach all areas of the body. Plus, it helps balance fibrinogen levels, which can be associated with post-exercise muscle pain and occasional muscle strain.
Experience Safe and Effective Pain Relief
Vegan
Voted #1 in 2012 - Award Winning Pain Formula
Doctors Presciption for Healthy Living Magazine | People's Choice Award Winner
Best Pain Relieving Product
Better Nutrition Magazine | Best of Supplements Awards Winner 5th consecutive year
Pain and Inflammation Category
Wholefoods Magazine | Natural Choice Award Winner
Curamin Extra Strength: More Powerful Dosage for More Relief!
Curamin Extra-Strength versus the regular-formula Curamin
Curamin Extra-Strength provides a higher level of ingredients in a different ratio and a more convenient dosage form. Just one or two tablets per day of Curamin Extra-Strength may be enough to provide the benefits people are looking for to support the bodys natural inflammatory response.
Suggested Use:
1 tablet daily. May take one tablet three times daily, or as needed.
If pregnant or nursing, consult a healthcare practitioner before use.
Supplement Facts
Curamin Extra Strength
Serving Size: 1 tablet
APS
%DV
Proprietary Complex
DLPA (dl Phenylalanine)
Boswellia (Boswellia serrata) Gum Resin Extract (BosPure)
standardized to contain >70% Total Organic
and Boswellic Acids with AKBA >10%
with less than 5% beta-boswellic acids
Curcumin (Curcuma longa) Rhizome Extract (BCM-95%)
standardized for curcuminoid complex
(curcumin, demethoxycurcumin and bisdemethoxycurcumin)
Nattokinase
902 mg
**
** Daily value not established
Other Ingredients:
Cellulose, stearic acid, silicon dioxide, croscarmellose sodium, ethylcellulose (modified cellulose), vegetable source magnesium stearate.
Contains soy (less than 5 parts per million)
Contains no sugar, salt, yeast, wheat, gluten, corn, dairy products, artificial coloring, artificial flavoring, no preservatives.
Due to natural ingredients, color variations are normal.
All ingredients established in human studies for safety and effectiveness. Does not interfere with stomach, liver or kidney function.
Made in the USA
The beneficial health effects of the spice turmeric are primarily due to the presence of active compounds known as curcuminoids. The primary curcuminoid is curcumin, and most turmeric extracts are standardized to curcumin content. The other two most active curcuminoids are demethoxycurcumin and bisdemethoxycurcumin. New research is focusing on the benefits for curcuminoids in boosting immune health, aiding in brain function, promoting cellular health, and reducing post-exercise pain and supporting a healthy inflammation response.
BosPure® and BCM-95® are registered trademarks of Dolcas-Biotech
*Not intended to diagnose or treat diseases or ailments, and is not reviewed by the FDA.
Uses & Indications.
Supporting Balanced Mood
Drug Free Pain Relief
Promoting Healthy Blood Flow
Ailments & Concerns.
Muscle Strain
Arthritis
Joint Pain
Compare to these:
Reviews
Wednesday 20 July, 2016
I suffer from pain from a Knee injury and when I start to feel the pain and stiffness curamin works great. I no longer take over the counter pain relief since I found Curamin. I highly recommend this product.
---
Questions and answers:
Asked on:
February 10, 2013
Question: Is it considered a blood thinner, such as ibuprophen or asprin?
Asked on:
March 28, 2013
Question: I have severe inflammation in both my feet. I began using Curamin as directed March 26, 20013.When will I feel relief?????? Should I increase the dosage to two capsules 3 times daily
A: If you do not find the relief you need with one pill daily, you can take up to 3 pills total daily. Though a specific time frame of when releif should be expected is not stated by the manufacturer most users find relief within a couple of weeks if not sooner. Please note that results will vary from person to person. Curamin ingredients are clinically tested and Curamin is also an award winning supplement.
Asked on:
March 20, 2014
Question: I take so many pills in a day and prefer something for pain that I only have to take once a day. It this formula what I am looking for?
A: This is an extra strength formula which means you can take less tablets and still get the pain and inflammation relief that you are looking for. BCM-95 absorbs 10 times faster than standard curcumin extracts. This formula was voted #1 pain relief formula.
Asked on:
October 7, 2015
Question: I'm hearing alot of talk about using turmeric for pain and inflammation. What is the difference between turmeric and curcumin?
A: Curcumin is a naturally occurring chemical compund found in the spice turmeric. Sometimes these words are mutually used, but the technical difference between the two is that turmeric is the yellowish powder to flavor foods, while curcumin is the chemical contained in the turmeric. Generally, many turmeric products contain less than 5% curcumin the active ingredient. You want to look at labels with at least 90% concentration of curcumanoids, whether the product name is turmeric or curcumin. This concentration allows for the best absorption and most effective health benefits. Terry Naturally Curamin contains 95% curcumin making it one the most effective pain and inflammation products on the market today. With more and more studies showing the positive effects of consuming curcumin/turmeric, many feel these plant based products may revolutionize the Health Care Industry.
Asked on:
December 23, 2015
Question: Is this product good for parkinsons?
A: Curamin is known for it's ability to balance the body's natural inflammatory response. Common symptom of Parkinsons Disease are often stiff and aching muscles brought on by the rigidity of movement. Curcumin is the active ingredient in turmeric and is nueroprotective. Several studies strongly support it's use in the treatment of parkinson's disease. The beneficial effect was thought to be related in part, to it's antioxidant capabilities and it's ability to penetrate the brain. The study also noted that curcumin alleviated the effects of glutathione depletion, mitdochondria dyfunction and cell death, early symptoms of Parkinson's disease, which cause oxidative stress. Beware: Not all turmeric or curcumin products are the same and have the quality of Curamin by Europharma. Europharma provides BCM 95% curcumanoid complex which is 10 times more absorbable than most others on the market today.
Explore More Products