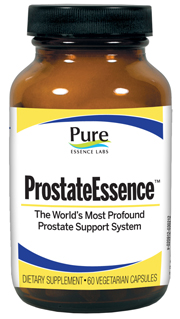 Full price 43.06
Savings 25%
Prostate Essence (60 capsules)*
price

Price is

too low

to show. Add it to your cart

Buy 3 - Get free delivery on whole order
Prostate Essence (60 capsules) Soy Free
The prostate is a walnut sized gland with the shape of a doughnut. The urethra travels through the hole in this doughnut as it carries urine from the kidneys to the bladder. Unfortunately, over 50% of men aged 40 and up experience prostate enlargement, in which inflammation causes the size of the "hole in the doughnut" to shrink. This "chokes" the urethra, and thus limits the amount of urine it can carry. The results of this are weak urine flow, incomplete evacuation during urination, a more frequent need to urinate and waking in the night from an urgency to urinate.
Many drugs can help overcome prostate enlargement. However, these drugs have side effects, including decreased libido and erectile dysfunction. Wishing to avoid these side effects, many men seek more natural prostate support.
For many years, men in the United States and Europe have relied on Saw Palmetto, Pygeum and Nettles for natural prostate support. However, when subjected to clinical studies, these herbs have not performed particularly well. Interestingly, they all contain tiny amounts of a constituent called "Beta-sitosterol".
Doses of 300 mg of Beta-sitosterol per day have produced outstanding results in clinical studies. So much so, in fact, that physicians in Europe routinely prescribe instead of synthetic drugs. Studies documenting its prostate support have been listed the Lancet, The British Journal of Urology and the Cochrane Reviews (all major, peer reviewed medical journals.)
Interestingly, the herbs mentioned above all contain Beta-sitosterol, but only in trace amounts. To get the dose studies found effective, you'd have to use from 250 to 300 of the finest saw palmetto capsules every day.
Fortunately, Beta-sitosterol can be isolated, at very reasonable prices, from pine bark, sugar beets and soybeans. ProstateEssence™ provides 300 mg in each daily dose from the pine bark source. We use that source to insure against GMO's or soy proteins to which Americans are commonly allergic. But, that's just the start.
ProstateEssence™ also provides Vitamin D, which is known to be extremely supportive in prostate health. It provides selenium and a host of other trace minerals, all of which are vital to prostate function, and a blend of herbs that address prostate issues from the holistic perspective.
From the Western medical viewpoint, prostate enlargement stems from testosterone being converted to DHT (dihydrotestosterone) by an enzyme called 5-alpha-reductase. Beta-sitosterol blocks this enzyme, so that less testosterone is converted. DHT not only triggers prostate enlargement, but also contributes to male pattern baldness, the spare tire effect, and lack of libido.
In holistic medical systems, prostate enlargement is thought to result from weak, stagnant blood, and from weaknesses and imbalances in the Kidney and Spleen Systems. It is possible that the DHT conversion causes this blood stagnation (or vice versa). Either way, these issues should be addressed. To do so, ProstateEssence™ adds an exquisite blend of herbs to support strong, vital blood, and to address the weaknesses in the Kidney and Spleen Systems.
All these factors combined make ProstateEssence™ the most complete, most effective natural prostate support system you'll find. That's why we guarantee it will outperform any other you've ever used.
Directions: Take two capsules per day with meals.
Supplement Facts
ProstateEssence
Serving Size: 2 capsules
APS
%DV
Phytosterol Complex (yielding 70-75% beta sitosterol)
417 mg
*
Proprietary Herbal Blend Astragalus Root (12:1), Myrhh Gum (12:1), Red Peony Root (12:1), Coix Seed (12:1), Poria Cocos (12:1), Vaccaria seed (12:1), Phellodendron bark (12:1), Mastic gum (12:1)
300 mg
*
Vitamin D3 (Vegan)
25 mcg
*
Zinc
15 mg
*
Copper
1 mg
*
Manganese
1 mg
*
Chromium
75 mcg
*
Selenium
75 mcg
*
Molybdenum
75 mcg
*
Boron
500 mcg
*
Vanadium
5 mcg
*
*
Other Ingredients:
l-leucine, cellulose, silicon dioxide, vegetable capsule.
*Daily Value Not Established. Percent of daily value based on a 2000 calorie diet.
*Not intended to diagnose or treat diseases or ailments, and is not reviewed by the FDA.
Uses & Indications.
Improving Urine Flow
Reducing Inflammation
Supporting Prostate Health
Ailments & Concerns.
BPH
High PSA
Frequent Urination
Prostate Enlargement
Compare to these:
---
Questions and answers:
Asked on:
March 23, 2013
Question: why silicon dioxide?
A: Silicon dioxide is minimally used in a variety of supplements as an anti-caking agent.
Asked on:
March 26, 2013
Question: how do i get the product?
A: You can order this supplement online directly from Seacoast.com. We ship both domestically and internationally. If you need additional assistance placing an order, please contact us at 1+) 702-508-9054 or locally at 800-555-6792 during our business hours of 9am-6pm EST Monday-Friday.
Asked on:
December 22, 2018
Question: What color are they. What do they look like
Explore More Products