CuraMed
30 softgels
CuraMed is produced with a unique and patented process that delivers a curcumin which is 8X more bioavailable than curcumin 95% and 7X more bioavailable than curcumin combined with piperine. Each capsule is equivalent to 4,000mg of curcumin 95% or 85,000mg of tumeric. Two to three capsules daily would equal the quantity used in the clinical studies. Because of its powerful antioxidant benefits combined with its anti-inflammatory action it is truly the most powerful solution to support the entire metabolic function. This proprietary complex provides enhanced bioavailability and sustained retention time in the body, using patent-pending technology
Recommendations: 1 softgel daily, up to 2 softgels daily may be taken.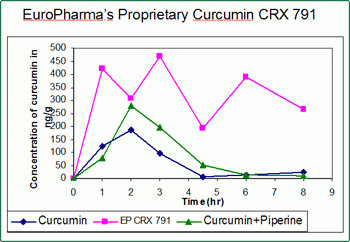 Supplement Facts
Serving Size: 1 Softgel
Ingredient / Amount per Serving / Daily Value
CuraMed Proprietary Complex 750 mg **
Curcumin CRX 791 Micronized (Curcuma longa) Rhizome Extract, phospholipids, turmeric essential oils.
**Daily Value Not Established.
Other Ingredients: Medium chain tryglycerides, gelatin, glycerin, high phosphatidylcholine, lecithin, purified water, yellow beeswax. Contains Soy.
Natural Health Support of Anti-Inflammatory Action and Antioxidant Activity
Compare to these:
Reviews
Sunday 08 January, 2012
It certainly seems to have help in my lossing weight. I plan on using it as I continue my quest to lose weight.
---
Questions and answers:
Asked on:
January 14, 2013
Question: treatment for what diseaze
Explore More Products