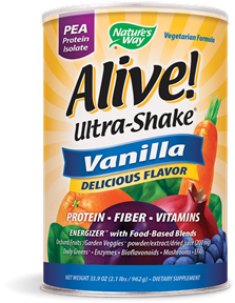 Full price 40.99
Savings 17%
Alive! Pea Protein Shake Vanilla ( 2.1 lbs )
| | |
| --- | --- |
| | Buy 3 - Get free delivery on whole order |
Alive! Ultra-Shake is the ultimate nutritional energy source. Its also a comprehensive, whole food multi-vitamin with the added benefit of rice and pea protein. Each serving contains more invigorating nutrients from more natural sources than any other supplement.Delicious powdered shake mix version of the Alive! mega nutrient formula found in tablets and capsules benefits:
Complete protein with 18 amino acids
Vegetarian, non-dairy alternative to whey and soy protein
Better digested with less allergen potential than whey or soy protein
Naturally filling to lessen appetite
More fiber and less carbs than other whole food energy shakes
Easy to mix, no blender required; Just add water, juice or milk
Quickly absorbed
Once daily potency
Alive!® supplements are the ultimate Whole Food Energizers with more invigorating nutrients from more natural sources than any other product.
24 Vitamins & Minerals
26 Fruits & Veggies
14 Green Foods
18 Amino Acids
12 Digestive Enzymes
10 Essential Fatty Acids
12 Organic Mushrooms
#1 Mega Nutrient. Alive! represents the new thinking in supplements for daily health and energy, with a greater diversity of specially balanced nutrients from three important areas:
daily essentials
botanical energizers
system defenders including antioxidants
Suggested use: As a dietary supplement, add 1 heaping scoop to 8 fluid ounces of cold water, milk or juice (scoop included). Shake or stir until smooth. Mixes instantly, no blender required. Intended to be taken once daily. If pregnant, nursing, have high blood pressure, or taking any medications consult a healthcare professional before use.
Serving Size: 1 Scoop (37 g) Powder Mix
Amount/Serving
%DV
Calories
110
Total Fat
0.5 g
<1%†
Total Carbohydrate
15 g
5%†
Dietary Fiber
3 g
12%†
Sugars
8 g
**
Protein
14 g
28%†
Vitamin A (67% [10,000 IU] as beta carotene, 33% [5,000 IU] as retinyl acetate)
15,000 IU
300%
Vitamin C (ascorbic acid)
1 g
1667%
Vitamin D (as ergocalciferol)
1,000 IU
250%
Vitamin E (as d-alpha tocopheryl succinate)
200 IU
667%
Vitamin K (as phytonadione)
80 mcg
100%
Thiamin
(as thiamine mononitrate)
25 mg
1667%
Riboflavin (Vitamin B2)
25 mg
1471%
Niacin (as niacinamide)
125 mg
625%
Vitamin B6 (as pyridoxine HCl/pyridoxal 5-phosphate)
50 mg
2500%
Folic Acid
400 mcg
100%
Vitamin B12 (as cyanocobalamin)
200 mcg
3333%
Biotin
325 mcg
108%
Pantothenic Acid (as d-calcium pantothenate)
125 mg
1250%
Calcium (as carbonate/citrate)
250 mg
25%
Iron (from pea protein)
3 mg
17%
Iodine (as potassium iodide)
150 mcg
100%
Magnesium (as oxide/citrate)
125 mg
31%
Zinc (as amino acid chelate)
15 mg
100%
Selenium (as L-selenomethionine)
200 mcg
286%
Copper (as amino acid chelate)
2 mg
100%
Manganese (as amino acid chelate)
5 mg
250%
Molybdenum (as sodium molybdate)
75 mcg
100%
Sodium
205 mg
9%
Potassium (amino acid complex)
50 mg
1%
Pea Protein Isolate providing Amino Acids
Glutamic Acid, Aspartic Acid, Arginine, Leucine, Lysine, Phenylalanine, Serine, Valine, Isoleucine, Proline, Alanine, Glycine, Threonine, Tyrosine, Histidine, Methionine, Cysteine, Tryptophan
14 g
**
Multi-Fiber Blend: Oat Fiber, Chicory Root Extract, Xanthan Gum
3.5 g
**
Daily Greens™ Blend providing Amino Acids
Spirulina, Alfalfa (leaf, stem), Kelp, Barley Grass, Dandelion (leaf), Lemon Balm (leaf), Wheat Grass, Lemon Grass, Nettle (leaf), Blessed Thistle (stem, leaf, flower), Chlorella, Plantain (leaf), Blue Green Algae (Aphanizomenon flos-aquae), Cilantro (leaf)
550 mg
**
Citrus Bioflavonoid Complex
(from lemon, tangerine, bitter orange, grapefruit) providing: Hesperidin, Eriocitrin, Naringin, Narirutin, Flavones and Flavonols
100 mg
**
Digestive Enzyme Blend
Concentrated enzyme formula (Protease I, Protease II, Amylase, Lactase, Peptidase, Cellulase, Invertase, Alpha Galactosidase, Lipase), Betaine HCl, Bromelain, Papain
100 mg
**
Garden Veggies™ Powder Blend:
Parsley; Kale; Spinach; Wheat Grass; Brussels Sprout; Asparagus; Broccoli; Cauliflower; Beet; Carrot; Cabbage; Garlic
100 mg
**
Orchard Fruits™ Blend: Pomegranate (seed); Acai (whole palm fruit) Extract; Powders: Grape Juice; Plum; Cranberry; Blueberry; Strawberry; Blackberry; Bilberry; Cherry; Apricot; Papaya; Orange; Pineapple
100 mg
**
Omega 3/6/9 Fatty Acid Seed Blend
Flax Seed Powder, Sunflower Seed Powder
100 mg
**
Organic Mushroom Mycelium Defense Blend
Reishi (Ganoderma lucidum), Shiitake (Lentinula edodes), Oyster Hiratake (Pleurotus ostreatus), Maitake (Grifola frondosa), Yamabushitake (Hericium erinaceus), Agarikon (Fomitopsis officinalis), Chaga (Inonotus obliquus), Himematsutake (Agaricus brasiliensis/blazei), Kawaratake (Trametes versicolor), Mesima (Phellinus linteus), Zhu Ling (Grifola umbellata), Enokitake (Flammulina velutipes)
100 mg
**
Inositol
50 mg
**
Siberian Eleuthero (Eleutherococcus senticosus) (root)
50 mg
**
Choline (as choline bitartrate)
30 mg
**
Rutin (Sophora japonica) flower bud extract
25 mg
**
Lutein (from Aztec marigold)
200 mcg
**
Other ingredients: crystalline fructose, natural vanilla flavor with other natural flavors, caramel flavor, luo han guo extract
Contains wheat.
Contains NO: Artificial Coloring, Preservatives or Soy
*Not intended to diagnose or treat diseases or ailments, and is not reviewed by the FDA.
Uses & Indications.
Vegetarian Formula
Whole Food Energizer
Non-GMO
Ailments & Concerns.
Low Energy Levels
Low Carb Diet
Vitamin Deficiency
Compare to these:
---
Questions and answers:
Asked on:
December 1, 2012
Question: Is this gluten free?
Asked on:
March 19, 2013
Question: can thia product be a meal replacement? for weight loss?
A: This is nutritional supplement that provides extra energy and nutrition in the form of fruits and vegetable, vitamin minerals, digestive enzymes, and more. Though this product is not considered a meal replacement you can see by the label and ingredients that this mix is packed with nutrition.
Asked on:
June 22, 2013
Question: Is this safe to drink during breast feeding?
A: Women who are pregnant or likely to become pregnant should not exceed recommended dosage. Exceeding the recommended dose will result in ingestion of more than 10,000 IU of Vitamin A from retinol, which in high amounts is known to cause birth defects. Do not take with sulfonamide since PABA interferes with the activity of this drug.
Explore More Products