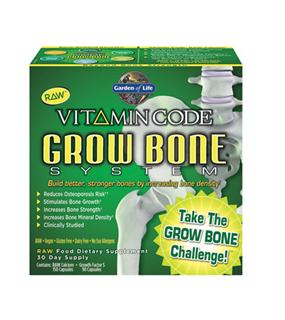 Full price 61.99
Savings 18%
Vitamin Code | Grow Bone System (1 Kit)*
price

Price is

too low

to show. Add it to your cart

Buy 3 - Get free delivery on whole order
Feed your body with Vitamin Code RAW Calcium and Growth Factor S, two comprehensive, bone-building formulas with RAW Food-Created Nutrients, individually created through dual-organism cultivation which allows for the natural creation of Code Factors.
Vitamin Code RAW Calcium
The First RAW Whole Food Calcium Formula
1,600IU Vitamin D3, RAW MK-7, Magnesium, Boron
With AlgaeCal RAW — the first raw, organic, whole food, plant source Calcium
No Limestone Rock, Chalk or Animal Bone Sourced Calcium
Vitamin Code Growth Factor S
680mg of Strontium – A Critical Bone-Building Trace Mineral
Live Probiotics and Enzymes
BioActive Ingredients – No Binders or Fillers
Benefits:
Clinically studied to grow bone
Increase bone mineral density
Reduce the risk of osteoporosis
Grow Bone System Suggested Use: Adults take 5 capsules of RAW Calcium™ daily . For best results take 3 capsules with breakfast and 2 capsules with lunch. Take 3 capsules of Growth Factor S in the evening on an empty stomach. These two products are not meant to be taken at the same time of day. Capsules may be opened and contents added to water or juice.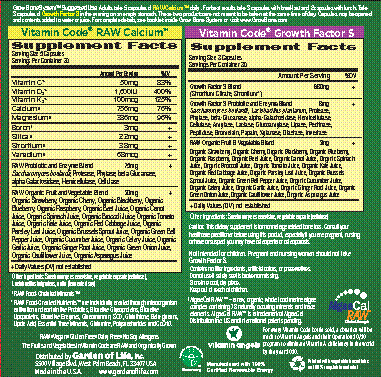 1)Other ingredients: brewer's yeast, (Saccharomyces cerevisiae), vegetable capsule (cellulose), Lactobacillus bulgaricus, natto (fermented soy) 2)Other ingredients: brewer's yeast, (Saccharomyces cerevisiae), vegetable capsule (cellulose)
Compare to these:
---
Questions and answers:
Asked on:
March 2, 2013
Question: i am 23 years old and my height only 5 feet. can you tell me that it is effected or not
A: This product does indicate that the ingredients in tihs product, among many things, can stimulate bone growth, however I am unable to confirm if you will be effected or not as results do vary from person to person. Your physician. would be the best person to ask.
Asked on:
March 14, 2013
Question: I understand you take the growth factor (which contains the vegetablejuice products) in evening on empty stomach. How close to bedtime? Would it cause stomach distress? Can a person with IBS take it? Does it create gas? One review says it helps you sleep. If so, what is in it that helps you sleep? Very interested in this product to replace Bone-Up. I already take Juice Plus. Is this similar?
A: The time of the evening you take growth factor S is not indicated so any time in the evening should be fine. The reasoning the calcium pills are taken earlier in the day and the growth factor is taken at night is because of the strontium in the growth factor S. Strontium and calcium should not be taken at or around the same time because they compete with the body for absorption. As far as sleepiness, IBS, stomach distress, or gas, I do not see any warnings on this on the packaging however if you are concerned about this, please consult with your physician. Unfortunately we do not carry Juice Plus so I cannot comment on any similarities of the 2 supplements, however grown bown is made with all natural and raw ingredients and is clinically studied.
Asked on:
July 2, 2013
Question: Can this help me to reverse the affects of bone loss around my teeth? What else can I take to control inflamed red gums?
Asked on:
October 22, 2013
Question: Does this product effect level of blood sugar? And do not you think taking 5 capsules of raw calcium 3 capsules of growth factors,is too much?pls advise.
A: There is no direct warnings on this product that blood sugar is effected however it is advised that one consults with their healthcare practitioner before using this product, especially if you are pregnant, nursing, anticipate surgery, take medication on a regular basis, have or suspect you may have osteopenia or osteoporosis or other medical conditions. Though Vitamin code is a respectable company you physician may be best advised to inform you on the amount of dietary supplements is good and acceptable for you. Children, pregnant or nursing women should not take Growth Factor S.
Asked on:
June 24, 2013
Question: the only question i have is where can i get it to buy in Edo state, Nigeria and how much will it cost me?
A: We are not aware of the local availability of Vitamin Code Grow Bone System however you can purchase it online directly from Seacoast as we do ship to Nigeria. The cost of this supplement is $39.62.
Explore More Products