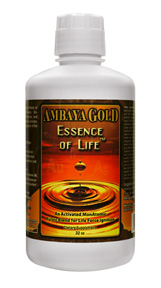 Full price 59.95
Savings 10%
Essence of Life (1 quart)*
| | |
| --- | --- |
| | Sorry! This item has been discontinued. See below. |
Ambaya Gold
Essence of Life
Essence of Life is Ambaya Gold's flagship formula. It can greatly contribute to Renewing, Rejuvenating, and Revitalizing your entire system.
Essence of Life has the potential to help you reach the next level, whatever your present overall health situation may be today. If you feel run down, it can help to re-energize and re-align all your body systems. If you're already enjoying good health, Essence of Life can help you experience even greater mental and physical reserve and stamina.
Essence of Life is designed to achieve balance and homeostasis in the body by restoring certain commonly deficient minerals, nutrients, and elements. Many of our clients report that in addition to feeling physically better, they consistently feel calm, centered, and focused.
Essence of Life contains a proprietary blend of Super-Conductive Monatomic elements, Platinum Transition Group Metals, Himalayan Primordial Crystals, the finest primordial kelp, key B vitamins, with 131 micronutrients including ionic minerals and amino acids in a proprietary high-spin fulvic base.
Most importantly, to maximize the absorption and conductivity of the formula, Essence of Life uses our proprietary ORME Engine Technology.
Benefits may include:
Increased energy, reduced fatigue
Greater clarity and focus
Enhanced Immune System Function
Cells Deeply Nourished and Hydrated
Promotion of Cellular Regeneration and Communication
Healthy DNA & RNA Support
Increased Electrolytes
Essential minerals, vitamins, and amino acids replenished
Suggested Use: Take 1 tablespoon in the morning, and 1 tablespoon in the afternoon or more as needed. Shake well before using. Refrigerate after opening.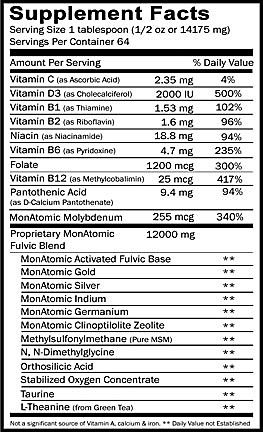 Compare to these:
Reviews
Friday 15 April, 2011
absolutely amazing stuff. i feel strengthened from deep deep inside. it's as if my very core has been revitalized.
---
Questions and answers:
Asked on: November 20, 2012
Question: Plz tell me .this product,s any sideffect

Asked on: June 26, 2013
Question: hi i hv bin using injection nilstrate to preveny for more dan 3yrs nw i stoped it n i hv nt seen my periods for almost 4months nw n um 22yrs old n i want a baby so can essence of life help me see my period n fall pregnant plzzzz help

Asked on: July 13, 2013
Question: Is it safe 2 drink wen u pregnent

Asked on:
July 13, 2013
Question: Is it safe 2 drink it during pregnency
A: I do not see any warnings against taking Essence of life if you are pregnant or nursing however it is always a good idea to run new supplements you are planning to take with your physician.
Explore More Products