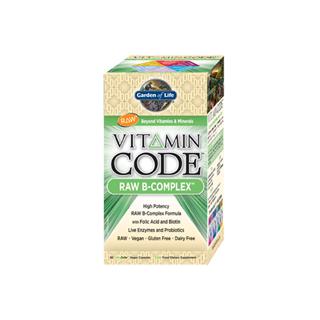 Full price 21.99
Savings 12%
Vitamin Code - Vitamin B Complex (60 Capsules)*
price

Price is

too low

to show. Add it to your cart

Buy 3 - Get free delivery on whole order
Garden of Life
Vitamin Code - Vitamin B Complex (60 Capsules)
The B group of vitamins is an eight-member family of water soluble vitamins which means they are not easily stored in the body and need to be replenished frequently. Their functions are so interrelated that it is suggested they be taken together so they can work harmoniously and perform at their peak levels. Cellular energy production is the most important function of the B complex vitamins and they are known as the catalytic spark plugs of our body. Providing mental and physical energy, supporting healthy blood, a healthy heart, immune system function and a healthy response to stress, the B complex vitamins are essential nutrients for the body.
Why Vitamin Code® RAW B-Complex?
Garden of Life's RAW B-Complex is a comprehensive, whole-food, multi-nutrient formula made with RAW Food-Created Nutrients for targeted delivery of vitamins B1, B2, B3, B5, B6, B12, folic acid and Biotin, as well as choline, PABA and inositol. Cultivated with their unique Code Factors™ intact, the RAW Food-Created Nutrients in Vitamin Code formulas enable natural recognition of nutrients by your body, just as nature intended. Code Factors are the known and yet to be discovered synergistic compounds found in food and are necessary for proper nutrient delivery. Providing these Code Factors infuses the essential elements of whole-foods that the body thrives upon. Vitamin Code RAW B-Complex is RAW, gluten-free, dairy-free and contains no binders or fillers. Taking this RAW B-Complex formula to the next level, Vitamin Code RAW B-Complex also provides a RAW probiotic and enzyme blend along with a RAW organic fruit and vegetable blend for additional nutritional support.
Deficiency in one or more vitamins in this group can occur easily and individuals who may benefit from Vitamin Code RAW B-Complex include those who are:
Strict vegetarians
Stressed: emotionally or physically
Losing weight or fasting
Following diets that include refined and processed foods or sugars
Eating cooked foods as opposed to consuming raw, uncooked foods
Taking various prescription medications
Exposed to environmental toxins
To further enhance the benefits of Vitamin Code™ RAW B-Complex™, Garden of Life understands the importance of adding the vital nutrients, Biotin and Folic Acid to deliver maximum performance. Often recommended for healthy hair and nails, Biotin, as well as folic acid is used by the body to break down and synthesize amino and nucleic acids which are needed to build new cells, particularly red blood cells. Folic acid or folate is known to support a healthy heart when taken in conjunction with vitamins B6 and B12, and to support already normal homocysteine levels.
Vitamin Code® RAW B-Complex Nature-Intended Benefits:
Healthy Heart and Blood
Immune Support
Metabolism
Mental and Physical Energy
Stress Response
Adults take 2 capsules daily. May be taken with or without food. Not intended for children. Capsules may be opened and mixed with water or raw juicesSupplement Facts
Serving Size: 2 Capsules
Servings Per Container: 60
Amount Per Serving
Thiamin* (Vitamin B1)5 mg
Riboflavin*(Vitamin B2)10 mg
Niacin* (as Niacinamide)45 mg
Vitamin B6*10 mg
Folate*450 mcg
Vitamin B12*133 mcg
Biotin*325 mcg
Pantothenic Acid*45 mg
Inositol*26 mg
Choline*26 mg
PABA*5 mg
RAW Probiotic & Enzyme Blend
Saccharomyces boulardii, Protease, Phytase, beta-Glucanase, alpha-Glucanase, alpha-Galactosidase, Hemicellulase, Cellulase100 mg
RAW Organic Fruit & Vegetable Blend
Organic Strawberry (fruit), Organic Cherry (fruit), Organic Blackberry (fruit), Organic Blueberry (fruit), Organic Raspberry (fruit), Organic Beet Juice (root), Organic Carrot Juice (root), Organic Spinach Juice (leaf), Organic Broccoli Juice (flower & stem), Organic Tomato Juice (fruit), Organic Kale Juice (leaf), Organic Red Cabbage Juice (leaf), Organic Parsley Juice (leaf), Organic Brussels Sprout Juice (leaf), Organic Green Bell Pepper Juice (fruit), Organic Cucumber Juice (gourd), Organic Celery Juice (stalk), Organic Garlic Juice (bulb), Organic Ginger Juice (root), Organic Green Onion Juice (root), Organic Cauliflower Juice (flower & stem), Organic Asparagus Juice (flower & stem)20 mg
* RAW Food-Created Nutrients are individually created through dual organism cultivation which typically allows for the natural creation of known and yet to be discovered Code Factors such as Live Probiotics, Bioactive Glycoproteins, Bioactive Lipoproteins, Bioactive Enzymes, Glucomannan, SOD, Glutathione, Beta-glucans, Lipoic Acid, Essential Trace Minerals, Glutamine, Polysaccharides and CoQ10.
.
Compare to these:
---
Questions and answers:
Asked on: December 1, 2012
Question: is it available in chennai, tamil nadu

Asked on: December 4, 2012
Question: are they for eye

Asked on: December 13, 2012
Question: 'm 31 years oid can i take this tablets

Asked on: January 23, 2013
Question: Does it contain cyanocobalamin?

Asked on:
March 28, 2013
Question: do they use methylcobalamin
A: The B12 is a whole food form of cobalamin. The vitamins and minerals included in Vitamin Code formulas are delivered in a whole food form as RAW Food-Created Nutrients. The vitamins and minerals are produced through a fermentation process prior to going through Grows process as described below. The vitamins are grown via our proprietary dual cultivation process using yeast and probiotics. This process utilizes a single isolated vitamin or mineral that is fed to the yeast or probiotic. A specific peptide designed for that particular nutrient is then introduced in order to allow the nutrient to be metabolized (or absorbed) through the yeast's cell wall. This process mimics nature, just like when a plant takes an inorganic mineral salt that is naturally occurring in the soil (selenium for example), and absorbs it into its roots, the plant becomes rich in selenium. This process is conducted with two distinct organisms – S. cerevisiae (baker's yeast) and L. bulgaricus (probiotic culture used in traditional yogurt recipes which is non-dairy). RAW Food-Created Nutrients™ are delivered "body ready".
Explore More Products