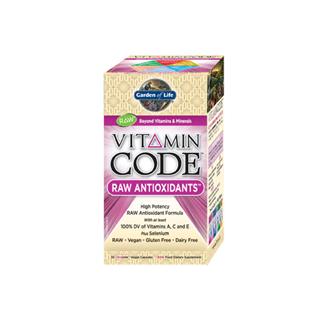 Full price 22.99
Savings 18%
Vitamin Code - Antioxidant (30 Capsules)*
price

Price is

too low

to show. Add it to your cart

Buy 3 - Get free delivery on whole order
Garden of Life
Vitamin Code - Antioxidant (30 Capsules)
Garden of Life's RAW Antioxidants is a comprehensive, whole-food, multi-nutrient formula made with RAW Food-Created Nutrients for targeted delivery of vitamin A complex, vitamin C, vitamin E complex and selenium along with a RAW antioxidant blend containing RAW glutathione and RAW Superoxide Dismutase. Individually cultivated with their unique Code Factors intact, the RAW Food-Created Nutrients in Vitamin Code formulas enable natural recognition of nutrients by your body, just as nature intended. Code Factors are the known and yet to be discovered synergistic compounds found in food and are necessary for proper nutrient delivery. Providing these Code Factors infuses the essential elements of whole-foods that the body thrives upon. Supporting heart, skin, eye, prostate and breast health, Vitamin Code RAW Antioxidants also provides memory, concentration and immune system support.
Free radicals – if they're free why do we want to get rid of them? Free radicals are unstable, destructive molecules that can cause cellular oxidation. The body is subjected to free radicals every day through normal processes that take place within the body, as well as, exposure to pollutants. Due to their determination to disrupt cell life in your body, free radicals may weaken the immune system. Antioxidants are necessary to ward off and help inhibit oxidative stress in the body.
Vitamin Code RAW Antioxidants is RAW, gluten-free, dairy-free and contains no binders or fillers. Taking this RAW antioxidant formula to the next level, Vitamin Code RAW Antioxidants also provides a RAW probiotic and enzyme blend along with a RAW organic fruit and vegetable blend for additional nutritional support. Working best when taken together, the antioxidants in Vitamin Code RAW Antioxidants were carefully selected to provide a powerful opponent to oxidative stress.
Needed to promote eye health, Vitamin A in conjunction with vitamin E and selenium, also provides immune system support.
Integral to fighting oxidative stress, vitamin C helps build and maintain collagen which holds the body's blood vessels in place, supporting a healthy heart. While vitamin C is well known for maintaining a healthy immune system, it is also vital for healthy eyes, skin, bones, teeth and gums, wound healing, energy production and growth.
Vitamin E acts much like a "big brother" to vitamins A and C and other important substances in the body. It supports breast and heart health and along with vitamin C, helps maintain normal blood pressure levels.
Selenium, an essential trace mineral known for its antioxidant properties, supports normal growth and development and a healthy immune system.
Vitamin Code RAW Antioxidants Nature-Intended Benefits:
Healthy Heart
Immune Support
Healthy Skin & Eyes
Breast & Prostate Health
Memory & Concentration
Adults take 1 capsule daily. May be taken with or without food. Not intended for children. Capsules may be opened and mixed with water or raw juices.
Compare to these:
Explore More Products