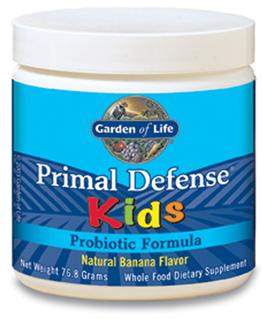 Full price 34.99
Savings 16%
Primal Defense Kids Probiotic (76.8g Powder)
| | |
| --- | --- |
| | Buy 3 - Get free delivery on whole order |
Garden of Life
Primal Defense Kids (76.8g Powder) 2 Month Supply | 60 Servings
Dysbiosis is an imbalance of microflora in the gut, often caused by a diet high in processed and refined foods as well as lack of beneficial microorganisms in the diet. Any child who consumes such a diet can benefit from Primal Defense Kids.
Digestive health is critical to the overall health of your child, especially healthy immune system function. Primal Defense Kids can help support the health and vitality of your child's immune and digestive system. Probiotics are living microflora that play a critical role in maintaining good health by supporting normal bowel function and a healthy immune system. Probiotics maximize the benefits of a healthy diet by supporting normal absorption and assimilation of nutrients in the gut.
Certain probiotic blends help support normal gastrointestinal balance of good and potentially harmful bacteria. Primal Defense Kids can be used effectively and safely by children aged three years and older. Your #1 priority is the health of your child. Don't settle for less than Primal Defense Kids from Garden of Life.
Primal Defense® Kids contains a 4 billion** live cell count of four species of beneficial probiotic cultures.
It contains a unique Bifidobacterium blend with the probiotic Saccharomyces boulardii, that supports healthy intestinal epithelium lining integrity, the front line for the body's defense system.
Three species of Bifidobacteria: Bifidobacterium breve, Bifidobacterium infantis and Bifidobacterium longum, are all found in a healthy child's digestive tract and have all been clinically studied in children, as has Saccharomyces boulardii.
Primal Defense Kids is made with organic banana so your child will actually enjoy taking it.
Suggested Use: For kids 3 years and older, add ¼ of a teaspoon to food or beverage once daily. May increase to ½ teaspoon if desired.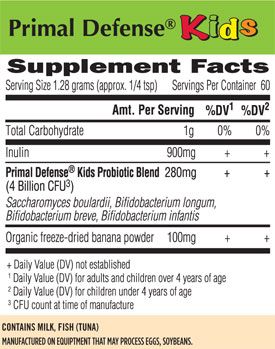 *Not intended to diagnose or treat diseases or ailments, and is not reviewed by the FDA.
Uses & Indications.
Boosting Immune Function
Regulating Bowel Movements
Ailments & Concerns.
Bloating
Digestive Disorders
Gas
Constipation
Compare to these:
---
Questions and answers:
Asked on:
January 13, 2013
Question: efbbbfI drop a comment wveenher I especially enjoy a post on a blog or I have something to valuable to contribute to the conversation. Usually it's triggered by the sincerness communicated in the post I browsed. And after this post this blog name. I was excited enough to post a comment I actually do have 2 questions for you if you don't mind. Is it only me or do some of these comments appear like coming from brain dead visitors? And, if you are writing on other online social sites, I'd like to keep up with you. Would you make a list every one of all your community pages like your linkedin profile, Facebook page or twitter feed?
Asked on:
January 16, 2013
Question: that, and she would have been more understanding .The odor is a vanagil odor. However when I discharge, my discharge doesn't have much of an odor to it. Another strange characteristic of the odor is it kind of stays in the air. Sometimes I will leave my room or whatever room I'm in and come back, and I'll notice that the room I was in just minutes ago smells. The only time I get a break from the odor is when I take a probiotic like Fem-Dophilus or RepHresh Pro-B. The odor gets worse when I'm menstruating. When I'm menstruating the odor gets more metallic, I don't use tampons because tampons tend to make the odor smell more fishy and intensifies it. The odor varies from time to time. The odors smells are like :a wet dog , stinky feet , musty , like butt or feces , and sweaty. Keep in mind this is just a vanagil odor, not a body odor.The dietary changes I've made helps a lot. Eating anything with caffeine and sugar really makes it worse.Now I'm wondering if I have TMAU or is it something else like a really bad bacterial imbalance.I'd really appreciate any advice or recommendations from anyone. Like what I should do, what kind of doctor should I see, could I possibly have TMAU ?I'm sure I do have a heightened sense of smell now because I'm so paranoid about the way I smell. But, other than that the situation still is the same regardless of whether I have a heightened sense of smell or not.
Explore More Products