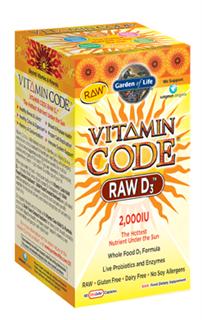 Full price 21.99
Savings 9%
RAW D3 (60 Capsules) Vitamin Code*
price

Price is

too low

to show. Add it to your cart

Buy 3 - Get free delivery on whole order
RAW D3 (60 Capsules) | Vitamin Code
Vitamin Code RAW Vitamin D3 is different from any other vitamin D nutritional supplement available today. In following with the Vitamin Code philosophy, RAW Vitamin D3 is a whole food vitamin D complex that is gluten- and dairy-free with no soy allergens, binders or fillers, and contains live probiotics and enzymes. More importantly, Vitamin Code RAW D3 is a raw source of vitamin D3.
As vitamin D deficiency has become more prevalent, the attention and focus paid to vitamin D have increased, and for good reason. Most people familiar with vitamin D understand that this nutrient is essential to skeletal system health. Along with calcium, vitamin D is considered vital for maintaining healthy bones. Vitamin D actually regulates the use of calcium in the body by dramatically increasing its absorption and utilization.
Much of the interest in vitamin D stems from the fact that it's found throughout the body in over 600 receptor sites including the brain and the heart. Due to the fact that vitamin D receptors are so prevalent in the body, research has increased on vitamin D, and seemingly everyday new studies tout the health benefits of vitamin D consumption.
Recent studies have also shown that vitamin D supports immune health by helping to regulate the immune system. The brain is home to dozens of vitamin D receptor sites, and vitamin D has been shown to enhance memory and concentration. Vitamin D supports healthy digestion, again since receptor sites are found from the mouth all the way through the intestines. Healthy vitamin D levels support two increasing areas of concern—breast health for women and prostate health for men.
Why Choose Vitamin Code RAW D3?
Vitamin Code RAW D3 is the only RAW, vegetarian, whole food vitamin D3 formulated with RAW Food-Created Nutrients. Cultivated with live probiotics, antioxidants, enzymes and nutrient-specific peptides, RAW Food-Created Nutrients provide targeted delivery and natural recognition of nutrients by your body to support:
Benefits:
Healthy Colon & Digestion
Memory & Concentration
Breast & Prostate Health
Proper Cell Replication
Immune System
RAW D3 (60 Capsules) | Vitamin Code
Serving Size: 1 Capsule
APS
%DV
Vitamin D3
2000 IU
500%
Raw Food- Probiotic and Enzymes Blend: Chlorella, Saccharomyces boulardii, Phytase, Cellulase, beta-Glucanase, protease, alpha-Galactosidase, Hemicellulase
285 mg
*
Raw Organic Fruit and Vegetable Blend: Organic Strawberry, Organic Cherry, Organic Blackberry, Organic Blueberry, Organic Raspberry, Organic Beet Juice, Organic Carrot Juice, Organic Spinach Juice, Organic Broccoli Juice, Organic Tomato Juice, Organic Kale Juice, Organic Red Cabbage Juice, Organic Parsley Leaf Juice, Organic Brussels Sprout Juice, Organic Green Bell Pepper Juice, Organic Cucumber Juice, Organic Celery Juice, Organic Garlic Juice, Organic Ginger Root Juice, Organic Green Onion Juice, Organic Cauliflower Juice, Organic Asparagus Juice
150 mg
*
APS = Amount Per Serving
*% Daily Value (%DV) not established.
Other Ingredients: Saccharomyces cerevisiae, Lactobacillus bulgaricus, vegetable capsule (cellulose).
Raw, gluten free, dairy free, no soy allergens, live probiotics & enzymes, no binders or fillers.
Contains: no filler ingredients, artificial colors or preservatives.
Raw, gluten free, dairy free, no soy allergens, live probiotics & enzymes, no binders or fillers.
Raw Food-Created Nutrients are individually created through dual-organism cultivation and contain live Probiotics, Bioactive Glycoproteins, Bioactive Lipoproteins, Bioactive Enzymes, Glucomannan, SOD, Glutathione, Beta -glucans, Lipoic Acid, Essential Trace Minerals, Glutamine, Polysaccharides and CoQ10.
*Not intended to diagnose or treat diseases or ailments, and is not reviewed by the FDA.
Uses & Indications.
Increasing Energy
Enhancing Metabolism
Enhancing Immune Function
Increasing Red Blood Cells
Improving Digestion
Increasing Stamina
Ailments & Concerns.
Vitamin Deficiency Anemia
Fatigue
Eating Disorders
Mood Disorders
Compare to these:
---
Questions and answers:
Asked on: January 13, 2013
Question: So I bought this jueicr from walmart back in June 2007 for only 45. I used it daily since. Love this jueicr. I got it for my own health, but ended up getting my kid hooked as well Well, today it stopped working. The motor broke, and the rubber started smoking right in the middle of carrotlettucebeet juice I was disappointed to see the price go up so much, because I really wanted the same one. But 3 years of daily use, I'd say thats pretty good for an inexpensive jueicr. Would recommend this to anyone.

Asked on: January 24, 2013
Question: how many do i take a day, how many in bottle ?

Asked on: January 24, 2013
Question: sorry just seen 60 in bottle!

Asked on:
January 24, 2013
Question: how much in s
A: Vitamin Code Raw D3 is only $12.23 with our membership. http://www.seacoast.com/shopping_cart.php?products_id=6660
Asked on:
October 22, 2013
Question: I have been vomiting and wondering if it is this product - I took two capsules this afternoon and a few hours later started vomiting.
A: The warnings on this supplement are as follows: Caution: As with any dietary supplement, consult your healthcare practitioner before using this product, especially if you are pregnant, nursing, anticipate surgery, take any medication on a regular basis or are otherwise under medical supervision. Best taken with a meal. The dosage for this product is only 1 capsule.
Explore More Products