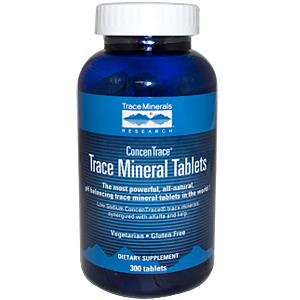 Full price 36.99
Savings 28%
Trace Mineral Tablets (300 Tabs)
| | |
| --- | --- |
| | |
| | Buy 3 - Get free delivery on whole order |
Trace Minerals Research
ConcenTrace® Trace Mineral Tablet
Low sodium ConcenTrace® Trace Mineral Tablets are the most powerful natural health mineral supplements in the world. It's impossible to underestimate the importance of minerals and trace minerals for the human body. They are the catalysts for all the vitamins and other nutrients your body uses for developing and maintaining good health.† ConcenTrace® Trace Mineral Tablets capture the perfect balance of those minerals. Using ConcenTrace® every day will help renew and energize your body's entire electrical system.† You'll have more energy and will generally feel better.
Why is ConcenTrace® so powerful? Extracted from the Great Salt Lake, ConcenTrace® contains the full spectrum of all the minerals in a balance natural to the body. We use a completely natural process that removes the sodium and gives us a formula about 26 times more concentrated than any other liquid trace minerals on the market. No other health supplement is as naturally powerful.
Suggested Use: take 1-3 tablets daily. Moderately increased dosages are safe if needed or desired but larger amounts may have a laxative effect.
Supplement Facts
ConcenTrace® Trace Mineral Tablet
Serving size: 3 tablets
APS
%DV
Total Carbohydrate
<1 g
0
Calcium (Carbonate & Herbs)
70 mg
0.07
Iron (Glycinate)
2.8 mg
0.16
Iodine (Herbs)
140 mcg
0.93
Magnesium (ConcenTrace® & Herbs)
293 mg
0.73
Chloride (ConcenTrace®, KCl)
855 mg
0.25
Sodium (as Citrate/Other Sources)
25 mg
<1%
Potassium (ConcenTrace®, KCl)
40 mg
0.01
Low-Sodium ConcenTrace®
1/2 tsp.
**
All the minerals from ½ tsp (2.5 ml) low-sodium ConcenTrace®, concentrated and dehydrated from Utah's Inland Sea, the Great Salt Lake (equivalent to the content of ½ cup sea water, 99% sodium removed).
Alfalfa
1250 mg
**
Kelp
150 mg
**
Sulfate (ConcenTrace®)
37 mg
**
Boron (ConcenTrace® & Amino Acid Chelate)
1 mg
**
Additional Ingredients: Vegetable cellulose, modified cellulose gum, vegetable stearic acid and vegetable magnesium stearate. No added sugar or starch. No dicalcium phosphate, artificial preservatives, or synthetics. Contains no animal products.
Plus the following in naturally occurring varying trace amounts; Bromide, Carbonate, Boron, Calcium, Silicon, Nitrogen, Selenium, Phosphorus, Iodine, Chromium, Manganese, Titanium, Rubidium, Cobalt, Copper, Antimony, Molybdenum, Strontium, Zinc, Nickel, Tungsten, Scandium, Vanadium, Tellurium, Tin, Lanthanum, Yttrium, Silver, Gallium, Bismuth, Zirconium, Cerium, Cesium, Gold, Beryllium, Hafnium, Samarium, Terbium, Europium, Gadolinium, Dysprosium, Thorium, Holmium, Lutetium, Erbium, Ytterbium, Neodymium, Praseodymium, Niobium, Tantalum, Thallium, Rhenium, Indium plus the other elements found in sea water.*Daily Value (DV) based on a 2,000 calorie diet. **Daily Value not established.
Ingredients (in addition to the above): Purified Water, Cranberry Concentrate, Blueberry Concentrate, ConcenTrace® Trace Minerals, Sea Water, Herb and Sea Vegetable Blend (Bladderwrack, Spirulina, Irish Moss, Kelp, Pau d' Arco), Sea Cucumber, Natural Flavor Blend, Citric Acid, Sodium Benzoate & Potassium Sorbate (for freshness).
Allergen Info: contains no known allergens.
Compare to these:
Explore More Products