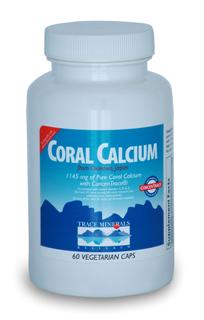 Full price 29.99
Savings 24%
Coral Calcium w/ConcenTrace (60 caps)
| | |
| --- | --- |
| | Buy 3 - Get free delivery on whole order |
Trace Minerals Research
Coral Calcium with ConcenTrace
Best pH balanced Coral Calcium with ConcenTrace contains a highly absorbable form of every mineral needed by the body. When the coral minerals fulfill a specific mineral deficiency, a specific condition is improved.
The only balanced trace mineral and pH coral calcium available. ConcenTrace® Trace Mineral Complex comes from the pristine shores of the northern and isolated part of the Great Salt Lake and is concentrated 50 times that of ocean water. ConcenTrace® Trace Minerals Complex is the best form of trace minerals available because of its concentration, balance, and pH level. ConcenTrace® has a balance like that of a perfect blood plasma. Combining coral calcium that has a good pH provides you with a winning combination.
Coral Calcium has a good trace mineral base but is not sufficient alone. Combining ConcenTrace® Trace Mineral Complex in ionic form with Coral Calcium from Okinawa, Japan provides one of the best balanced trace mineral Coral Calciums available.
Supplement Facts
Coral Calcium with ConcenTrace
Serving Size: 2 capsules
APS
%DV
Vitamin C (as Ascorbic Acid)
75 mg
1.25
Vitamin D (as Cholecalciferol)
400IU
1
Vitamin E (as d-alpha tocopheryl acid succinate)
200IU
6.67
Calcium (as Coral Calcium)
400 mg
0.4
Magnesium (as Magnesium Oxide and ConcenTrace®)
200 mg
0.5
Zinc (as Zinc Citrate)
15 mg
1
Selenium (as Selenium Amino Acid Complex)
40 mcg
0.57
Copper (as Amino Acid Chelate)
40 mcg
0.02
Manganese (as Amino Acid Chelate)
10 mcg
0.01
Chromium (as Chromium Polynicotinate)
140 mcg
1.17
Molybdenum (as Amino Acid Chelate)
20 mcg
0.27
Chloride (Chloride from ConcenTrace®)
22 mg
0.01
Coral Calcium
1145 mg
**
ConcenTrace® Pure Trace Mineral Complex
200 mg
**
Boron (as Amino Acid Chelate)
94 mcg
**
Vanadium (as Amino Acid Chelate)
40 mcg
**
*Daily Value (DV) based on a 2,000 calorie diet. **Daily Value not established.
Other Ingredients: Vegetarian Capsules, Stearic Acid, and Magnesium Stearate. Plus over 82 trace minerals and elements from ConcenTrace®.
Allergen Info: contains no known allergens. Gluten Free.
Plus the following in naturally occurring varying trace amounts from ConcenTrace®: Bromide, Calcium, Fluoride, Silicon, Nitrogen, Carbonate, Selenium, Phosphorus, Iodine, Chromium, Iron, Manganese, Titanium, Rubidium, Cobalt, Copper, Antimony, Molybdenum, Strontium, Zinc, Nickel, Tungsten, Scandium, Tin, Lanthanum, Yttrium, Barium, Silver, Uranium, Gallium, Zirconium, Vanadium, Berylium, Tellirium, Bismuth, Hafnium, Terbium, Europium, Gadolinium, Samarium, Cerium, Cesium, Gold, Dysprosium, Holmium, Letetium, Thulium, Erbium, Ytterblum, Neodymium, Praseodymium, Niobium, Tantalum, Thorium, Thalium, Rhenium, Palladium, Indium, plus other elements found in sea water.
Other vitamins and minerals added for assimilation. Coral Calcium with Concentrace® also provides you with 400 IU of Vitamin D and 200 IU of natural Vitamin E as well as 75 mg of Vitamin C. 200 mg of Magnesium has been added. Other minerals such as Boron, Selenium, Chromium, Manganese, and Vanadium plus over 82 trace minerals and elements your body needs.
Minerals are the basic building blocks of health. Enzymes, nerves and most other internal actions rely upon minerals for proper function. Trace minerals in our soils have become depleted which has led to a deficiency in our foods and hence our bodies.Trace mineral deficiency is part of the explanation of the vast decline in health that our society is facing.
*Not intended to diagnose or treat diseases or ailments, and is not reviewed by the FDA.
Uses & Indications.
Replenishing Minerals The Building Blocks Of Health
Ailments & Concerns.
Compare to these:
---
Questions and answers:
Asked on:
January 21, 2013
Question: does your company deliver to Hamilton, Scotland. Uk? Regards, Alistair ( we run a practise from here)
A: Thank you for your interest in Coral Calcium with Concen Trace. Yes we do ship internationally and would be happy to ship this product to you.
Explore More Products