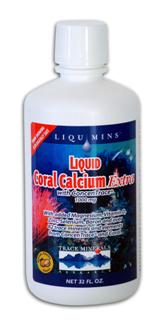 Full price 37.99
Savings 25%
Liquid Coral Calcium Extra Orange Vanilla(32 oz)
| | |
| --- | --- |
| | Buy 3 - Get free delivery on whole order |
Trace Minerals Research
Coral Calcium with Concentrace
Coral Calcium withConcenTrace contains a highly absorbable form of every mineral needed by the body. When the coral minerals fulfill a specific mineral deficiency, a specific condition is improved.
Ecologically Safe. Trace Minerals Research provides only pure petrified coral that is ecologically safe. None of the coral calcium used comes from live coral. All the coral comes from washed up petrified coral.
The only balanced trace mineral and pH coral calcium available. ConcenTrace Trace Mineral Complex comes from the pristine shores of the northern and isolated part of the Great Salt Lake and is concentrated 50 times that of ocean water. ConcenTrace Trace Minerals Complex is the best form of trace minerals available because of its concentration, balance, and pH level. ConcenTrace has a balance like that of a perfect blood plasma. Combining coral calcium that has a good pH provides you with a winning combination.
Suggested Use: Take two vegetarian capsules daily with food.
Supplement Facts
Liquid Coral Calcium Extra
Serving Size:2 tbsp (1 capful)
APS
%DV
Calories
33
1%
Total Carbohydrates
8.5 g
2%
Vitamins D3 (Cholecalciferol)
400 IU
100%
Calcium (as Coral Calcium 1000 mg total Coral Calcium)
380 mg
32%
Magnesium (Citrate and ConcenTrace®)
250 mg
50%
Zinc (Zinc Gluconate)
15 mg
100%
Maganese (Gluconate)
3 mg
150%
Selenium (Methionine)
150 mcg
214%
Chloride (from ConcenTrace®)
82 mg
<1%
Potassium (from ConcenTrace®)
40 mcg
<1%
Boron
2 mg
<2%
Coral Calcium (Okinawa Coral)
1000 mg
**
ConcenTrace®(Trace Minerals Complex)
300 mg
**
*Daily Value (DV) based on a 2,000 calorie diet. **Daily Value not established.
Other Ingredients: Purified Water, Natural Vegetable Glycerin, Natural Orange-Vanilla Flavor, Citric Acid, Xanthum Gum, Sodium Benzoate, Potassium Sorbate (for freshness).
Allergen Info: Contains no known allergens.
Plus the following in naturally occurring varying trace amounts from ConcenTrace®: Bromide, Calcium, Fluoride, Silicon, Nitrogen, Carbonate, Selenium, Phosphorus, Iodine, Chromium, Iron, Manganese, Titanium, Rubidium, Cobalt, Copper, Antimony, Molybdenum, Strontium, Zinc, Nickel, Tungsten, Scandium, Tin, Lanthanum, Yttrium, Barium, Silver, Uranium, Gallium, Zirconium, Vanadium, Berylium, Tellirium, Bismuth, Hafnium, Terbium, Europium, Gadolinium, Samarium, Cerium, Cesium, Gold, Dysprosium, Holmium, Letetium, Thulium, Erbium, Ytterblum, Neodymium, Praseodymium, Niobium, Tantalum, Thorium, Thalium, Rhenium, Palladium, Indium, plus other elements found in sea water.
Compare to these:
Explore More Products