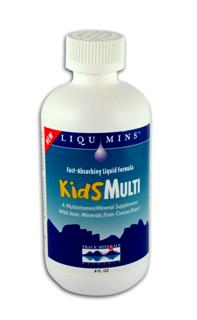 Full price 19.49
Savings 25%
Kid's Multi Liquid (8 oz.)
Trace Minerals Research
Kids Multi Liquid
Fast Absorbing Liquid Nutrients
Formulated just for children, this full-spectrum liquid multivitamin tastes great. In addition to providing your kids with the essential vitamins they need to grow up strong and healthy, we've added the over 70 minerals and trace elements from ionic ConcenTrace® for additional energy and increased absorption.
Suggested Use: Children age 4-12 take 1 teaspoon; children age 2-4 take 1/2 teaspoon; children under 2 consult a physician.
Supplement Facts
Kids Multi Liquid
Serving Size:1 teaspoon
APS
%DV
Calories
10
Total Carbohydrates
2.3 g
1%
Sugars
1.1 g
Vitamin A (Palminate)
1250 IU
50%
Vitamin C (Absorbic Acid)
50 mg
90%
Vitamin D3 (Cholecalciferol)
400 IU
100%
Vitamin E (d-a tocopherol)
10 IU
100%
Vitamin B-1 (Thiamine HCL)
1.5 mg
200%
Vitamin B-2 (Riboflavin)
1.7 mg
200%
Vitamin B3 (Niacinamide)
15 mg
167%
Vitamin B-6 (Pyridoxine)
2 mg
286%
Folate (Folic Acid)
200 mcg
100%
Vitamin B-12 (Cyanocobalamin)
9 mcg
300%
Biotin
75 mcg
25%
Pantothenic Acid (Calcium Pantothenate)
10 mg
200%
Magnesium (ConcenTrace®)
3 mg
<1%
Zinc (Gluconate)
5 mg
62%
Manganese (Gluconate)
2 mg
200%
Chloride (ConcenTrace®)
7 mg
<1%
Sodium (ConcenTrace®)
90 mcg
<1%
Potassium (ConcenTrace®)
50 mcg
<1%
ConcenTrace® Trace Mineral Complex
31 mg
**
Choline (Bitartrate)
3 mg
**
Inositol
3 mg
**
Sulfate (ConcenTrace®)
540 mcg
**
Boron (ConcenTrace®)
10 mcg
**
*Daily Value (DV) based on a 2,000 calorie diet. **Daily Value not established.
Ingredients: Vitamin A, Bitamin C, Vitamin D-3, Vitamin E, Vitamin B-1, Vitamin B-2, Vitamin B-3, Vitamin B-6, Vitamin B-12, Folic Acid, Biotin, Pantothenic Acid, Choline Bitartrate, Inositol, Manganese Gluconate, Zinc Citrate, Ionic Trace Minerals, in a liquid base of: Purified Water, Natural Juice Flavor Blend Concentrate (from Pineapple, Orange, Pear, Apple, Natural Flavors), Natural Vegetable Glycerine, Citric Acid, Carageenan Gum, Sodium Benzoate, Potassium Sorbate.
Allergen Info: contains no known allergens.
Compare to these:
Explore More Products