Full price 39.95
Savings 10%
Super Conductive Ionic Minerals (8 oz)*
This product has been discontinued.
Seacoast recommends an excellent replacement. Click here.

Sorry! This item has been discontinued. See below.
Ambaya Gold
Super Conductive Ionic Minerals
"You can trace every sickness, every disease and every ailment to a mineral deficiency" —Dr. Linus Pauling Nobel Prize Winner
Ambaya Gold's liquid Ionic Mineral formula provides essential nutrients to re-mineralize and recharge your body and mind. Minerals hold the electrical ground and conductivity of the body and it's likely that you're not getting the minerals you need - this easy to use formula is a great way to supply essential minerals and other key ingredients required to stay strong, vital, and connected.
Benefits may include:
Increased core health with 84 essential elements and Monatomic minerals
Improved muscle relaxation and contraction activity
Enhanced conductivity necessary for DNA and cell to cell communication
Healthy cell wall support
Greater metabolic functioning
Increased cellular absorption
Greater energy and mental clarity
Soil depletion, chemical pollution, and other environmental factors have contributed to an acute lack of minerals in almost everyone's diet. This was first noted at the beginning of the last century and the mineral depletion of our foods has greatly accelerated since then.
Minerals are absolutely essential for your system's health and are the foundation for creating a healthy body and clear mind. They provide the spark of life that catalyzes all body systems into action. Low mineralization levels can cause fatigue and lead to a wide range of health problems.
Ambaya Gold has created the Super-Conductive Ionic Minerals to help offset this chronic mineral shortage. Our proprietary formula contains 84 essential and Monatomic minerals which are delivered via an Activated Fulvic base using ORME Energy Technology™. This unique liquid delivery system allows for much greater absorption than dry pills and provides virtually instant uptake and usage - helping to rejuvenate your body's entire electrical system with key mineral ingredients needed for a healthier and more vital state of being.
Suggested Use: Add 5-7 drops in 8 ounces of liquid (water, juice, etc..) throughout the day, up to 40 drops.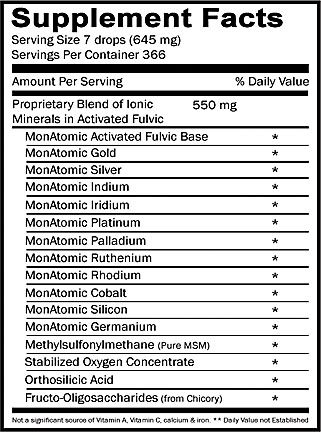 Compare to these:
Explore More Products