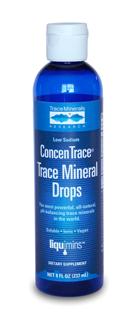 Full price 27.69
Savings 28%
Low Sodium ConcenTrace Trace Mineral Drops (8 fl. oz.)
| | |
| --- | --- |
| | Buy 3 - Get free delivery on whole order |
Trace Minerals Research voted Best of Supplements Award
ConcenTrace Trace Mineral Drops 8oz
Formulated by Nature for Greater Bio Health and Body Mineral Balancing. From Utah's Inland Sea
Low sodium ConcenTrace® Trace Mineral Drops are the most powerful natural health mineral supplements in the world and have many uses and applications. It's impossible to underestimate the importance of minerals and trace minerals for the human body. They are the catalysts for all the vitamins and other nutrients your body uses for developing and maintaining good health.
ConcenTrace® captures the perfect balance of those minerals. Using ConcenTrace® every day (mix with juice, food or remineralize purified water) will help renew and energize your body's entire electrical system. You'll have more energy and will generally feel better.
Why is ConcenTrace® so powerful? Extracted from the Great Salt Lake, ConcenTrace® contains a full spectrum of all the minerals in a balance natural to the body. We use a completely natural process that removes the sodium and gives us a formula about 26 times more concentrated than any other liquid trace minerals on the market. No other health supplement is as naturally powerful.
Your Body Needs ConcenTrace®
Your body is an intricate circuit board of electric charges and impulses. In order for it to stay balanced and perform at optimum efficiency, you need to constantly replenish yourself with the minerals and trace elements found in ConcenTrace®. If you are one of the 90% of Americans experts estimate suffer mineral imbalance or deficiency, your body is lacking these essential elements, causing your body to misfire so you feel rundown and tired.
Power up with ConcenTrace® from Trace Minerals Research. It's highly concentrated and contains over 70 ionically charged trace minerals that have been extracted from the world's oldest inland sea, the Great Salt Lake. ConcenTrace® is the perfect solution for replenishing your body with the nutrients you need to maintain optimum health.
An All-Natural Solution of Living Minerals
ConcenTrace® is extracted directly from a natural source that took thousands of years to create. Over these thousands of years, the minerals in ConcenTrace® have been broken down to their most natural state where they have become naturally charged, living minerals that are bioavailable and soluble in water.† In addition, the solution is in precisely the same proportion as healthy human fluids without synthetically produced compounds or deadly heavy metals.
The ionic minerals in ConcenTrace® also have the power to maintain and even improve the pH balance in your body.† It's important to keep your body's acid base balance because an acidic body is a breeding ground for disease. ConcenTrace® is so essential to human health that you'll find it in every one of our quality products. ConcenTrace® is the perfect way to replenish your body with all the elements you need to plug in and recharge.
Suggested Use: As a Daily Supplement: 1/4-1/2 teaspoon, once or twice daily. Mix with any juice or food at mealtimes to mask the concentrated mineral flavor, or take straight, followed with a glass of juice or water. At 1/2 teaspoon daily, 8 oz.= 3 month supply. Increased dosages are safe if needed or desired, but larger amounts may have a laxative effect.
Improve the flavor of reverse osmosis, de-ionized, or distilled water. Add 20-40 drops per gallon, or to taste, to get the flavor of expensive mineral water while adding a complete, balanced spectrum of low sodium minerals and trace minerals. At 20 drops, (1/4 teaspoon) per gallon, 8 oz. will remineralize 192 gallons.
Supplement Facts
ConcenTrace® Trace Mineral Drops
Serving Size: 1/2 tsp. (approx. 40 drops)
APS
%DV
Magnesium
250 mg
63%
Chloride
690 g
20%
Sodium
6 mg
<1%
Potassium
3 mg
<1%
Sulfate
37 mg
**
Boron
370 mcg
**
*Daily Value (DV) based on a 2,000 calorie diet. **Daily Value not established.
Plus the following in naturally occurring varying trace amounts; Calcium, Carbonate, Bromide, Iodine, Rubidium, Scandium, Boron, Phosphorus, Nickel, Manganese, Chromium, Strontium, Cobalt, Zinc, Titanium, Lanthanum, Cerium, Barium, Copper, Iron, Silicon, Yttrium, Molybdenum, Tin, Gallium, Gold, Silver, Cesium, Beryllium, Selenium, Vanadium, Dysprosium, Holmium, Terbium, Praseodymium, Lutetium, Gadolinium, Samarium, Bismuth, Ytterbium, Erbium, Europium, Neodymium. Plus the other minerals found in sea water.
Allergen Info: contains no known allergens. Gluten Free.
*Not intended to diagnose or treat diseases or ailments, and is not reviewed by the FDA.
Uses & Indications.
Ailments & Concerns.
Compare to these:
---
Questions and answers:
Asked on:
April 8, 2013
Question: Hi, I'd like to know, about this TMR( 8 FL.OZ ) , which price I should pay, Regular price: 19.92 or Direct price: 16.93?I live in Hong Kong.Thanks!
A: If you would like to try our membership free for 14 days, the price will be the Direct Price of $16.93. We do ship to Hong Kong:)
Explore More Products