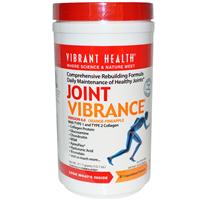 Full price 49.96
Savings 14%
Joint Vibrance Powder Orange-Pineapple(13.56 oz)*
price

Price is

too low

to show. Add it to your cart

Buy 3 - Get free delivery on whole order
Joint Vibrance Powder by Vibrant Health
Joint Vibrance supplies broad nutritional support and pharmaceutically pure hydrolyzed collagen which alone was shown to rebuild cartilage in clinical trials.
Maintain Healthy Joint Function
Helping to Strengthen Cartilage and Connective Tissue
BSE Free
Joint Vibrance matches antioxidant botanical extracts and appropriate minerals to meaningful amounts of nutrients vital to the construction of strong healthy cartilage.
The comprehensive support formula within Joint Vibrance is unmatched in delivering a potent dose of Glucosamine chondroitin, MSM, Collagen, Hyaluronic Acid and more...
Anti-oxidant herbs and botanical extracts help scavenge free radicals that can form in articulating joints.
Grape seed extract helps bind broken collagen fibers in connective tissues, while the other ingredients in Joint Vibrance support normal synthesis of cartilage at the cellular level.
Directions:
Once each day mix one level scoop of powder or the contents of one single-serving packet into eight ounces of grapefruit, apple or grape juice (recommended) or the juice of your choice. Stir briskly or shake briefly in a closed container. Best taken between meals to maximize absorption of nutrients.
Joint Vibrance is intended to help maintain healthy joint function. Cartilage is a non-vascular tissue. Nutrients reach it slowly and indirectly by circulating through fluids bathing the joints. It is important that the health-building nutrients in Joint Vibrance be taken daily in order to provide a continual nutrient bath required to support new growth.
Supplement Facts
Joint Vibrance-21 day supply
Serving Size:1 Scoop = 17.7 grams Calories from Fat 6

APS
%DV
Total Fat
.7 g
1%
Sautrated
0
0
Trans fat
0
0
Polyunsaturated
.6 g
0
Monounsaturated
.1 g
0
Cholesterol
0
0
Sodium
53 mg
2 %
Potassium
200 mg
6 %
Total Carbohydrate
5.5 g
2 %
Dietary Fiber
3.2 g
13 %
Sugars
0
0
Protein
10 g
2 %
Vitamin A
10 g
22%
Vitamin C (Ascorbic Acid)
100 mg
167%
Calcium (from Lactate)
150 mg
15%
Iron
1 mg
5.56%
Magnesium (from Lactate)
50 mg
12.5%
Zinc (from Citrate)
10 mg
66.67%
Manganese (from Citrate)
5 mg
250%
Cartilage Builders
Type 1 Collagen (Bovine)
8600 mg
Type 2 Collagen (Avian)
1500 mg
Chondroitin Sulfate A (Bovine and Avian)
1500 mg
Glucosamine HCL ( Crustacean)
1500 mg
Hyularonic Acid (Avian)
264 mg

Other Glycosaminoglycans (Avian and Bovine

120 mg
Silica from Horsetail
3 mg
Boron (1 mg as glycinate, 2 mg as Ca-fructoborate
3 mg
Antioxidants/Flexbility Factors
ApresFlex (Boswellia Serrata Extract
100 mg
Curcuminoids (Turmeric Root Extract, 95%)
100 mg
Grape Seed Standarized Extract (95% polyphenols, 90% proanthocyanidins)
20 mg
MSM ( Metyhl Sulfonymethane)
1000 mg
Bromelain (pineapple stem, NLT 2400 GDU/g)
100 mg
Palatability and Solubility Factors
Natural Orange-Pineapple Flavor
646 mg
Citric Acid
534 mg
Stevia Extract
70 mg
Sunflower Lecithin Powder
100 mg

Proper Care and Storage: Store in a cool, dry place. Keep out of reach of children.
Notice: Use this product as a dietary supplement only. Do not use for weight reduction.
*Not intended to diagnose or treat diseases or ailments, and is not reviewed by the FDA.
Uses & Indications.
Scavenging Free Radicals Associated With Inflammation
Helping Lubricate Joints
Stimulating Growth Of New Cartilage
Ailments & Concerns.
Sore Muscles
Inflammation
Joint Pain
Arthritis
Compare to these:
Reviews
Monday 14 May, 2018
A friend recommended Joint Vibrance and told me how well it has helped her joint mobility. She can feel the difference when she runs out. I started taking this 2 weeks ago and I can notice my joints feel better especially on my walks. I can walk further than before without the tightness in my hips and knees. I mix a scoop in a glass of water and it tastes fruity and delicious. I highly recommend this product as an anti-aging product for those who are active and those who want to be!
---
Questions and answers:
Asked on:
December 29, 2012
Question: What is the collagen derived from
Asked on:
February 11, 2013
Question: May I mix the powder with water instead of a juice?
A: Because of the density of the formula, the product does not blend easily. Here are our recommendations to successful mixing:

Joint Vibrance can be mixed with your beverage of choice and can be taken hot or cold.
You can mix Joint Vibrance in 6-8 ounces of hot water and drink as a tea.
If you prefer, you may add a scoop to 2 or more ounces of warm/or hot water (to blend ) then add your choice of cold liquid.
You may also use a shaker bottle.
You may add it to lemonade, grapefruit, grape juice or apple juice/ apple cider ( with a dash of cinnamon).
It mixes well in vegetable juice and tastes great too.
Asked on:
September 6, 2013
Question: How many servings per container?
A: There are approximately 20-21 servings per 12 ounce container.
Asked on:
October 3, 2013
Question: Is it safe to take it with cold and flu ? Thanks.
A: There are no warnings against taking this supplement if you have the cold or flu or any other condition. Please note that it is always a good idea to let your physician know of what supplements you are taking, especially if you have any concerns.
Asked on:
August 22, 2014
Question: Hi,my physician suggested me COLLEGEN PEPTIDE (GELATINE) 95 HYDROLYSATED for my osteo orthrites ..Does dis JOINT-VIBRANCE suits to my complaint requirement..Pl educate me to order U d above one..With thanks,RAVIBABU..
Explore More Products