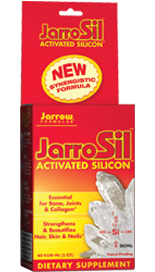 Full price 24.95
Savings 18%
Jarrosil Activated Silicon (60 ML)
| | |
| --- | --- |
| | |
| | Buy 3 - Get free delivery on whole order |
Jarrow Formulas
Jarrosil Activated Silicon (4 mg/10 drops 60 ML)
Essential for Bone, Joints & Collagen* Strengthens & Beautifies Hair, Skin & Nails*
JarroSil is a synergistic formulation of highly bioavailable silicon. It is an essential partner of calcium for bones, glucosamine for joints, and antioxidants for supple and healthy arteries. JarroSil also supports smooth skin, strong nails and healthy hair.*
The Importance of Silicon
Silicon is a trace mineral required for the formation of healthy connective tissue, bone, skin, hair and nails.* Silicon is important for collagen formation, healthy arteries and efficient calcium deposition in bones.* Boron and zinc are added to enhance silicon metabolism. JarroSil is manufactured using the latest technology for enhanced bioavailability, stability and improved taste. Stabilized silicic acid is converted to highly bioavailable ortho- and disilicic acids upon dissolution in liquids and in the stomach.
JarroSil
Compare to these:
---
Questions and answers:
Asked on:
January 16, 2013
Question: Thanks for writing Kathleen. The doctros and my own research tell me that it's too much testosterone. Fibroids and endometriosis are from high estrogen. Cysts are high androgentestosterone. I've had both from my treatments being high in estrogen and my body being high in testosterone. The trick is to get to a balanced state. If you have a blog, please send a link! I'm always learning new things.
Asked on:
January 16, 2013
Question: Hi thereI'm curious is this alnmeit associated to estrogen overload. I suffer from Fibroids and on my journey learned a whole lot about them if you want any info about that let me know! I could write a book Some of the stuff might apply to you!All the bestKathleen
Explore More Products