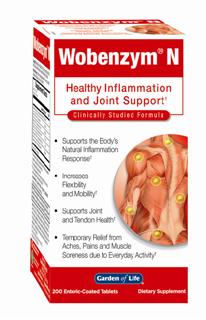 Full price 71.99
Savings 19%
Wobenzym N (200 Tabs)*
price

Price is

too low

to show. Add it to your cart

Buy 3 - Get free delivery on whole order
Systemic Enzymes Providing Healthy Inflammation and Joint Support
Wobenzym N is the original systemic enzyme formula produced by the German nutraceutical company Mucos Pharma. Wobenzym N is trusted by millions worldwide to provide clinically demonstrated support for joint and inflammation health.
First introduced in Germany as a pharmaceutical over 40 years ago, Wobenzym N has been updated but still features the time-tested, synergistic combination of plant-based enzymes, pancreatic enzymes and antioxidants. These powerful yet delicate enzymes are protected by a vegetable-based enteric coating which ensures optimal absorption and utilization in the blood stream.
Mucos Pharma Wobenzym N Benefits:
Supports the Body's Natural Inflammation Response
Increases Flexibility and Mobility
Supports Joint and Tendon Health
Temporary Relief from Aches, Pains and Muscle Soreness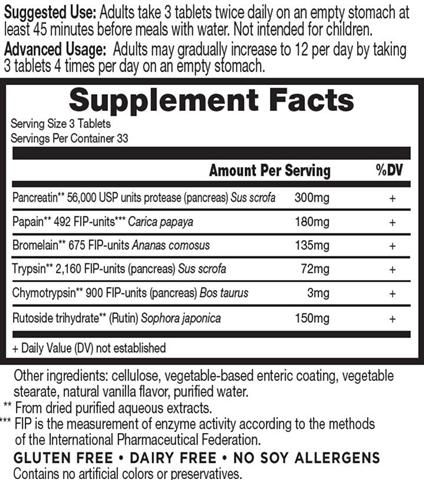 The original formulation found in Wobenzym N has been featured in six human clinical studies with 2,489 patients studied. When you read that Wobenzym N provides temporary relief from everyday aches, pains and muscle soreness due to everyday activity, increased flexibility and mobility, and promotes a normal inflammation response and supports joint and tendon health, you know that these results have been clinically studied.
Since Wobenzym N became available in Europe in the 1960s, over 29 million people have taken the product. Millions of ordinary people seeking temporary relief have found an answer in Wobenzym N.
The Far-Reaching Benefits of Wobenzym Systemic Enzymes
Wobenzym N is a unique blend of systemic enzymes that provides temporary relief from aches, pain and muscle soreness due to everyday activity, supports the body's natural inflammation response, and leads to increased flexibility and mobility and supports overall joint and tendon health as well.
Enzymes are fascinating essential biological catalysts that are involved in almost every single process in the body. They initiate millions of chemical reactions every second in the human body. It is easy to see why supplementing with systemic enzymes can have far-reaching benefits to the human body.
The enzyme blend in Wobenzym N contains the following, clinically studied enzymes: pancreatin, papain, bromelain, trypsin, and chymotrypsin. Each one of these is a protease, which simply means that they break down proteins.
There are certain proteins in the body that stimulate and others that repress inflammation. Under normal circumstances, your body balances the two. The systemic enzymes in Wobenzym N support that balancing process, assisting normal inflammation response that in turn, leads to temporary relief from everyday activity-related aches and pains.
And of course, Wobenzym N tablets are enteric coated to ensure that the enzymes are protected and allows them to reach the small intestine, where absorption occurs and they can be accessed by the body.
Wobenzym N works holistically — throughout your entire body — to support your body's natural response to inflammation. While inflammation in the body is a normal and natural response, the aches, pains and muscle soreness that often accompany it can keep you from living the active lifestyle you desire. Experiencing extraordinary health is all about helping the body achieve homeostasis — a dynamic state of balance.
If you want to take control of your life and live it on your terms, choose the brand that has been trusted by millions worldwide for decades — choose Wobenzym N.
*Not intended to diagnose or treat diseases or ailments, and is not reviewed by the FDA.
Uses & Indications.
Increasing Red Blood Cells
Reducing Inflammation
Improving Digestion
Enhancing Metabolism
Ailments & Concerns.
Rheumatoid Arthritis
Polymyalgia
Cancers
Fibromyalgia
Papaya Enzyme
Breast Cancer
Papain
Anemia
Pineapple Enzyme
Bromelain
Prostate Cancer
Crohn's Disease
Compare to these:
---
Questions and answers:
Asked on: December 8, 2012
Question: Hello, I'm looking for Aqueous Carica Papaya Leaves Extract and am overwhelmed by the different Papaya products :-) The reason I'm looking for this in particular are for the anti inflammatory and immune (iGg) benefits. Do you sell this product?Thank you!

Asked on: December 8, 2012
Question: Yes, I,m living in MontrealQuebec.Do you provide service here as well.?k.

Asked on:
February 11, 2013
Question: can we lose fat with this
A: Wobenzym, among many things, provides support for healthy digestion of fats, carbohydrates, and fibers. It improves intestinal health and enhances metabolism.
Asked on:
March 30, 2013
Question: I read that wobenzym aids in unblocking folliapan tubes
A: Some studies have shown that Wobenzym N may help women with fertility challenges.
Asked on: July 22, 2014
Question: Is this product valid for pets( ex: CAT)

Explore More Products