Virostat a proactive way to stay in good health.
Benefits:
Cold viruses
Flu viruses
Boosts immune system
Hypoallergenic, gluten free
ViroStat is a new formula reflecting some of the newest research targeting viral infections. The challenge has been to find natural protease inhibitors to block viral replication, and effective proteolytic enzymes to strip the coating that hides viruses from your immune system. Together with this approach, medical research confirms that specific glycosamino-glycans help your cell membranes to ward off viral penetration. Also, anti-oxidants can prevent the weakening and deterioration of your cell membranes - their primary defense. We cannot avoid virus-contaminated environments, so stopping a virus is the key. Try ViroStat, a natural, safer alternative.
ViroStat by Lidtke Technologies Corp is designed to help boost overall immune function. Why wait for signs of cold or flu? Defend yourself before setting foot in an environment where many a germ may be lurking- schools, public transporters, the gym... Viruses love those public places where many people are present.
Lidtke's formula features vitamins, minerals, and herbs to aid your body in fighting off viruses. Proper functioning of our immune system involves a certain kind of intelligent communication between all cells of the body. When this system is disrupted we may become susceptible to more than just a nasty flu or cold virus. A weak immune system can also leave us more vulnerable to cancer and infection.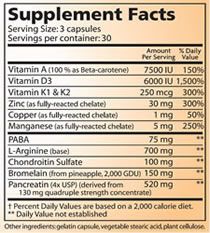 *Not intended to diagnose or treat diseases or ailments, and is not reviewed by the FDA.
Uses & Indications.
Boosting Immune System
Supporting Recovery From Cold And Flu
Ailments & Concerns.
Compare to these:
Explore More Products