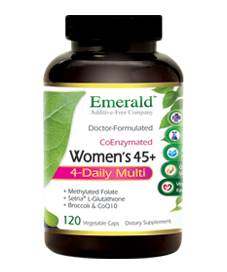 Full price 44.95
Savings 25%
MULTI VIT-A-MIN for WOMEN 45plus (120 vegetarian capsules)*
price

Price is

too low

to show. Add it to your cart

Buy 3 - Get free delivery on whole order
Hi-Potency Daily Vitamin & Mineral Formula for Women over 45
Raw whole-food based formula with Prebiotics, Enzymes & Probiotics made from whole food concentrates.
Includes Potassium, Vitamins K1 and K2 for Healthy Bone, Heart and Hormone Support.
Emerald Labs' Women's 45+ Multi Vitamin provides bone, heart and hormone support for aging women. Emerald Labs' Women's 45+ Multivitamin is a high-potency, clinical formula tailored to meet the specific health needs of Women over the age of 45, including Antioxidants, Coenzymes, Carotenoids, Tocotrienols and Coenzyme Folic Acid. Recent research has shown that approximately one in seven people cannot metabolize folic acid unless it is in its coenzyme from (L-5 Methyl Tetrahydrofolate).
Emerald Labs Women's 45+ Multi Vitamin is clinically formulated for enhanced absorption and bioavailability.
•Raw Whole-Food Based
•Therapeutic Doses with Clinical Results
•Gluten-Free Formula
•100% Additive-Free - No Magnesium Stearate
Suggested Use: Take 4 capsules daily with breakfast or lunch.
Supplement Facts
Women's 45+ Multi Vit-A-Min Raw Whole-Food Based
Serving Size = 4 capsules
APS
%DV
Beta-Carotene (Natural Source)
4000 IU
*
Vitamin A (Palmitate)
1000 IU
20%
Mixed Full-Spectrum Tocopherols & Tocotrienols
10 mg
*
Vitamin C (Calcium Ascorbate)
100 mg
500%
Vitamin D3 (Cholecalciferol)
1500 IU
375%
Vitamin E (D-Alpha Tocopherol Succinate)
60 IU
200%
Mixed Full-Spectrum Carotenoids
2500 IU
*
Vitamin K1 (Phylloquinone)
40 mcg
40%
Vitamin K2 (Menaquinone)
10 mcg
10%
Vitamin B1 (Thiamine Mononitrate)
50 mg
2941%
Vitamin B2 (R-5-P)
50 mg
1879%
Vitamin B3 (Niacin)
10 mg
50%
Vitamin B3a (Niacinamide)
40 mg
200%
Vitamin B6 (P-5-P)
50 mg
2500%
Coenzyme Folic Acid (L-5 Methyl Tetrahydrofolate)
400 mcg
100%
Vitamin B12 (Methylcobalamin)
200 mcg
3300%
Vitamin B5 (D-Calcium Pantothenate)
150 mg
1500%
Biotin
300 mcg
100%
Calcium (Glycinate Chelate Buffered, Calcium Citrate)
200 mg
20%
Magnesium (Glycinate Chelate Buffered)
100 mg
25%
Zinc (Glycinate Chelate)
15 mg
100%
Selenium (Seleno-Methionine)
100 mcg
142%
Iodine (Atlantic Kelp)
75 mcg
50%
Copper (Glycinate Chelate)
1 mg
50%
Manganese (Glycinate Chelate)
1.5 mg
75%
Chromium (Nicotinate Glycinate Chelate)
200 mcg
167%
Molybdenum (Glycinate Chelate)
25 mcg
33%
Potassium (Amino Acid Complex)
99 mg
4%
Inositol
50 mg
*
Alpha Lipoic Acid
50 mg
*
Rutin
25 mg
*
Lutein (Biolut)
3 mg
*
Boron (Amino Acid Complex)
1 mg
*
Lycopene
1 mg
*
Vanadium (Nicotinate Glycinate Chelate)
200 mcg
*
Grapeseed Extract (95% OPC's)
50 mg
*
CoQ10 (fermented)
25 mg
*
OptiMSM (distillation processed)
100 mg
*
Broccoli Extract (0.4% Sulfurophane)
50 mg
*
Raw Whole-Food Proprietary Blend: Raw Whole Food Sprout Powders (Alfalfa, Quinoa, Mung Bean, Millet & Brocolli - containing 3500ppm sulfurophane), Raw Plant Enzyme Blend (Lipase, Lactase, Invertase, Protease, Hemicellulase, Cellulase, Alpha-Galactosidase, Amylase, Bromelain, Papain, Acid-Stable Protease, Maltase), Raw Probiotic Blend (Acidophilus - 200 million CFU's, B. Bifidum - 200 million CFU's), Whole Food Pomegranate Juice Powder, Raw Whole Food Freeze-Dried Acai Powder, Whole Food Goji Fruit Extract, Whole Food Mangosteen Hull Powder, Whole Food Noni Fruit Powder, Fructo-Oligosaccharides, Whole Food Chlorella Powder, Whole Food Spirulina Powder, Resveratrol (Standardized from Polygonum Cuspidatum)
100 mg
*
*Percent Daily Values are based on a 2,000 calorie diet. Your diet values may be higher or lower depending on your calorie needs.
Other Ingredients: Vegetable Capsule.
Dietary supplement guaranteed to be free of corn, milk, soy, salt, sugar, wheat, yeast, artificial flavors or preservatives.
Allergy Information: Product is manufactured in a facility that processes milk, egg, soy, tree nuts, fish and shellfish.
*Not intended to diagnose or treat diseases or ailments, and is not reviewed by the FDA.
Uses & Indications.
Supports General Health And Well Being
Ailments & Concerns.
Hormone Imbalance
Low Energy
Stress
Compare to these:
Explore More Products