Futurebiotics
Multi Vitamin Energy Plus for Women (60 tabs)
If the multivitamin you take every morning doesn't enhance the way you feel, you might not be taking the right multivitamin. Today's women may be eating on the run, dieting, taking hormones, and coping with all kinds of modern-day stress , which can result in great demands on the body and mind. Multi Vitamin Energy Plus® is a daily multi-nutritional formula designed for women that provides vitamins, minerals and important other nutrients all in one energizing and highly potent state-of-the-art supplement.
Multi Vitamin Energy Plus® for Women is the definitive women's multi-vitamin and mineral supplement, containing over 100% of the recommended daily value of most nutrients, including a whopping 625 mg of Calcium, plus Iron and Zinc. Antioxidant support is provided by vitamins A, C and E plus Selenium. The Energy Plus blend in Multi-Vitamin Energy Plus® supports an active lifestyle without stimulants. This unique blend of botanicals, including American Ginseng, Alfalfa juice concentrate, Chlorella and Bee Pollen helps promote energy without causing the "jitters" or a "crash sensation" as the day goes on.
Multi Vitamin Energy Plus® provides a full complement of B vitamins for stress support. B vitamins burn off quickly during periods of stress, which can impact adrenals and immune cells and increase susceptibility to illness. Research has also shown that vitamins B6 and B12 along with Folic Acid may support heart health by helping to reduce blood levels of homocysteine.
Glass packaging extends natural freshness and helps maintain product potency.
Suggested Use:
As a dietary supplement, take 2 tablets daily with meals or as directed by a healthcare practitioner.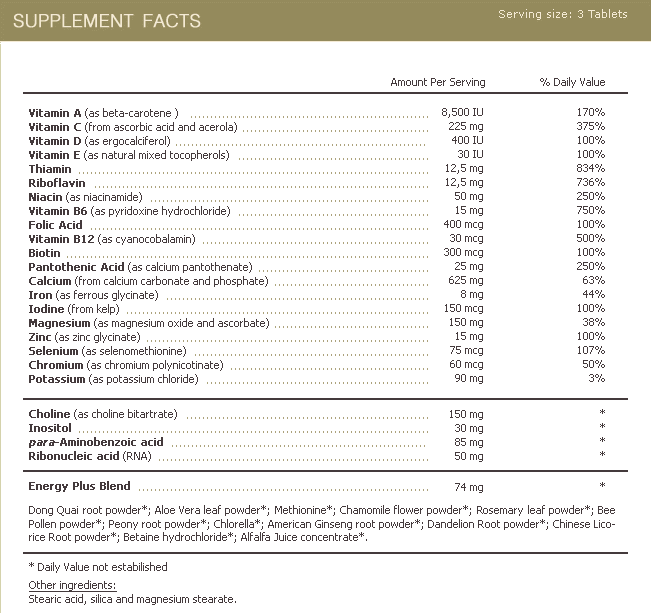 Warning:
Accidental overdose of iron-containing products is a leading cause of fatal poisoning in children under 6. Keep this product out of reach of children. In case of accidental overdose, call a doctor or poison control center immediately. Bee Pollen is known to cause allergic reactions in certain allergy-prone individuals. If you are susceptible to bee of pollen-type allergies, please use caution when taking this product. Do not use if you are pregnant or nursing.
*Not intended to diagnose or treat diseases or ailments, and is not reviewed by the FDA.
Uses & Indications.
Energy Plus Blend Supports An Active Lifestyle Without Stimulants
Antioxidant Rich
Stress Support With A Full Complement Of B Vitamins
Daily Multi-nutritional Supplement
Ailments & Concerns.
Compare to these:
---
Questions and answers:
Asked on:
April 22, 2013
Question: i need organic multivitamins,to also help grow hair on my bald patches on the scalp
A: Below are some of our hair health products. Though all are natural, they are not all organic. Please view our selection and if you need additional assistance please call us at 702) 508-9054 during our business hours. http://www.seacoast.com/topic.php?health=hair+growth
Asked on:
July 1, 2014
Question: Can this product help my girlfriend becouse she have pimbles on her face?
A: You may consider Enzymatic therapy Derma Klear healthy skin 90 caps. http://www.seacoast.com/derma-klear-healthy-skin/enzymatic-therapy/90-caps/p3190 You may also consider Enzymatic Therapy Derma Klear acne treatment soap 30z. http://www.seacoast.com/derma-klear-akne-treatment-soap/enzymatic-therapy/3-oz-bar/p3191
Asked on:
July 17, 2015
Question: I am over 50 and looking for a multivitamin to increase my energy.
A: Thank you for your interest in Energy Plus Multi Vitamin for women. As we age our hormone levels change often having an effect on our day to day energy. Taking a multivitamin just for women is a fast and easy solution to get that energy back. Just take 2 tablets daily and rest assured that you are getting over 100% of the recommended value of most nutrients, including 625 mg of needed calcium, Iron and zinc. Multi Vitamin Energy Plus is a full spectrum Multi Vitamin perfect for women of all ages.
Explore More Products