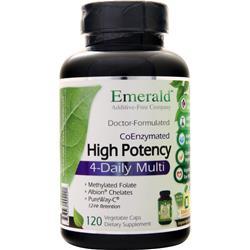 Full price 39.95
Savings 25%
High Potency 4 Daily Multi (120 caps)*
price

Price is

too low

to show. Add it to your cart

Buy 3 - Get free delivery on whole order
120 capsules High Potency 4 Daily Multi
Ultra Laboratories & Emerald Laboratories present a comprehensive group of Gluten-Free, Condition-Specific, Raw Whole Food-Based Nutritional Supplements. Completely Free of Additives, Fillers, Magnesium Stearate. All natural, High quality and 100% pure for your health. Muti Vit-A-Min is more than just a multivitamin. This full spectrum formula includes vitamins, minerals, probiotics, digestive enzymes, antioxidants, whole food blend and more in each serving. With a powerhouse of nutrients in each serving many have reduced their supplement intake by taking one serving of Multi Vit-Min daily.
Therapeutic dosages of more than 50 premium, hi-potency Vitamins, Minerals, Antioxidants, Coenzymes, Carotenoids and Tocotrienols.
Suggested Use:Take 2-4 capsules with breakfast or lunch.
Superior Daily Vitamin & Mineral with Coenzymes & Antioxidants:
Coenzyme Activated Forms of B2 (R-5-P), B6 (P-5-P) & Folic Acid (L-5 Methyltetrahydrofolate)
All Natural Mixed Carotenoids,Tocopherols & Tocotrienols - most multis do not contain ALL of these naturally occurring blends
Lutein, Lycopene, Alpha Lipoic Acid, CoQ10 & Grapeseed Extract
Albion Mineral Chelates are The Gold Standard in Mineral Chelates
Supplement Facts
Multi Vit-A-Min
Serving Size: 4 capsules
APS
%DV
Beta-Carotene (Natural source)
4000 IU
Vitamin A (Palmitate)
1000 IU
20%
Mixed Full-Spectrum Tocopherols & Tocotrienols
10mg
Vitamin C (Calcium Ascorbate)
400mg
667%
Vitamin D (Cholecalciferol)
1000 IU
250%
Vitamin E (D-Alpha Tocopherol Succinate)
60 IU
200%
Mixed Full-Spectrum Carotenoids
2500 IU
Vitamin K1 (Phylloquinone)
45mcg
45%
Vitamin K2 (Menaquinone)
5mcg
5%
Vitamin B1 (Thiamine Mononitrate)
50mg
2941%
Vitamin B2 (R-5-P, Riboflavin)
50mg
1879%
Vitamin B3 (Niacin)
10mg
50%
Vitamin B3a (Niacinamide)
40mg
200%
Vitamin B6 (P-5-P, Pyridoxine HCl)
50mg
2500%
Coenzyme Folic Acid (L-5 Methyl Tetrahydrofolate)
400mcg
100%
Vitamin B12 (Methylcobalamin)
200mcg
3300%
Vitamin B5 (D-Calcium Pantothenate)
150mg
1500%
Biotin
300mcg
100%
Calcium (Glycinate Chelate Buffered, Microcrystalline Hydroxyapatite, Calcium Citrate)
200mg
20%
Magnesium (Glycinate Chelate Buffered)
100mg
25%
Zinc (Glycinate Chelate)
15mg
100%
Selenium (Seleno-Methionine)
100mcg
142%
Iodine (Atlantic Kelp)
75mcg
50%
Copper (Glycinate Chelate)
1.0mg
50%
Manganese (Glycinate Chelate)
1.5mg
75%
Chromium (Nicotinate Glycinate Chelate)
200mcg
167%
Molybdenum (Glycinate Chelate)
25mcg
33%
Potassium (Amino Acid Complex)
50mg
2%
Inositol
50mg
Alpha Lipoic Acid
50mg
Rutin
25mg
Lutein (Biolut®)
3mg
Boron (Amino Acid Complex)
1mg
Lycopene
1mg
Vanadium (Nicotinate Glycinate Chelate)
200mcg
Grapeseed Extract (95% OPC's)
50mg
CoQ10 (fermented)
25mg
Raw Whole-Food Proprietary Blend
100mg
Raw Whole Food Sprout Powders (Alfalfa, Quinoa, Mung Bean, Millet & Brocolli - containing 3500ppm sulfurophane), Raw Plant Enzyme Blend (Lipase, Lactase, Invertase, Protease, Hemicellulase, Cellulase, Alpha-Galactosidase, Amylase, Bromelain, Papain, Acid-Stable Protease, Maltase), Raw Probiotic Blend (Acicophilus DDS-1 Strain 200 million CFUs, B. Bifidum 200 million CFU),Whole Food Pomegranate Juice Powder, Raw Whole Food Freeze-Dried Acai Powder, Whole Food Goji Fruit Extract, Whole Food Mangosteen Hull Powder, Whole Food Noni Fruit Powder, Fructo-Oligosaccharides, Whole Food Chlorella Powder, Whole Food Spirulina Powder, Resveratrol (Standardized from Polygonum Cuspidatum)
* Percent Daily Value based on a 2000 Calorie diet.
Percentage Daily Value not established
Other Ingredients: Vegetable capsule, Tocotriene Complex.
Gluten-Free, Condition-Specific, Raw Whole Food-Based Nutritional Supplements
Emerald Laboratories products are formulated by Dr. Mark Stengler - Author of "Prescription for Natural Cures" and "Prescription for Drug Alternatives".
Why is our mission of being Additive-Free so important?
Additives have little or no nutritive value. The point of taking a dietary supplement is for the herbs or nutrients to fully be utilized by our bodies. Additives do not facilitate this process; they are not in the products for your benefit. The best supplements promote the quick and effective uptake of nutrients by your body.
Top 7 Reasons Why Emerald Laboratories is Superior
1. Raw Whole-Food Based Formulas for Enhanced Absorption & Bioavailability 2. Formulated by Dr. Mark Stengler
3. Therapeutic Doses with Clinical Results
4. 100% Additive-Free - No Magnesium Stearate
5. Gluten-Free Formulas
6. Purity Tested - cGMP Certified Facility
7. Every Product in Vegetable Capsules
*Not intended to diagnose or treat diseases or ailments, and is not reviewed by the FDA.
Uses & Indications.
Additional Daily Nutrients
Boosting Immune System
Increasing Energy
Ailments & Concerns.
Low Energy
Digestive Issues
Immune Weakness
Compare to these:
Explore More Products