Futurebiotics
Hair Skin Nails for Men (75 tabs)
Healthy is beautiful - regardless of gender. Hair, Skin & Nails® for Men is based on the same #1-selling, nutrient-intense formula as the women's formula with the added benefit of 25 mg of zinc per daily dose and other select nutrients for men. It is a complete daily multi-vitamin that also provides targeted nutrition for vital hair, healthy skin and strong nails and is part of a series of advanced state-of-the-art nutritional supplements designed especially for today's health-conscious man. Healthy skin, vital hair and strong nails are a reflection of your general overall health - both inside and out. Poor eating habits, stress and environmental pollutants drain the body of the vital nutrients it needs to help keep its healthy appearance.
Hair, Skin & Nails® for Men provides a complete array of nutrients required to nourish skin, hair and nails from within, including 25 mg of Zinc, which has been shown to help reduce skin inflammation and support men's health; 5 mg. of organic silica, from horsetail extract, which plays an important role in the body's production of collagen; 1500 mcg of biotin to help fortify and nourish hair and nails.
In addition it contains nutrients specific to men's good health and energy such as Saw Palmetto berries, Smilax root extract and Korean (Panax) Ginseng extract; 23 specially combined vitamins and minerals provide the nutrients your body needs and helps correct the effect of dietary deficiencies; antioxidant support from selenium and vitamins C, E and beta-carotene and a complete B vitamin complex provides nutritional stress support and cardio protection by helping to reduce homocysteine levels.
Hair, Skin & Nails® for Men has been designed to replace your current multi-vitamin.
Glass packaging extends natural freshness and helps maintain potency.
Suggested Use:
As a dietary supplement for adults, take 3 tablets daily with meals or as recommended by a healthcare practitioner.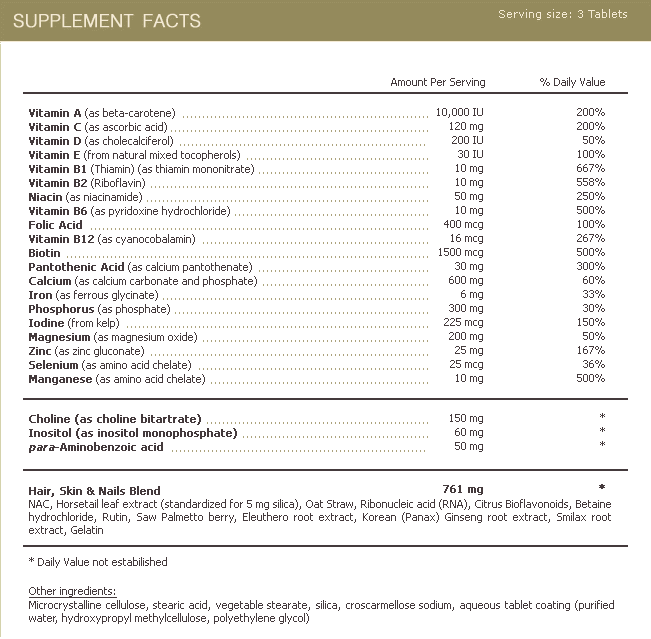 Warning:
Accidental overdose of iron-containing products is a leading cause of fatal poisoning in children under 6. Keep this product out of reach of children. In case of accidental overdose, call a doctor or poison control center immediately.
*Not intended to diagnose or treat diseases or ailments, and is not reviewed by the FDA.
Uses & Indications.
Vital Hair
Healthy Skin
Strong Nails< Specific Nutrients For Today's Health-Conscious Men
Ailments & Concerns.
Compare to these:
---
Questions and answers:
Asked on: November 13, 2012
Question: its waste nt workng

Asked on: November 14, 2012
Question: where i purchase this

Asked on: December 22, 2012
Question: how can we save our hair from hairfall?

Asked on:
February 1, 2013
Question: where in the local drug store in the Philippines I could buy this? thanks.
A: Thank you for your interest in Hair Skin Nails for Men. I am not aware of the availability of this product in the Philippines however you can conveniently purchase this product using the following link. We'd be happy to ship this product to you. http://www.seacoast.com/shopping_cart.php?products_id=7568 If you need any additional assistance placing your order. Please contact us at 1+)702-508-9054 during our business hours.
Asked on:
March 30, 2013
Question: my face become white by these product
A: Unfortunately this supplement does not state that it is for skin bleaching however this supplement does provide support for hair, skin, and nail health.
Asked on:
August 15, 2013
Question: Can I use this product to get rid of grey hair? If yes, what are its side effects?Thank you.
A: Generally hair, skin, and nail products support hair growth and health, and not typically stopping grey hair from growing. There are no side effects indicated on the label. This supplement does contain iron so it is best not to exceed the recommended dosage of 3 tablets daily.
Asked on:
September 16, 2013
Question: Hi my hair are falling and I am a diabetic. Would this be helpful for me?
A: There are no specific warnings against taking this supplement if you have diabetes or any other medical condition however it is always a good idea to let your physician know of what supplements you are taking. This specific supplement contains a special formulation of ingredients to support healthy hair, skin, and nails in men. Also biotin, one of the main ingredients in this supplement has been known to support hair health and growth for some time.
Asked on: January 26, 2015
Question: How can i brought this product?

Explore More Products