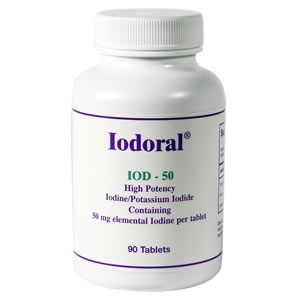 Full price 89.46
Savings 16%
Iodoral IOD-50 (90 Tablets)
| | |
| --- | --- |
| | |
| | Iodoral IOD-50 by Optimox is back in stock. Place your order today! |
| | Buy 3 - Get free delivery on whole order |
Iodoral High Potency Iodine | Potassium Iodide Supplement containing 50 mg elemental Iodine per tablet
90 tablets
Iodoral is a tablet containing 20mg iodine and 30mg iodide as the potassium salt. To prevent gastric irritation, the iodine/iodide preparation is absorbed into a colloidal silica excipient; and to eliminate the unpleasant taste of iodine, the tablets are coated with a thin film of pharmaceutical glaze.
Iodine has, until recently, been downplayed in the medical world. Oh sure our mothers and grandmothers always had a bit of tincture in the medicine cabinet for fresh cuts & scrapes, but modern discoveries about the human body have revealed that Iodine is much more important to our health than we realized. In fact it is estimated that approximately one-third of the (human) population is significantly deficient if Iodine. There are about 6,602,236,752 people roaming the face of the planet; that means roughly 2,200,745,584 people are Iodine Deficient.
So what's all the hype about Iodine? Iodine is a trace mineral vital to hormone production and regulation. Low amounts of Iodine in the diet can have adverse effects on Thyroid Hormone, Estrogen, Progesterone, Testosterone, Insulin, Adrenaline, and HGH (Human Growth Hormone) levels. There is not a cell in our body that does not include Iodine in its composition. A deficiency in iodine is believed to be a factor in increased occurrences of infertility in both women & men, as well as the number of births resulting in mental retardation & other developmental complications.
Because Iodine is utilized in some way by all functioning cells, it promotes cellular balance and purification. People suffering from Radiation Poisoning due to nuclear fallout and/or cancer treatment techniques may benefit greatly from Iodoral, as it allows the cells to eliminate toxins. Iodoral is also indicated for Fibroid tumors as it inhibits tumor growth and promotes normal cell formation.
Benefits:
Radiation Poisoning
Hormones
Hypothyroid - Hyperthyroid
Reproductive Health

Ovaries
Uterus
Fetal Development
Iodoral IOD-50
Serving Size: 1 Tablet
APS
%DV
Iodine + Potassium Iodide
50 mg
*
APS = Amount Per Serving
*% Daily Value (%DV) not established.
Other Ingredients: Micosolle® (Colloidal Silica excipient), Microcrystalline Cellulose, Vegetable Strearins
Suggested Use: Indicated for adult use only- Take 1 tablet daily or as directed by your physician.
Iodine Supplement
*Not intended to diagnose or treat diseases or ailments, and is not reviewed by the FDA.
Uses & Indications.
Supporting Healthy Thyroid Function
Ailments & Concerns.
Fatigue
Weight Gain
Iodine Deficiency
Hashimoto
Thyroid Disease
Compare to these:
Reviews
Thursday 14 January, 2016
I read a lot of information on Iodine supplements and decided to try this product. I have noticed since taking this that I have more energy and my hands and feet are not cold like they used to be all the time. Every cell in your body uses iodine and I believe that this product does promote cellular balance. I will recommend this product to my family and friends.
Friday 28 May, 2010
Ihave been using the IOD-50 for a few weeks. Very good product. I had used the 12.5 for 2 months prior and realzed I needed a larger dose. this dose works great for me and I recommend it to anyone who has been through the thyroid nightmare with general doctors and are overweight, cold, tired and just feel horrible. I had radiation therapy in the 1960s for hyperthyroidism. Since then it has been an uphill battle to feel good. Nw in my 60's I started gaining tremendous weight in my 50's and could not lose it. I feel I am now just beginning to be in a better place to lose and be balanced emotionally, physically and mentally. I recommned you get off teh synthroid or other big pharma medicines and use some healthy iodine.
---
Questions and answers:
Asked on:
November 24, 2012
Question: Will I hev a permanent weight gain even if I stoped taking the pills?
Asked on:
January 15, 2013
Question: will it correct thyroid disorder
Asked on:
January 15, 2013
Question: iodoral will it help hypothroid
A: Thank you for your interest in Iodoral. Iodine has been known to benefit people with hypothyroid conditions. The suggested use is 1-2 tablets daily or as directed by your physician.
Asked on:
July 23, 2013
Question: can we use this product...for a person whose TSH level is 15 unit and T3 and T4 level are in normal range.....
A: The warnings on this supplement are as follows:

Ingestion of iodine and/or iodide has been associated with certain complaints. If you

experience any of the following, stop ingesting Iodoral®

and contact your physician:

• acne-like skin lesions in certain areas of

your body

• headache in the frontal sinus

• unpleasant brassy taste

• increased salivation and sneezing

If you experience any unusual symptom since starting on Iodoral®

, contact your physician.

Though I do not see any warnings on this supplement against taking Iodoral if your TSH Levels are in a certain range you may want to ask your physician if you are concerned.
Explore More Products