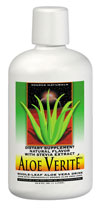 Full price 27.50
Savings 40%
Aloe Verite (200 mg 60 tabs)
Source Naturals
Aloe Verite (200 mg 60 tabs)
Aloe Verite whole-leaf aloe vera tablets offer benefits of premium aloe vera juice in powerfully concentrated, easy-to-swallow tablets. Each Aloe Verite tablet contains a potent 200:1 concentrate of whole-leaf, cold-processed aloe vera powder. Source Naturals Aloe Verite; tablets are made from freshly extracted aloe vera juice. The aloe plant, also known as Aloe vera or Aloe barbadensis, has been revered for thousands of years. Hieroglyphics show that the ancient Egyptians used aloe. In more recent times, aloe has played an important role in the folk herbal traditions of India, China and Mexico. Aloe is probably one of the most commonly used herbs, as many people keep a plant on the kitchen windowsill for occasional topical use. In vitro studies have shown that aloe reduces the production of several chemical mediators that contribute to body discomfort, such as bradykinin, histamine, thromboxane B2 and prostaglandin F2 alpha. Aloe Verite soothing effects may also be due to its salicylate content. This succulent member of the lily family is considered to be safe and nontoxic. The most valuable part of the plant is the gel. It is rich in comforting polysaccharides, such as glucomannans, which are composed of the carbohydrates glucose and mannose. Our unique processing techniques separate the bitter, cathartic yellow latex of the aloe plant from the precious gel, preserving the polysaccharides and removing the undesirable anthraquinones (harsh purgatives found in the latex). NOT FROM CONCENTRATE- Most aloe concentrates have been boiled, a process that destroys many of the long-chain polysaccharides, known as mucopolysaccharides. ALOE VERITE is processed in a manner that assureds that all the heat-sensitive nutrients of the aloe plant remain potent.
Suggested Use:1 to 3 tablets daily between meals. Each tablet contains the approximate equivalent of 1.33 fluid ounces of fresh aloe vera juice.
Supplement Facts
Aloe Verite
Serving Size:3 tablets
APS
%DV
Aloe Vera Concentrate (200:1)
600 mg
0
Other Ingredients:sorbitol, microcrystalline cellulose, stearic acid, modified cellulose gum, magnesium stearate, and colloidal silicon dioxide.
Notes:If you are pregnant, may become pregnant, or breastfeeding, consult your health care professional before using this product.
Do not use if either tamper-evident seal is broken or missing. Keep out of the reach of children.
Compare to these:
Explore More Products