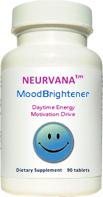 Full price 39.95
Savings 25%
MoodBrightener (90 tablets)
MoodBrightener
90 tablets
Daytime Energy – Motivation- Drive
NEURVANA™ MoodBrightener supplies the catecholamine regulators (Beta-Phenylethylamine, N-acetyl-L-Tyrosine & L-Taurine) with nutrient cofactors (Vitamin B6, Vitamin B12 & Folinic Acid) that that work synergistically through different neural pathways to:
Increase alertness, wakefulness, attention, energy and endurance
Boost chronic & acute depressive moods and stabilize mood swings
Enhance sexuality, creativity, awareness and sensory perceptions
Negate tension and stressful feelings while increasing feelings of pleasure and emotional well-being
Prevent impairments in cognition and other harmful effects from too much stress in your life
NEURVANA™ MoodBrightener can help acute & chronic depressive moods, seasonal affective disorder, post-traumatic stress, obsessive-compulsiveness, decreased libido, moodiness, and mental fogginess.
Beta-phenylethylamine (PEA), a naturally occurring stimulating brain-neurotransmitter (chemical signal messenger) that boost moods, increase attention, improves mental & physical performance , increase attention, stabilizes mood swings and make you feel good.
PEA acts on the central nervous system to produce alertness, wakefulness, attention, energy and endurance
PEA has amphetamine-like effects, minus their harmful side effects, and has been referred to by researchers as an "endogenous amphetamine, produced by your brain.
After ingesting PEA, people respond with a surge of energy, wakefulness, alertness, and heightened senses.
Supplement Facts
MoodBrightner
Serving Size: 1 tablet
APS
%DV
Vitamin B6 (pyridoxine HCL)
20 mg
1000%
Vitamin B12 (Methylcobalamine)
250 mcg
4166%
Folinic Acid
400 mcg
100%
Magnesium (magnesium citrate)
50 mg
12%
beta-Phenethylamine HCL
125 mcg
*
Proprietary Neural Blend
550 mg
*
N-acetyl-L-Tyrosine, L-Taurine
*daily value not established
Other Ingredients: Soy Lecithin, Caprylic/Capric Triglycerides, Stearic Acid, Magnesium Stearate, Microcrystalline Cellulose Bioperine® Piperine ††
†† Bioperine® is a trademark of Sabinsa Corporation
Recommended use:
Take 2 to 3 tablets per day on an empty stomach. Take 1 to 2 tablets in the morning before breakfast on an empty stomach. Follow by taking one tablet midday on an empty stomach.
For best effects: Use in conjunction with NEURVANA™ Tranquil
Do not take in the evening because phenylethylamine may cause sleep problems (insomnia).
WARNINGS:
DO NOT USE IF YOU ARE UNDER THE AGE OF 18 YEARS.
DO NOT USE IF YOU ARE PREGNANT OR NURSING
Do not take phenylethylamine if you have used an MAO inhibitor such as isocarboxazid (Marplan), phenelzine (Nardil), rasagiline (Azilect), or tranylcypromine (Parnate) within the past 14 days. Do not take phenylethylamine if you have phenylketonuria (PKU).
**These statements have not been evaluated by the Food and Drug Administration. This product is not intended to diagnose, treat, cure or prevent any disease.
*Not intended to diagnose or treat diseases or ailments, and is not reviewed by the FDA.
Uses & Indications.
Stress Control
Increase Attention
Motivation
Mood Elevation
Boost Mental And Physical Performance
Ailments & Concerns.
Post Traumatic Stress
Depression
Compare to these:
Explore More Products