Bonita V Advanced Formula for Hair Skin Nails (30 tablets)
Beauty experts agree that hair, skin and nail issues cannot always be resolved by shampoo, conditioners, moisturizers, or topical applications. Many times, the root of the problem begins with diet and not consuming enough ot he essential nutrients to combat hair loss, brittle nails and healthy skin. Vitamin deficiencies are often found to be one of the largest contributors to premature hair loss, premature greying, wrinkles, dry skin, acne, and weak or brittle nails.
Bonita V is a powerful one a day tablet for support of healthy hair, skin and nails formulated with He Shou Wu (fo-ti) a chines herb containing an alkaloid that has rejuvinating effects on the nerves, brain cells and endocrine gland. It stimulates a portion of the adreneal gland and helps to detoxify the body. Hair, skin and nail growth are a result of this rejuvination.
Developed by Essential Source, a market leader in specialty nutraceutical products, tremendous results have been reported by those who have been using Bonita Hair Skin & Nails. Sharing their stories of regrown hair, strengthened nails, and rejuvenated skin in a matter of weeks.
With the addition of a proprietary blend of proven ingredients known as Revytalyz 5. Bonita V now delivers the most powerful one a day hair, skin, and nail formula, with over a thousand milligrams of active ingredient in a single Rapid Response Tablet!
What kind of results can you expect from using Bonita V? Our customers will tell you!
"Bonita V has really made a difference in my hair since using this, it feels much much softer and healthier".
"as I get older I started seeing my hair was thinning and breaking so I started using the Bonita V and since then I have noticed my hair seems stronger and does appear to be thickening".
"my hair has grown two inches in 2 months! I'm so excited I finally found something to give me beautiful natural hair!!
Product Features:
Vegan and Vegetarian Approved
Potent One per Day Tablet
Rapid Response Formula
Featuring Revytalyz 5
Bonita V Advanced Formula Benefits and Side Effects:
Supporting Healthy Growth for Hair Skin and Nails
Preventing Split Ends, Building Strong Thick Hair
Reducing Wrinkles, Nourishing Dry Skin
Promoting Growth of Strong Healthy Nails
Suggested Use:Take one tablet daily with an 8 oz glass of water
Supplement Facts
Bonita V
Serving Size: 1 tablet
 
APS
%DV
Vitamin A
5000 IU
100%
Vitamin C (ascorbic acid)
65mg
108%
Riboflavin (Vitamin B2)
5mg
294%
Vitamin B3
5mg
25%
Pyridoxine (Vitamin B6)
5mg
250%
Vitamin B12
50mcg
833%
Biotin
5mg
1667%
Pantothenic Acid
55mg
550%
Folic Acid
200mcg
50%
MSM
555mg
 
DMAE Bitartrate
50mg
 
Inositol
35mg
 
Alpha Lipoic Acid
30mg
 
Grape Seed Extract
30mg
 
Horsetail Extract
75mg
 
Proprietary Blend: Revytalyz 5
He Shou Wu (Fo-ti), Hyalauronic acid, Gotu Kola Extract
Citrus Bioflavonoid, Bioperine
130mg
 
*Percent Daily Values are based on a 2,000 calorie diet.
    Daily Value not established.
 
 
Other Ingredients:
DI-Calcium Phosphate, Sodium-Copper Clorophyline, Microcrystaline cellulose, Stearic Acid, Silicon Dioxide, Sodium Croscarmellose, Magnesium Stearate
SKU: 5278-5
UPC: 6 96859 25278 5
Distributed or manufactured from Essential Source. See more
Essential Source
products.
Login for Details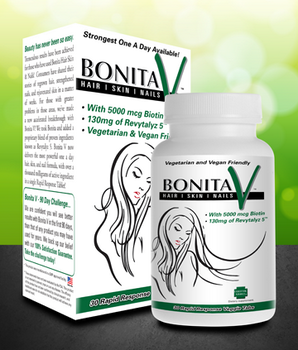 FREE SHIPPING
*Not intended to diagnose or treat diseases or ailments, and is not reviewed by the FDA.
Uses & Indications.
Supporting Soft Beautiful Skin Tone With 5000 Mcg Of Biotin
Promoting Healthy Growth And Color Of Hair
Ailments & Concerns.
Grey Hair
Acne
Dry Skin
Brittle Nails
Premature Hair Loss
Split Ends
Compare to these:
---
Questions and answers:
Asked on:
January 25, 2018
Question: I been taking Bonita V for a week now and my stomach has hurt so bad have u had any one else to have this problem?
A: BonitaV Advanced Formula is Seacoast Vitamins best selling Hair, Skin and Nail formula and we have not received any feedback concerning side effects. It's also important to note that the suggested use is to take one tablet daily with an 8oz glass of water. Taking vitamins and herbs on an empty stomach can sometimes cause stomach upset and nausea.
Asked on:
February 7, 2014
Question: My hair is falling dawn very fast..i have used many of the hair oil to prevent it..can i use bionita v for this prob..without any side effect.
A: There are no known side effects to Bonita V. Bonita V Builds hair strength, Prevents split ends, Promotes hair growth, Prevents premature hair loss, Thickens hair, Reduces wrinkles, Nourishes dry skin, Improves minor skin imperfections, Prevents acne, Strengthens nails, Faster nail growth.
Reviews
Tuesday 22 May, 2018
Only after 3 weeks, I have seen a big difference, post menopausal, my hair became thin and split ends.my front edges are growing back and also my hair has grown and a few splitends. I purchased another 30 day supply yesterday so I can continue with the regiment. 1 out of 10 ! "10th" whoop!whoop't
Thursday 09 February, 2017
I started using Bonita V 4 months ago and I think this product is wonderful! My skin does not look so dry and my hair has really gotten thicker and longer. I have tried several other hair, skin and nail products, however this one has shown so much more results than the others. i have told several other woman about this also and they are using it with great results.
Monday 16 November, 2015
I Love Bonita and it really works. Just after 30 days I noticed my hair was thicker, shinier and my nails were strong and not brittle. I can't wait to see the results after month 2. Bonita will be part of my daily vitamins for quite a while.
Tuesday 18 February, 2014
hello my name is jay. i began using biotin supplements about six months ago. my face began severely breaking out from the fillers. so i was excited when i found seacoast vitamins . Bonita V gave me back my confidence. my skin , hair, and nails are rejuvenated .
Friday 27 September, 2013
after a bad trip to the salon my hair was very damaged and cut extremely short, i started using this and i honestly see such a difference i feel like my hair has been restored to a healthy look
Wednesday 25 September, 2013
love that its vegan frien dly helping me with my damaged hair from years of dyeing
Friday 20 September, 2013
my hair is amazing now! i can actually style it and it has volume. thank you so much for this.
Tuesday 17 September, 2013
my nails are finally starting to get hard, they were so brittle and thin after acrylic, but thats not the cased anymore
Thursday 12 September, 2013
love that irs vegan friendly! pills are alittle big but def worth it. my hair is shinyand fuller now!
Wednesday 11 September, 2013
helped alot with my damaged hair, doesnt have split ends anymore and feels much healtier.
Friday 06 September, 2013
amazing! i have done my research and everything you need to help with hair growth is in this product. It works well and im very very happy with this product!
Explore More Products
Cures and side effects for Bonita V Advanced Formula for Hair Skin Nails have not been reviewed by Seacoast, nor the FDA. Individual results will vary. Contact a healthcare professional if you have questions about using Bonita V Advanced Formula for Hair Skin Nails.