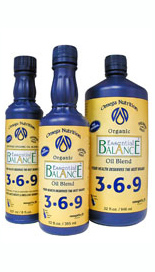 Full price 15.25
Savings -6%
Omega Essential Balance 3-6-9 (12 oz)
| | |
| --- | --- |
| | Sorry! This item has been discontinued. See below. |
Jarrow Formulas
Omega Essential Balance (12 oz)
Essential Balance® 3-6-9 -The Convenient Way to Return to Balance. Essential Balance® 3-6-9 is a specially formulated blend of organic oils that provides a balance of polyunsaturated fats in the "one to one" ratio of omega-3 to omega-6 and also contains 4g per serving of omega-9 monounsaturates. This is a great formula for everyday use for both men and women. Essential Balance® 3-6-9 EFA blend oil is great for daily use because our bodies depend on EFAs for normal functioning cells. EFAs act as building blocks in cell membranes and produce hormone-like substances necessary for energy metabolism and cardiovascular and immune health. Essential Balance® of omega-3 and omega-6 essential fatty acids For thousands of years, the human diet was made up of a natural selection of foods providing a 1:1 balance of omega-3-omega-6 essential fatty acids (EFAs).
Offering the same EFA ratio found in the human brain, Essential Balance® 3-6-9 is a great tasting nutritious blend of organic oils that meets the everyday needs of both women and men. Make Essential Balance® 3-6-9 a regular part of your routine. The average diet in North America is widely considered to be out of balance, acutely deficient in omega-3 EFA while disproportionately abundant in consumption of omega-6 EFAs. Research has shown that deteriorating health may result from a long-term imbalance or a dietary deficiency of either EFA.
Research shows that Essential Fatty Acids benefit: * Skin, hair, and nail health * Cardiovascular/immune health * Proper development of eyes and brain.
Essential Balance ® 3-6-9 Typical Analysis / Tablespoon Omega 3 Fatty acids 4175 mg Omega 6 Fatty Acids 4175 mg Omega 9 Fatty Acids 3850 mg
Simply add 1-2 teaspoons Essential Balance® 3-6-9 to your early morning blender drink. Use in salad dressings, or as a condiment or butter replacement. Add to prepared dishes such as pasta, rice and vegetables before serving.
Do not use for cooking. Keep refrigerated.
Compare to these:
Explore More Products