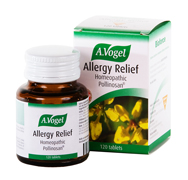 Full price 19.99
Savings 10%
Allergy Relief Tablets (120 tab)
| | |
| --- | --- |
| | Buy 3 - Get free delivery on whole order |
Allergy Relief HomeopathicTablets
Exclusive formula including Cardiospermum, the anti-allergy homeopathic alternative. Homeopathy is highly effective for the prevention and treatment of hay fever and hay fever-type allergies, without drowsiness. Noted improvement and relief with continued usage.
A. Vogel Allergy Relief contains ingredients that have a long history of use for hay fever and its symptoms. Two of its ingredients improve the basic condition and lower the reaction level of allergy sufferers.
Allergy Relief Pollinosan Liquid can be used for frequent sneezing, itchy nose, nasal congestion, watery eyes, swollen eyelids, inflamed sinuses, dry, itchy skin, allergic eczema.
Homeopahtic relief for:
Hay fever
Sneezing
Watery eyes, swollen lids
Allergic reactions
Sniffling, itchy nose, nasal congestion
Dosage for the temporary relief of allergy symptoms:
Adults: Place 2 tablets under the tongue 3 times daily, 15 minutes before eating. Allow to slowly dissolve in the mouth. If tablets are slow to dissolve, chew and continue to absorb sublingually.
Children 6 - 12: Half the adult dose.
Ingredients: contains equal parts of Ammi visnaga 1 X ; Aralia racemosa 2 X ; Cardiospermum halicacabum 2 X ; Galphimia glauca 3 X ; Luffa operculata 6 X ; Okoubaka aubrevillei 2 X ; Paloondo 2 X
Other ingredients: lactose, magnesium stearate, starch.
Note: The full effect can only be felt after several days. Ideally begin taking shortly before the allergy season begins and continue taking throughout the period. In acute cases, take hourly, gradually reducing frequency as improvement occurs, or as directed by a physician.
Note: For hay fever, best results are achieved when the medication is started 1 to 2 weeks before the onset of the allergy season and continued throughout the allergy period. In acute cases take hourly, gradually reducing frequency as improvement occurs. Or as directed by a physician.
Special information: In the first days of treatment there may be a worsening of symptoms, which fades away after a short time. This is a positive indication that the body is responding to the treatment and, in such cases the dosage should be reduced by half.
Warnings or side effects: None known. May be taken by automobile drivers – no drowsiness.
Mode of Actions and Pharmacology
Ammi visnaga 1 X |Used in cases of bronchial asthma, relieving the feeling of tightness in the chest, difficulty in breathing which are also distressful concomitant symptoms of hay fever. It displays strong anti-allergic properties.
Aralia racemosa 2 X | Has strong anti-allergic properties and is also indicated in cases of hay fever. It is directed against allergic inflammations of the nose and bronchial area.
Cardiospermum halicacabum 2 X | Used successfully in the treatment of allergic reactions, particularly of the skin (ie urticaria; nettle rash, hives). It is effective in treating allergic reactions caused by insect bites, medication or detergents. Clinical trials have shown an effect similar to cortisone which indicates its usefulness in allergies, and other inflammatory conditions.
Galphimia glauca (Galphemia) 3 X | Used in treatment of allergic conditions of the skin and mucous membranes, where its desensitizing properties bring improvement. Clinical trials demonstrate its success in treating hay fever, allergic rhinitis, bronchial asthma, and allergic skin diseases. The positive experiences with this medicinal plant assign Galphimia an important place in the treatment of allergies.
Luffa operculata 6 X | Brings excellent results in cases of head colds of a suppurative as well as allergic character, with a tendency to either a runny of stuffy nose. Fatigue associated with head colds and frontal headaches are favorably affected. Also, dry irritating conditions of the nose are improved. The plant has an anti allergic effect. Hay fever sufferers show a remarkable improvement.
Okoubaka aubrevillei 2 X | In the tropical forest of West Africa the natives use a powderized Okoubaka bark in treating every kind of poisoning. In our times, with allergies becoming increasingly frequent due to the increase of toxins and allergy-provoking substances, Okoubaka offers treatment for the basic symptoms complex of the allergy afflicted individual.
Paloondo 2 X | Used as a treatment for reddening, itching, as well as allergic symptoms with sneezing in the rhino-allergic syndrome.
*Not intended to diagnose or treat diseases or ailments, and is not reviewed by the FDA.
Uses & Indications.
Relieves Hayfever Symptoms Without Drowsiness
Homeopathic Medicine
Ailments & Concerns.
Nasal Congestion And Allergic Reaction
Sneezing
Watery & Swollen Eyes
Hay Fever
Compare to these:
---
Questions and answers:
Asked on:
January 31, 2013
Question: Is it safe for breastfeeding mothers?
A: Please consult with your physician to find out safeness of ths product for you and your baby.
Explore More Products