Pollinosan Nasal Spray (20 ml)
A. Vogel | BioForceUSA
Pollinosan Nasal Spray
This exclusive formula created by Dr. Alfred Vogel starts to work instantly - proving maximum effectiveness. Pollution Proof: Unique cap prevents back flow of solution into bottle after spraying. Special silver-coated nozzle sterilizes solution during spraying. No preservatives which may damage the sensitive nasal cilia - a benefit worth thinking about. The buffered saline solution clears and thins the secretions of the nose and sinus, as well as humidifies the mucous membranes. This is the identical homeopathic formula contained in the Vogel Allergy Relief liquid and tablets. For optimum results, use along with Allergy Relief. Instant relief from the Pollinosan Spray, long lasting relief from the Allergy Relief tablets or liquid.
Natural instant relief
Hay fever
Allergic symptoms and reactions
Ingredients: Ammi visnaga 1 X, Aralia racemosa 2 X, Cardiospermum halicacabum 2 X, Galphimia glauca 3 X, Larrea mexicana 2 X, Luffa operculata 6 X, Okoubaka aubrevillei 2 X
Dosage: For Adults and Children 12 years and older: Spray once or twice into each nostril 3-5 times a day or as directed by a health care professional. Or as directed by a physician.
Precautions, contradictions and interactions: Warnings or side effects: None known. May be used by automobile drivers ÃÃÃÂÂÃÂÂÃÃÂÂÃÂ no drowsiness
Actions and pharmacology
Ammi visnaga 1 X Used in cases of bronchial asthma, relieving the feeling of tightness in the chest, difficulty in breathing which are also distressful concomitant symptoms of hay fever. It displays strong anti-allergic properties.
Aralia racemosa 2 X Has strong anti-allergic properties and is also indicated in cases of hay fever. It is directed against allergic inflammations of the nose and bronchial area.
Cardiospermum halicacabum 2 X Used successfully in the treatment of allergic reactions, particularly of the skin (ie urticaria; nettle rash, hives). It is effective in treating allergic reactions caused by insect bites, medication or detergents. Clinical trials have shown an effect similar to cortisone which indicates its usefulness in allergies, and other inflammatory conditions.
Galphimia glauca (Galphemia) 3 X Used in treatment of allergic conditions of the skin and mucous membranes, where its desensitizing properties bring improvement. Clinical trials demonstrate its success in treating hay fever, allergic rhinitis, bronchial asthma, and allergic skin diseases. The positive experiences with this medicinal plant assign Galphimia an important place in the treatment of allergies.
Luffa operculata 6 X Brings excellent results in cases of head colds of a suppurative as well as allergic character, with a tendency to either a runny or stuffy nose. Fatigue associated with head colds and frontal headaches are favorably affected. Also, dry irritating conditions of the nose are improved. The plant has an anti allergic effect. Hay fever sufferers show a remarkable improvement.
Okoubaka aubrevillei 2 X In the tropical forest of West Africa the natives use a powderized Okoubaka bark in treating every kind of poisoning. In our times, with allergies becoming increasingly frequent due to the increase of poisons and allergy-provoking substances, Okoubaka offers treatment for the basic symptoms complex of the allergy afflicted individual.
Paloondo 2 X Used as a treatment for reddening, itching, as well as allergic symptoms with sneezing in the rhino-allergic syndrome.
Made according to Swiss Pharmacuetical GMP's
SKU: SN-091882-1
UPC: out 0364031440311
Distributed or manufactured from A Vogel. See more
A Vogel
products.
Login for Details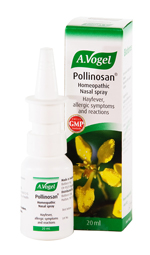 FREE SHIPPING
This product has been discontinued.
Seacoast recommends an excellent replacement. Click here.
*Not intended to diagnose or treat diseases or ailments, and is not reviewed by the FDA.
Uses & Indications.
Fast Relief From Allergy Symptoms
Ailments & Concerns.
Chest Congestion
Stuffy And Runny Nose
Compare to these:
---
Questions and answers:
Asked on:
September 13, 2013
Question: Am 4month pregnant with severe sinusitis.i want to use this product.any side effect?
A: It is advised that if you are pregnant or nursing to consult with your physician before using.
Explore More Products
Cures and side effects for Pollinosan Nasal Spray have not been reviewed by Seacoast, nor the FDA. Individual results will vary. Contact a healthcare professional if you have questions about using Pollinosan Nasal Spray.