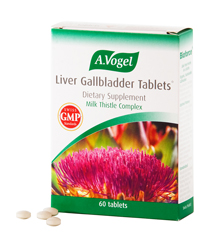 Full price 25.99
Savings 10%
Liver Gallbladder Tablets (60 tab)
| | |
| --- | --- |
| | Buy 3 - Get free delivery on whole order |
A. Vogel | BioForceUSA
Liver Gallbladder Tablets
The liver performs many vital functions in the body. It stores vitamins and minerals, produces bile which is required for the breakdown of fat and is the main organ involved in the metabolism of food, drugs and hormones. Alfred Vogel called the liver "the regulator of life".
Milk Thistle supports the cell membranes of the liver. Dandelion is rich in minerals and nutrients, which makes it an excellent cleansing agent. Boldo and Peppermint act locally to produce smooth muscle relaxation which promotes stomach and intestinal health.
Supports healthy liver and gallbladder function
Supports natural cleansing of toxins
Supports good digestion
Unique combination of 5 herbs to enhance liver and gallbladder function
Each Liver Gallbladder tablet contains 3.2mg Milk Thistle seed extract, 4.6mg organically grown Globe Artichoke extract, 1.2mg organically grown Dandelion extract, 0.7mg Boldo leaves extract, 0.3mg Peppermint leaves extract, microcrystalline cellulose, cottonseed oil. Each tablet contains the equivalent of 500mg Milk Thistle Complex liquid.
The liver produces the bile then flows through the hepatic ducts in the gallbladder. The Medical Journal Phytochecical Research states that Milk Thistle is the most well-researched herb for the treatment of liver disease. Dandelion root stimulates digestion and stimulates the liver to produce more bile. This action cleanses the liver and gallbladder, while peppermint leaves soothe the intestines.
Dosage: Adults: Tablets 1 tablet twice a day. This product is not recommended for children.
Precautions, contraindications and interactions No restrictions on long term use. If pregnant or nursing, contact your healthcare professional before use.
Interactions with other medicines are not known. However, due to the increased secretion on digestive juices, a mild laxative effect may occur. If this is unwanted, the dosage can be reduced.
Made according to Swiss Pharmacuetical GMP's
*Not intended to diagnose or treat diseases or ailments, and is not reviewed by the FDA.
Uses & Indications.
Promoting Good Digestion
Supporting Natural Cleansing Of Toxins
Maintaining Healthy Liver & Gallbladder
Ailments & Concerns.
Liver Disease. Digestive Disorders
Compare to these:
Explore More Products