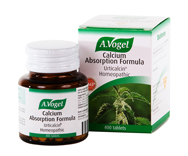 Full price 16.99
Savings 21%
Calcium Absorption (400 tab)
| | |
| --- | --- |
| | Sorry! This item has been discontinued. See below. |
A. Vogel | BioForceUSA
Calcium Absorption Tablets
Lack of calcium is a common health problem. Those most at risk include children, pregnant women, and the elderly. In part this lack of calcium is caused by nutritional habits, processed sugar and white flour, which can inhibit proper functioning of our calcium metabolism. If calcium cannot be assimilated and metabolized in sufficient amounts, our health can be adversely affected. Special homeopathic triturations of mineral salts and Stinging Nettle in A. Vogel Calcium Absorption Formula help the absorption of calcium in our diet as well as its metabolism and assimilation.
Homeopathic Remedy for:
Calcium deficiencies
Helpful for growing children
Helpful for pregnant or nursing women
Helpful in periods of additional stress or overexertion
Each tablet contains:
Calcarea carbonica 4X (0.5 mg/tab), Calcarea phosphorica 6X (0.5 mg/tab), Natrum phosphorica 6X (0.5 mg/tab), Silicea 6X (2.5 mb/tab), Urtica dioica 1X (10 mg/tab), Lactose content per tablet approx. 100 mg.
Dosage:
Adults: Place 2 tablets under the tongue 3 times daily, 15 minutes before eating Allow to slowly dissolve in the mouth. If tablets are slow to dissolve, chew and continue to absorb sublingually.
Children: 2-6 years of age: half the adult dose
Over 6 years of age: give adult dose.
Duration of treatment: An improvement in symptoms follows long-term intake of the tablets. Treatment should be continued for six months.
Precautions, contraindications and interactions: There are no known interactions with homeopathic products. Contraindication: no known allergy to any of the ingredients. If pregnant or nursing a baby seek professional advise before using.
Actions and pharmacology
Calcarea carbonica (calcium carbonate) 4 X Calcium carbonate is obtained from pulverized oyster shells. In homeopathy, oyster calcium is known as a stimulant of the periosteum (a membrane covering the bone and involved in bone regeneration and growth). It is also useful for mental and physical exhaustion, calcium metabolism disorders and delayed dentition.
Calcarea phosphorica (calcium phosphate) 6 X In homeopathic dilution, calcium phosphate is recommended for delayed dentition, prevention of tooth decay, fragile bones and delayed healing of fractured bones.
Natrum phosphoricum (sodium phosphate) 6 X Natrum phosphoricum supports the physiological processes and promotes overall well-being. It relieves cracking joints and rheumatism in the knees. Natrum phosphoricum is typically effective for the person sensitive to cold and whose sleep is agitated.
Silicea (silica) 6 X Silicea promotes mineral assimilation. It therefore helps to relieve demineralization-related problems such as: fatigue, exhaustion, neurasthenia, brittle hair and nails, tooth decay, thinness, sensitivity to cold, etc.
Urtica dioica (Stinging Nettle) 1 X Stinging Nettle is a member of the Urticacae family and is found in all temperate climates around the world. Stinging Nettle is known to be a reconstructive agent for the body. Its high mineral content (especially silica, iron and calcium) makes it invaluable for convalescence, anemia, rapid growth, etc. Urtica dioica reinforces and supports the whole body. In low homeopathic dilution, Urtica stimulates the body to better absorb and incorporate the minerals found in food.
Made according to Swiss Pharacuetical GMP's
*Not intended to diagnose or treat diseases or ailments, and is not reviewed by the FDA.
Uses & Indications.
Supporting Metabolism & Assimilation Of Minerals
Increasing Absorption Of Calcium
Helpful To Growing Children
Supporting Pregnant And Nursing Women
Ailments & Concerns.
Calcium Deficiency
Anemia
Compare to these:
Explore More Products