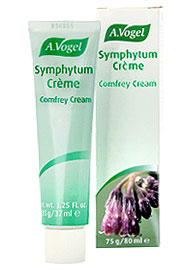 A. Vogel | BioForceUSA
Comfrey Cream
Made with organically grown Comfrey. Same formula Dr. Vogel developed that is good for the skin.
Each gram contains: Comfrey (Symphytum officinalis) extract 200 mg
Other ingredients: Water, hydrogenated peanut oil, alcohol, propylene glycol, cetearylic alcohol, sodium lauryl sulfate, sodium cetearyl sulfate, silver sulphate.
Dosage: Rub in gently on desired areas.
Bioforce Comfrey Cream is an herbal skin cream containing fresh extracts of freshly grown Comfrey, one of the oldest healing plants. The major active ingredients of Comfrey are mucilage and allantoin. The painstaking process of extracting the fresh plants guarantees the full spectrum of active ingredients. Then the Comfrey extract is combined with a moisturizing base of peanut oil to produce a cream that absorbs quickly and readily into the skin. This allows the active ingredients in the herb to begin working without leaving an oily residue on the skin. Comfrey Cream has an invigorating and rejuvenating effect. It is also refreshing to tired legs and feet. Contains no preservatives. Silver coating of the tube provides protection from contaimination.
Contraindication: known allergy to one of the ingredients. Comfrey, whatever its form, is not recommended during pregnancy or nursing.
Made according to Swiss Pharmaceutical GMP's
*Not intended to diagnose or treat diseases or ailments, and is not reviewed by the FDA.
Uses & Indications.
Soothes Tired Legs And Feet
Contains Comfrey Extracts
Invigorating & Rejuvenating Cream
Ailments & Concerns.
Pain And Inflammation
Tired Legs And Feet
Compare to these:
Reviews
Thursday 01 January, 2015
I've used this product for over 25 years and am finding it increasingly difficult to find. This is puzzling to me since it is an excellent product, very effective on any kind of cut, burn, lesion (squamous) or infection of the skin. It's also very good for softening the smoothing the skin. I can't understand why health stores in my area no long carry it, or why it isn't listed among the manufacturer's products any longer. I'm hoping I can continue to get is for as long as I live.
Explore More Products