Inf-Zyme Forte 500 tabs
Inf-Zyme Forte combines digestive pancreatic enzymes with antioxidants and metabolic cofactors. These digestive enzymes reportedly aid the small intestines' role in digesting proteins, fats and carbohydrates. Their actions are known to help maintain intestinal health and minimize food intolerances. This product is pH release coated to resist stomach acid, and to release in the upper part of the small intestine where food synthesis occurs. Refrigeration recommended. Benefits:
Osteoarthritis
Rheumatoid Arthritis
Auto-Immune Disorders
Cancer Support and Prevention
Indigestion
Proteolytic Enzymes
Anti-Inflammatory
Recommended Use: As an adult dietary supplement, take 1-3 tablets daily, or as directed by a healthcare practitioner.
Free of gluten, yeast, wheat, corn, soy, dairy, sugar, starch, artificial coloring or flavoring.
Inf-Zyme Forte
Serving Size: 1 Tablet
 
APS
%DV



Pancreatin (200 mg 4x) 20,000 USP units of Amylase Activity, 1,600 USP units of Lipase Activity, 20,000 USP units of Protease Activity

800 mg

*

Bromelain

125 mg

*
Papain

120 mg

*

Trypsin (30,000 USP units of Trypsin Activity)

120 mg

*

Chymotrypsin (2,500 USP units of Chymotrypsin Activity)

2.5 mg

*

Rutin (Eucalyptus)

85 mg

*

Lipase

35 mg

*
Zinc (Gluconate)

2.6 mg

17%

Superoxide Dismutase

100 units

*

Catalase

50 IU

*

L-cysteine

10 mg

*
APS = Amount Per Serving
*% Daily Value (%DV) not established.
Other Ingredients: Calcium phosphate, cellulose, magnesium stearate, magnesium silicate.
SKU: 10250
UPC: 690290102500
Distributed or manufactured from American Biologics. See more
American Biologics
products.
Login for Details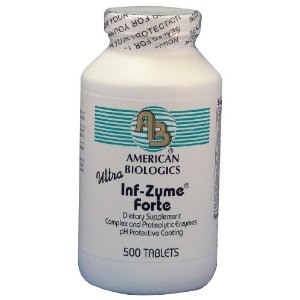 FREE SHIPPING
*Not intended to diagnose or treat diseases or ailments, and is not reviewed by the FDA.
Uses & Indications.
Enhancing Metabolism
Improving Digestion Reducing Inflammation
Increasing Red Blood Cells
Ailments & Concerns.
Cancers
Polymyalgia
Rheumatoid Arthritis
Anemia
Crohn's Disease
Prostate Cancer
Fibromyalgia
Breast Cancer
Compare to these:
Reviews
Wednesday 16 March, 2011
I use it for pain (arthritis) and also a digestive aid.
Tuesday 24 August, 2010
I take it for rheumatic problems and other muskular disseases.
Thursday 22 April, 2010
Prevents heart burn after eating spicy foods late at night. also allows me to drink milk and milk products although I am lactose intolerance.
Wednesday 31 March, 2010
I have been using this product for over a year, have used many similar products, but based upon regular blood analysis it has proven to be the best supplement for me.
Tuesday 16 March, 2010
This is no doubt the best product on the market.I have actual blood analysis done monthly as I am also Type 2 diabetic. The proof is conclusive! Have tried many other products with nowhere near the same results.
Saturday 29 August, 2009
AFTER USING THIS PRODUCT I FELT "PARADISE REGAINED". SIMPLY NO COMPARISON. PLEASE USE THIS PRODUCT FOR WHAT IT HAS BEEN RECOMMENDED, CERTAINLY YOU WILL WRITE ANOTHER BETTER REVIEW THAN I HAVE WRITTEN. THANKS FOR READING MY REVIEW.
Wednesday 03 December, 2008
Inf-Zyme Forte was recommended to me as being a "miracle" for relieving the symptoms of IBS... and a "MIRACLE" it is. I, personally, take 2 tabs in the morning and 2 tabs at night. Finding this product has made a huge difference in my life. I still try to stay away from the foods on the list my doctor gave me to avoid the symptoms of IBS, but before Inf-Zyme Forte it just wasn't working as well. This is a "great product."
Monday 26 May, 2008
product was delivered QUICK, and PRICE was great. Use this product for inflamation on an empty stomach (3-6 tabs) twice daily, or to help with digestion (1-3 tabs) with food.
Sunday 21 October, 2007
This is the best product I have ever used. I have several slipped discs in my neck and back, and whenever I have a flare up, this product completely clears it up within a few hours. I highly recommend this product.
Saturday 29 May, 2004
Infla-Zyme Forte really helps me remain pain free without using OTC painkillers. Recently my supply ran out and I notice aches in parts of my body that hadn't bothered me before. I've got to get more soon.
Explore More Products