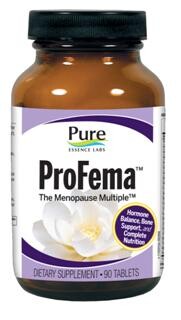 Full price 36.90
Savings 35%
ProFema The Menopause Multiple (60 tabs)*
| | |
| --- | --- |
| | Sorry! This item has been discontinued. See below. |
Pure Essence Labs
ProFema The Menopause Multiple (60 tabs)*
Hot flashes, mood swings and other discomforts stem from hormone imbalances. But, such imbalances don't just happen. As menopause nears, the ovaries begin to shut down. This leaves your adrenal glands as your only source of progesterone. If your adrenal glands are in perfect health, you'll make enough progesterone, under normal circumstances, to maintain hormone balance. If not, you will be progesterone deficient. Dr. John R. Lee (What Your Doctor May Not Tell You About Menopause) believes that nearly all hot flashes, mood swings, night sweats and other related problems are caused by adrenal related progesterone deficiency, or by excesses of estrogen that are caused by the estrogenic chemicals found in plastics.
While hormone balancing factors (like hesperidin and isoflavones) can help calm hot flashes, mood swings, night sweats and so on, they do nothing to strengthen the adrenal glands. Hot flashes, mood swings and so on are bad enough; adrenal weakness can also cause far worse problems in the future. Thus, it is vital to address this aspect of menopausal distress.
As a multiple, ProFemaÃÃÃÃ
Compare to these:
---
Questions and answers:
Asked on:
January 6, 2013
Question: Why was Profema discontinued?
Asked on:
December 27, 2013
Question: Is this a good product to buy if you want progesterone in the product and no estrogen?
A: Pure Essence ProFema is specifically formulated to help your body naturally create progesterone and not estrogen. Superior Herbs are the world's most profound builders of general health. In addition to helping with menopausal distress, each one also supports at least one organ system, and helps to build at least one type of energy in the body. The energies they build help fuel our daily metabolism, guard against the effects of stress, and provide deep energy reservoirs on which we can draw in times of severe illness or injury. Because these herbs are present, these menopause support systems also provide countless other benefits. You might notice improved hair, skin and nails. You might see a greater sense of calm. You might sleep better and awaken more energized. You will almost certainly have more energy.
Explore More Products