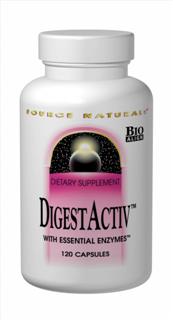 Full price 19.98
Savings 40%
DigestActiv (500 mg 120 caps)
Source Naturals
DigestActiv (500 mg 120 caps)
Source Naturals DigestActiv(TM) is a Bio-Aligned(TM) Formula, designed to increase your ability to absorb the full nutritional value of your food. DIGEST ACTIV supports your body's systems for the digestion of multiple food groups: carbohydrates, protein, fat, and fiber. Each capsule contains our popular Essential Enzymes(TM), an all-vegetarian, high potency, broad-spectrum blend of highly purified food enzymes plus bromelain, papain, and selective herbs such as gentian root, ginger root, peppermint leaf and more for added digestive support.
Supplement Facts
DigestActiv
Serving Size:2 capsules
APS
%DV
Cellulase
5 mg
100 FCC
Pepper Fruit Extract (Bioperine(r))
6 mg
0
Peppermint Leaf
25 mg
0
Ginger Root
25 mg
0
Quassia 4:1 Extract
50 mg
0
Papain
50 mg
0
Betaine HCl
200 mg
0
Hemicellulase
3 mg
325 FCC
Amyloglucosidase
12 mg
2 FCC
alpha-Amylase
52 mg
630 FCC
Lipase
125 mg
375 FCC
Acid Stable Protease
12 mg
785 FCC
Vegetal Analog of Pancreatin
286 mg
28,625 FCC
Bromelain (2,000 GDU per gram)
50 mg
0
Yielding:
Lactase
5 mg
40 FCC
Essential Enzymes(TM) Blend
500 mg
0
Gentian Root
50 mg
0
Other Ingredients:gelatin (capsule), magnesium stearate, and colloidal silicon dioxide.
Notes:If you have stomach or duodenal ulcers or are taking drugs that may cause ulcers, such as NSAIDS, you should not take this product. If you are pregnant, may become pregnant, or breastfeeding, consult your health care professional before using this product.
STORE IN A COOL, DRY PLACE.
Do not use if either tamper-evident seal is broken or missing. Keep out of the reach of children.
Compare to these:
Explore More Products