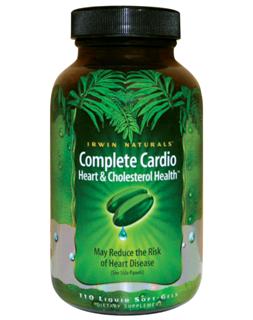 Full price 29.99
Savings 17%
Complete Cardio Heart & Cholesterol Health (84 softgels)
| | |
| --- | --- |
| | Buy 3 - Get free delivery on whole order |
Complete Cardio Heart & Cholesterol Health
84 Liquid Soft-gels
Several factors conspire to influence cardiovascular function and create considerable challenges to maintaining optimal heart and vascular health. The robust formula in Complete Cardio Heart & Cholesterol Health by Irwin Naturals provides an effective addition to your exercise program and healthy diet in support of heart function, healthy cholesterol levels and protecting heart and vascular tissue from the oxidative effects of stress and aging.
Unlike many other products, this unique formula provides comprehensive cardio support using plant sterol esters, as wel as, Pomegranate Extract, L-Carnitine and COQ10. The American Heart Association in its 2006 Diet and Lifestyle Reccomendations states that individuals should consume Plant sterols/stanols daily from a wide range of foods and beverages, just as they would use cholesterol lowering medication, in order to maintain reduction of LDL (bad) cholesterol levels from these products. Complete Cardio Heart & Cholesterol Health protects the vascular system, supports heart and vascular function and helps to maintain healthy cholesterol levels with plant sterol esters.
As part of a diet low in saturated fat and cholesterol, consuming 650 mg daily of plant sterol esters twice daily with meals for a total of 1300 mg, may reduce the risk of heart disease. A daily serving of Complete Cardio Heart & Cholesterol Health supplies 1300 mg of plant esters.
Protect Vascular and Heart Tissue from Damaging Effects of Aging and Stress
Help Support Healthy Cholesterol Levels
Fight Against the Risks of Heart Disease
650 mg of Plant Sterol Esters per Serving
Supplement Facts
Complete Cardio
Serving Size: 2 Liquid Soft-Gels
APS
%DV
Vitamin B6 (as Pyridoxine Hydrochloride)
20 mg
1000%
Folic Acid
400 mcg
100%
Vitamin B12 (as Cyanocobalamin)
400 mcg
6667%
Magnesium (as Magnesium Citrate)
32 mg
8%
Potassium (as Potassium Citrate)
36 mg
1%
Plant Sterol Esters
650 mg
Hawthorn (Crataegus laevigata) extract (1.8% vitexin)(fruit)
150 mg
Pomegranate extract (5:1)(fruit)
150 mg
L-Carnitine
100 mg
CoQ10
30 mg
Ginger extract (5% gingerols)(root)
10 mg
Policosanol (90% fatty alcohols)
5 mg
Bioperine Complex
6 mg
Daily Value not established
Contains: Soy
Bioperine® is a registered trademark of Sabinsa Corporation.
*This statements have not been evaluated by the Food and Drug Administration. This product is not intended to diagnose, treat, cure or prevent disease.
*Not intended to diagnose or treat diseases or ailments, and is not reviewed by the FDA.
Uses & Indications.
Maintain Good Cholesterol Balance
Support Healthy Heart And Vascular Functions
Combine With Excersize And Low Fat Diet To Achieve Reduced Risk Of Heart Disease
Ailments & Concerns.
High Cholesterol Levels
Weak Blood Circulation
Risk Of Heart Disease
Compare to these:
---
Questions and answers:
Asked on:
November 27, 2012
Question: I eat little if any tofu. That indlcues the fake meats that many love to have as a main staple to their diet that is soy based.I eat pretty much what I have always eaten, but make it without the meat. Sounds difficult? It isn't.Something like a stuffed bell pepper is usually stuffed with meat. I instead go for rice and veggies with a tomato base sauce over it.Soups are no problem. Vegetable soups are easy. Go just with the veggies or add grains such as barley to them to add more nutritional value to them. There are also tomato based soups.A baked potato is not just a side dish. You can add all sorts of things on top of it. Broccoli, sauteed veggies of all sorts bell peppers, carrots, zucchini, onions, cilantro, parsley only limited by your imagination or personal tastes. You can even bake them ahead of time which saves on wasted energy and have them ready for you when you get home from work or school to be warmed up.I even have a traditional Italian sauce that is carrot based for pasta dishes. Vareity is not a problem.Kabobs that have veggies, mushrooms that you like on them a total treat that I have never had any to refuse.Mushrooms are fabulous, the variety is more than many people know. Stuff them, broil them, add them to other things. With the things that they have found out recently about capers, you might want to think about adding them to your salad or other dishes.Cold salads with pasta, grains, or just the veggies another wonderful experience for the palate.The things that you can do with a rice dish again only limited by your personal taste. You can go from main dish to dessert with this versitile grain.Baked apples, fruit salads, or just plain fruit a healthy addition to a balanced diet.Whole grain breads of different variety of grains is something else that I would suggest. Pumpernickle, rye, sour dough are great. Something as simple as switching over to a pita bread can bring variety to something that you may not have considered.You can juice, you can make fruit smoothies for quick fixes and treats. My suggestion is always for people to go with what they eat now and see how they can adapt and adjust what they already know and like to fit within a healthy diet. Reason that I suggest this is because you already have most if not all of what you need on hand and the outlay of money is not going to be a big bite out of the budget.If such is more than you can handle, or you just are not convident enough to do such I strongly suggest talking to a good dieticiannutritionist and getting their helpful insights. They not only will help you to know if what you are eating is meeting all your dietary needs, they can help you with formating a grocery list to make sure that you get all the things that you will need to have a healthy diet.Last but not least know that spices are your best friend. Learning about them and how to best use them in cooking is something that is going to make what you eat either something that you really enjoy or something that you just do and make do with. When you get comfortable, start trying new things. Add to what you already know. I suggest going to the library and getting cookbooks to see if the cookbook is something that you want to invest your hard earned money in buying. If it is filled with ingredients that are hard to find, foods that you really are not suited to your personal taste matters not if everyone else loves it.There are websites but I have found that many of the sites will rave about some dish that many times comes from an ethnic taste that you might not be familiar with and ingredients that are not easy to find. So make sure when searching such sites on the web that they are things that you can find easy or at least order.Again, can't say it enough. At first, I would suggest going with what you know. Helps to keep the budget down. Add the ingredients that you think that you might need as you need them easier than a massive outlay of monies on things all at once.
Asked on:
October 9, 2013
Question: what is the source of the plant sterol esters ?
A: T

he sources of plant sterol esters in this product are Soy and Safflower oils.
Explore More Products