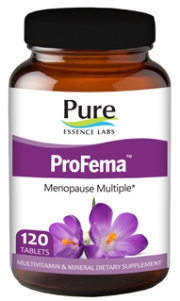 Full price 61.52
Savings 25%
ProFema The Menopause Multiple (120 tabs)*
price

Price is

too low

to show. Add it to your cart

Buy 3 - Get free delivery on whole order
Pure Essence Labs
ProFema The Menopause Multiple (120 tabs)
Hot flashes, mood swings and other discomforts stem from hormone imbalances. But, such imbalances don't just happen. As menopause nears, the ovaries begin to shut down. This leaves your adrenal glands as your only source of progesterone. If your adrenal glands are in perfect health, you'll make enough progesterone, under normal circumstances, to maintain hormone balance. If not, you will be progesterone deficient. Dr. John R. Lee (What Your Doctor May Not Tell You About Menopause) believes that nearly all hot flashes, mood swings, night sweats and other related problems are caused by adrenal related progesterone deficiency, or by excesses of estrogen that are caused by the estrogenic chemicals found in plastics.
While hormone balancing factors (like hesperidin and isoflavones) can help calm hot flashes, mood swings, night sweats and so on, they do nothing to strengthen the adrenal glands. Hot flashes, mood swings and so on are bad enough; adrenal weakness can also cause far worse problems in the future. Thus, it is vital to address this aspect of menopausal distress.
As a multiple, ProFemaprovides a complete array of vitamins and minerals. It also provides an ideal blend of calcium and magnesium to build strong bones. It is a complete green food complex, so that you'll have more energy than you've had in years! And, it provides the isoflavones and herbs you need to relieve your discomforts now!
But, unlike any other product we know of, it also provides the Superior Herbs that help rebuild strength in the adrenal glands. Because of that, it helps you feel not just better, but your very best, while also guarding against more serious health challenges in the future. There is simply nothing else in the world like ProFema.
Benefits:
Supports Strong Bones
Provides Relief From Menopause Symptoms
Helps To Strengthen The Adrenal Gland
Suggested Use: Take 4 tablets once daily. May be taken with a meal or on an empty stomach.
Supplement Facts
Serving Size: 4 Tablets
Servings Per Container: 30
Amount Per Serving
% Daily Value
Vitamin A (as beta carotene)
7500 IU
150
Vitamin C (as ascorbic acid)
1000 mg
1667
Vitamin D3 (as cholecalciferol)
1000 IU
167
Vitamin E (as d-alpha tocopheryl succinate)
150 IU
500
Vitamin K (as phylloquinone)
40 mcg
50
Vitamin B1 (as thiamine mononitrate)
30 mg
2000
Vitamin B2 (as riboflavin HCl)
34 mg
2000
Niacin (as niacinamide, niacin)
100 mg
500
Vitamin B6 (as pyroxidine HCl)
40 mg
2000
Folate (as d-biotin)
300 mcg
100
Vitamin B12 (as methylcobalamin)
200 mcg
3333
Biotin (as d-biotin)
300 mcg
100
Pantothenic acid (as d-calcium pantothenate)
100 mg
1000
Calcium (as Ca citrate, pantothenate)
200 mg
20
Iodine (from kelp)
150 mcg
100
Magnesium (as Mg oxide, citrate)
200 mg
50
Zinc (as Zn lactate)
15 mg
100
Selenium (as Se l-methyl selenocysteine)
150 mcg
214
Copper (as Cu sebacate)
2 mg
75
Manganese (as Mn citrate)
2 mg
100
Chromium (as Cr polynicotinate)
200 mcg
166
Molybdenum (as Mo glycinate)
25 mcg
33
Potassium (as K citrate)
30 mg
<1
Minerals
Complete ionic trace mineral complex, 25 mg; Boron (as B glycinate), 3 mg; Silica-rich bamboo leaf extract, 1 mg; Vanadium (as V glycinate), 25 mcg; An Average of Less Than 1 mg of Iron occurs Naturally in Whole Food Base
29 mg
*
SuperFood Complex
Organic spirulina, 720 mg; organic oat grass juice extract (30:1), 150 mg; north atlantic kelp, 38 mg
908 mg
*
Herbal Extracts
Kudzy root (10:1 extract, providing isoflavones), 100 mg; chaste tree fruit (0.5% agnusides0, 100 mg; black cohosh (2.5% total triterpene glycosides), 80 mg; dong quai root (1% lingustilides), 80 mg; burdock root (15:1), 60 mg; wild yam root (8% diosgenin), 60 mg; asparagus root (20% saponins), 40 mg; eleuthero root (0.8% eleutherosides), 40 mg; fo ti root (12:1), 40 mg; white peony root (4% paeniflorin), 40 mg motherwort (4:1), 30 mg; poria cocos (40% polysaccharides), 30 mg
700 mg
*
Co-Nutrients
Gamma oryzanol, 250 mg; mixed tocopherol complex, 150 mg; choline bitartrate, 100 mg; l-leucine, 80 mg; inositol, 40 mg; octacosanol, 300 mcg
620 mg
*
Bioflavonoids
hesperidin (as methyl chalcone), 300 mg; quercetin (saphora japonica), 50 mg; rutin , 50 mg
400 mg
*
Digestive Aids/ Enzymes
Broad spectrum , vegetarian , digestive plant enzymes, 25 mg; BioPerine (Piper nigrum extract 50:1), 2 mg
27 mg
*
Estimated Whole Food Value 17,000 mg
*Daily Value not established.
Other ingredients: Silicon dioxide, croscarmellose sodium, stearic acid, cellulose.
Contains: Soy
Contains NO: artificial colorings or flavorings, GMOs, sugar, yeast, gluten, or wheat.
Is suitable for vegetarians.
*Not intended to diagnose or treat diseases or ailments, and is not reviewed by the FDA.
Uses & Indications.
Hormonal Balance
Reducing Menopause Sysmptoms
Daily Nutrients
Ailments & Concerns.
Sleeplessness
Hot Flashes
Weight Gain
Mood Swings
Low Energy
Compare to these:
---
Questions and answers:
Asked on:
January 16, 2013
Question: Like the others, I toltlay understand not wanting to take them but I think you should. Especially with the luteal phase defect progesterone is your friend against AF even if it's a bitchy friend that stabs you in the back and makes you feel like hell.I have to use progesterone during my 2ww but I have the suppositories. Shoving them where the sun don't shine takes some getting used to, but I really don't find I have any reactions to them I have to use one in the morning and one in the evening. Not sure if this could be an option for you? I've read on other sites that often the suppositories are tolerated better than the pills.Wow. I've written a mini novel on progesterone. Who knew! Good luck with what you decide!!
Explore More Products