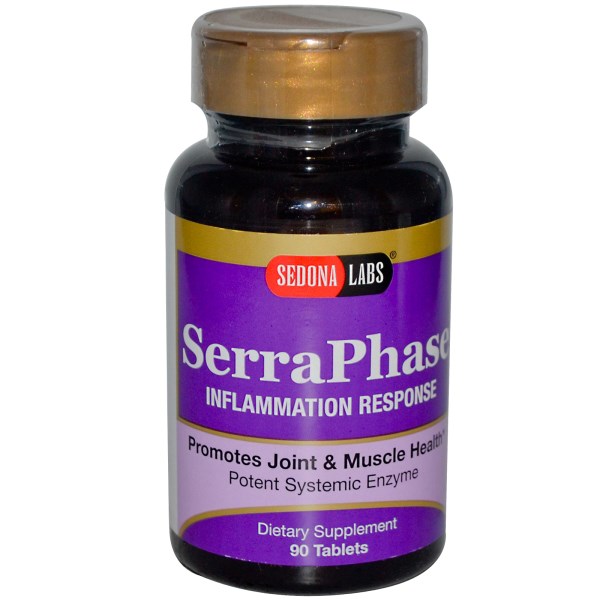 All-natural enzymatic remedy of SerraPhase by Sedona Labs.
SerraPhase works to effectively reduce inflammation and pain in muscles, joints, tendons, and cartilage. It is particularly beneficial to those suffering from arthritis and trauma-related injuries. The health-enhancing enzyme is a valuable aid for reducing swelling and tenderness from trauma or those recovering post operation.
Joint and Cartilage Support
Helps Tissue Regeneration
Improve Respiratory Function
Improve Cardiovascular Health

All-natural

Safe and Effective
Serra Phase is enteric coated so that it is gentler on the stomach and easier to digest.
Suggested use:: Take one to three tablets daily on an empty stomach, or as directed by a healthcare professional.
Supplement Facts
SerraPhase
Serving Size: 1 tablet
APS
%DV
Serratiopeptidase
10 mg
**
** Daily Values not established.
Other Ingredients: Microcrystalline cellulose, dicalcium phosphate-dihydrate, stearic acid powder, magnesium stearate, croscarmellose sodium, enteric coating.
If you are currently taking blood thinning medication, consult your doctor before starting this product.
*Not intended to diagnose or treat diseases or ailments, and is not reviewed by the FDA.
Uses & Indications.
Supporting Healthy Circulation
Promoting Normal Inflammation Response
Relieving Pain
Promoting Joint And Muscle Health
Ailments & Concerns.
Rheumatoid Arthritis
Inflammation
Muscle Pain
Joint Pain
Compare to these:
Reviews
Wednesday 08 June, 2011
Have had knee problems for a while. A friend told me about this product. Has really helped. On a maintenance now, down to 2 pills a day. Still helping!!
Monday 02 May, 2011
I still have some of the joint pain and stiffness.
Monday 25 April, 2011
Purchased this product from a suggestion of a friend for knee pain. She had terrible pain in her knees and this helped her. I have used it for a few weeks and my knees feel 100% better. Amazing!
Sunday 28 March, 2010
I've found Serra Phase to be a lifesaver in getting through my workday. Because of the stomach-related side effects of ibuprofen, I rely on Serra Phase daily to reduce inflammation-related stiffness and pain in my back and knees. And unlike ibuprofen-related products, it has no side effects (like stomach pain and drowsiness).
Sunday 27 December, 2009
Effective in reducation of inflammation which reduces back pain. Take it daily and always have a supply on hand.
Friday 04 September, 2009
This product has greatly reduced pain level caused by inflammation in lower legs.
Thursday 16 October, 2008
I have only been using it for about a month along with some other natural products for inflamation and I think that it is a good product. I will continue to use it. One other benefit that I have noticed that it has offered that the other products that I have been taking did not and that is the support of my sinuses and bronchial tubes. I am 71 and was having a lot of difficulty with my voice and that seems to be clearing up. I have tried a lot of different products for that without much success so I was happy to find something that actually helped.
Tuesday 09 September, 2008
I started taking this because I heard from a friend how well it works.After the first pill it relieved my sinus pressure and congestion without any side effects the other allergy meds have like dryness. I would recommend this to anyone who struggles with allergies or chronic congestion.
Sunday 31 August, 2008
I started taking SerraPhase (AthroZyme) on a Monday morning and by lunch time I could already tell that it was helping my pain. I started out taking 3 per day for one week. After that I reduced the dosage to two per day. It is a wonderful pill for pain. My husband had pain so severe in his shoulders that he could hardly sleep at night. He takes 3 per day and is able to sleep a full night and does not have to rely on prescription pain pills. When they help with our hearts, choleserol and help clear our arteries it will be like icing on the cake. It is truly a miracle drug. Thank You!
---
Questions and answers:
Asked on:
January 29, 2013
Question: Safe to take vitamin k1 with serraphase ? Thanks, God bless.
Asked on:
April 26, 2014
Question: Does it help carpal tunnel?
Asked on:
September 16, 2015
Question: how many UI in 10 mg ? which dose kilo for a dog ?
A: The amount of IU (International Units) is calculated on the type of product. Some supplements such as Vitamin A and Vitamin D are often sold in IU. Herbal supplements such as SerraPhase are formulated in mg and may be translated to 20,000 IU would equal 10 mg. The dosage of 1-3 tablets daily is the recommended dosage based on an average adult. You may want to consult with your veterinarian on dosage for you dog.
Explore More Products