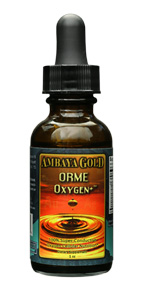 Full price 39.95
Savings 13%
ORME Oxygen (1 oz)*
This product has been discontinued.
Seacoast recommends an excellent replacement. Click here.

Sorry! This item has been discontinued. See below.
Ambaya Gold
ORME Oxygen
ORME Oxygen+ can dramatically increase Oxygen and Hydrogen levels to your cells and benefits may include:
Benefits may include:
Increased Cellular Oxygenation and revitalization
Support for Increased cellular respiration
Overall metabolic catalyst and energy booster
Delivery of essential Ionic minerals
Anti-Oxidant properties
Promotion of healthy PH Balance
Assistance with production of ATP (adenosine triphosphate)
Suggested Use: 3-5 drops in 8 oz water or non-alcoholic liquid 3 times a day - preferably w/meals.
Supplement Facts
ORME Oxygen+
Serving Size: 5 drops (385 mg)
APS
%DV
Proprietary MonAtomic Fulvic Blend
285 mg
Stabilized Oxygen Concentrate
*
MonAtomic Activated Fulvic
*
MonAtomic Gold
*
MonAtomic Silver
*
MonAtomic Indium
*
MonAtomic Silica
*
Other ingredients: purified bio-photon restructured water, plant-based enzyme phytonutrients, and 83 minerals, elements and amino acids - antimony, barium, beryllium, bismuth, boron, bromine, cadmium, calcium carbonate, carbon, cerium, cesium, chloride, chromium, cobalt, copper, dysprosium, erbium, europium, fluorine, gadolinium, gallium, germanium, gold, hafnium, holmium, indium, iodine, iridium, iron, lanthanum, lithium, lutetium, magnesium, manganese, molybdenum, neodymium, nickel, niobium, osmium, oxygen, palladium, phosphorous, platinum, monatomic potassium, praseodymium, rhenium, rhodium, rubidium, ruthenium, samarium, scandium, selenium, silicon, silver, sodium, strontium, sulfur, tantalum, tellurium, terbium, thorium, thulium, tin, titanium, tungsten, vanadium, ytterbium, yttrium, zinc, zirconium, alanine, glutamic acid, glycine, histidine, isoleucine, leucine, methionine, phenylalinine, serinine, threonine, tryptophan, valine.
Compare to these:
---
Questions and answers:
Asked on:
February 26, 2013
Question: I live at 9200 feet. Will this product increase my strength? I am 77...
A: Results can vary, however one of the many benefits ORME Oxygen may have is being an energy booster.
Asked on:
February 26, 2013
Question: does this product interaci with Luekemia patients
A: As with any supplement, please consult with your physician before use of any supplement if you have any medical conditions. Please note there are no direct warnings against using this product with Luekemia.

A 100% natural formula, ORME Oxygen+™ combines Monatomic minerals and rich oxygen in a Fulvic base to oxygenate and revitalize your cells. Just five drops in a glass of water can stimulate your immune system and help your cells repair themselves, giving you added energy throughout the day.
Explore More Products