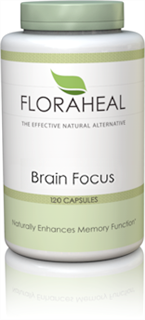 Full price 28.49
Savings 15%
Brain Focus-Nature's Memory (120 capsules)
This product has been discontinued.
Seacoast recommends an excellent replacement. Click here.

Sorry! This item has been discontinued. See below.
Brain Focus-Nature's Memory
Naturally Enhances Memory Function
Our memories give us the ability to store, retain and retrieve information. Our concentration capacity gives us the ability to focus on tasks at hand. At certain times, though, we find that our mental faculties, which include memory and concentration, are waning.
To counter the negative effects of these factors, Floraheal offers our excellent Nature's Memory blend. Nature's Memory is an all-natural mix of highly efficient herbs that improve both memory and concentration. This extraordinary blend attacks the root: it neutralizes the causes of memory and concentration weakness. It is formulated to obtain maximum synergy among all of its components, giving it organic unity.
This all natural herbal blend contains:
Ginseng (Panax ginseng)
Mistletoe (Viscum album)
Rosemary (Rosmarinus officinalis)
Suggested Use: Take four capsules daily, preferably with food.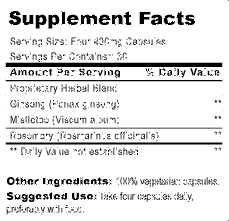 FloraHeal - 100% Kosher - Made in Israel
Compare to these:
---
Questions and answers:
Asked on:
March 28, 2013
Question: how can i get this product and get more information on the product.i m in nairobi.
A: I am not aware of where you can purchase this supplement in Nairobi however you can order it online directly from Seacoast.com as we do ship internationally. Below is a little more information from the manufacturer on their product line: The formulas for our supplements are based on the works of Moses Maimonides. He was the most prominent Jewish medieval physician. His descriptions of many diseases such as hepatitis, pneumonia, diabetes, asthma, and many others are remarkable modern by current standards. Maimonides believed in the healing properties of nature, which are to be supported and developed. He believed that being that man and vegetation are both from the earth as it is stated "And G-d formed man, dust from the earth" (Genesis 2:7), therefore each plant contains properties which are beneficial for man's health and wellbeing.

Maimonides had a positive approach to health, viewing it as a definitive good, not merely the absence of disease. In his medical treatises we find a great deal of emphasis on preventive medicine. He therefore researched and developed many natural remedies not only for the treatment of symptoms, but more importantly to aid in their prevention.

These remedies are spread throughout the many medical as well as religious writings of Maimonides. In modern times, these remedies were documented and researched by the great scholar and doctor, Rabbi Dr. Yurowitz. Known for his great knowledge in conventional medicine as well herbal medicine, he researched many ancient medical texts, specializing in Maimonides' writings, and Kabalistic medicinal texts. This research, which spanned over 20 years, produced a unique line of totally natural remedies, made from floral and herbal extracts. These treatments have been used for 20 years, and have proven effective on tens of thousands of patients.

Until recently, these amazing formulas were available for the most part only in Israel. FloraHeal was established with the objective of bringing these amazing products to the U.S. market.

All herbs and flowers are chosen personally from particular places at specific times, and stored in a climate controlled environment as necessary for these herbs and flowers, all in accordance with the guidelines perfected by Rabbi Dr. Yurowitz through years of research. All herbs and flowers used in our products are grown in a 100% natural and organic manner, and the drying process is also totally natural, retaining their full potency.
Asked on:
April 21, 2013
Question: is this product FDA approved?
Asked on:
January 18, 2016
Question: what store can I buy this product?
A: Seacoast.com is a retailer of over 10,000 natural health supplements. You may place your order on our secured website or you may call our customer service department and place your order over the phone at 1-800-555-6792 M-F 9:00-6:00 EST.
Explore More Products