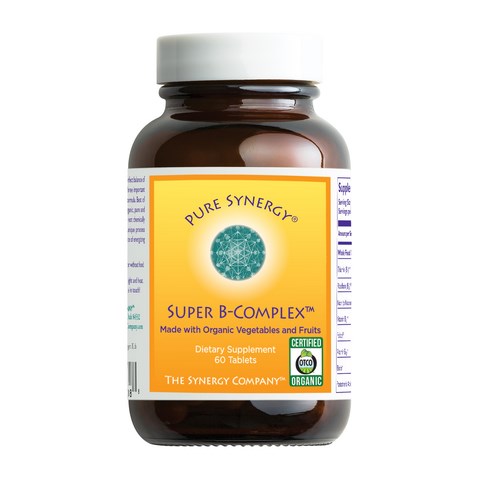 Organic Super B-Complex (60 tablets)*
price

Price is

too low

to show. Add it to your cart

Buy 3 - Get free delivery on whole order
Organic Super B-Complex features a perfectly balanced blend of organic, whole food B vitamins and co-factors just as nature intended.
Complete with the ideal amounts of all 8 of the B vitamins plus their essential co-factors choline, inositol and PABA, our power-packed B-complex formula offers a host of benefits for anyone looking to manage the stress of everyday life and supercharge their health.
Benefits:
Supports and balances your energy, metabolism, mood, and nervous system
Provides an organic, whole food source of all eight B vitamins + choline, inositol, and PABA
Take as a B boost with your multivitamin or on its own to balance a high-stress lifestyle
Organic, whole food matrix offers you an ideal and steady nutrient release throughout day
Just one tablet daily provides optimal amounts and ratios of all your B vitamins
Can be taken with or without food and is gentle on the most sensitive stomachs
Offers exceptional value with 60 tab lets per bottle and just one tablet daily (less than 40 cents per day!)
Suggested Use: 1 tablet daily. Organic Super-B Complex is a whole food and can be taken any time - with or without meals.
Supplement Facts
Organic Super B-Complex
Serving Size: 1 vegetable tablet
APS
%DV
Organically Grown Nutrients
Thiamin (B1)**
25 mg
1670
Riboflavin (B2)**
25 mg
1470
Niacinamide**
50 mg
250
Vitamin B6**
25 mg
1250
Folate*
400 mcg
100
Vitamin B12*
250 mcg
4170
Biotin*
400 mcg
130
Pantothenic Acid**
50 mg
500
Choline
10 mg
Inositol
10 mg
PABA
10 mg
Daily Value not established
* Certified Organic
** Made with organic ingredients
Other Ingredients: Organic barley grass; organic gum acacia; vegetable cellulose
Contains; fermented organic soy
Gluten, dairy, additive and GMO free
*Not intended to diagnose or treat diseases or ailments, and is not reviewed by the FDA.
Uses & Indications.
Boost Energy Levels
Combat Side Effects Of Stress
Ailments & Concerns.
Lethargy
Aging
Low Energy
Stress
PMS
Compare to these:
Reviews
Tuesday 15 May, 2018
I was feeling very fatigued and moody and had never tried taking an additional B vitamin. My friend suggested trying this Organic B Complex that helped her. I felt a difference in my energy levels within the first week. The more energy I had the better I felt and found I was much more productive at work. I highly recommend this product.
---
Questions and answers:
Asked on:
August 7, 2013
Question: how long does it take for the effect to be seen.
A: Results will vary from person to person do to a number of factors not limited to a person's unique biochemistry, prescription medications you may be taking, and any medical challenges being faced. In general a person should give minimum of 6-8 weeks before noticing full benefit of a supplement though you may experience it much faster.
Asked on:
October 23, 2013
Question: Could this help people with low blood ?
A: We are not aware of Super B-Complex having a strong effect on lowering blood pressure however we do carry a variety of supplements specifically formulated to support healthy blood pressure levels. You can view some of these products below. Supplementation that includes grapeseed extract or olive leave extract in particular may help with lowering blood pressure. http://www.seacoast.com/topic.php?health=blood+pressure http://www.ncbi.nlm.nih.gov/pubmed/19608210
Asked on:
February 13, 2014
Question: Is this b complex have methylcobalomin for B12?
A: Pure Synergy organic Super-B Complex is an organic blend of whole food B vitamins. This formula offers you a steady nutrient release throughout the day. This organic blend is gentle on most senstitive stomachs. The methylcobalomin form of B12 is produced in a lab.
Asked on:
February 17, 2014
Question: Does this B complex have cyanocobalamin for B12? What kind of B12 does your B complex have?
A: Organic food Super B-complex is formulated using whole food organic B foods. It also contains inosital,PABA and choline to support everyday stress. Organic whole food B is your best choice in a B supplement. The cyanocabalmin is a man made B12 supplement.

Asked on:
March 23, 2016
Question: Will this Vitamin B complex help my PMS?
A: Thousands of women struggle with PMS symptoms such as headaches, bloating, fatigue, irritability, stress, cramps, depression and loss of appetite due to hormonal change each month. A number of studies have shown the effectiveness of supplementing with a vitamin B complex, especially B6 and B12. These B's play a vital role in synthesizing certain brain chemicals (neurotransmitters) that control mood and behavior. Vitamin B6 helps with major PMS symptoms such as irregular blood flow, water retenion, food craving and irritability. Vitamin B12 helps with symptoms of stress, fatigue, lack of energy and focus. More and more women are turning to alternatives to improve PMS symptoms naturally with great success.
Explore More Products