Organic Prenatal Multi Vitamin (120 tablets)*
Organic Prenatal Multivitamin by The Synergy Company contains organically grown, whole-food nutrients to nourish you and your baby.
Synergy Company Organic Prenatal Multivitamin blends certified organic whole food nutrients with organic sprouts, berries, ginger and red raspberry leaf creating a whole-food vitamin and mineral rich formula nourishing moms and growing babies alike.
Perfect for pre-conception, pregnancy and breastfeeding
Genuine, certified organic vitamins and mineralspurity when you need it most
Organic freeze-dried sprouts and berries to enhance and enliven your health
Organic red raspberry leaf and ginger to balance and support you
Whole food support for a healthy pregnancy
100% food forms of nutrients are easy on your tummy and deeply nourishing
Free of additives, preservative, GMOs, gluten and dairy
Organic Vitamins and Minerals
Synergy Company organic vitamins and minerals are exclusively grown as organic whole foods, never isolated, synthesized, or adultrated with harmful chemicals. Contains organic, whole-food iron that is easy on your digestive system, and 800 mcg of folic acid. Organic Prenatal offers gentle, but effective nutrient absorption that is never hard on the stomach.
Organic Cruciferous Sprout Blend
The compounds from Organic Prenatal's unique and exclusive cruciferous sprout blend is many times more potent than a serving of veggies. The certified organic sprout blend is tested and safe. Organic Sprout Blend offers a gentle way of supporting body and baby through the ups and downs of pregnancy. The fresh, freeze dried sprouts in this blend include broccoli, upland cress, daikon, red radish, cauliflower, cabbage, and arugala.
Organic Synergized Berry Power
A unique blend of 12 of the most prized and flavonoid-rich berries. The rich pigments that give berries their vibrant colors of purple, blue, red, and pink provide an added boost of health promoting vitamin C and antioxidants. Organic Synergized Berry Power contains fresh freeze-dried black currant, bilberry, aronia, pomegranate, sour cherry, elderberry, cranberry, red raspberry, and black raspberry.
Organic Synergized Herbal Extracts
Ginger has long been treasured for its anti-nausea properties, and many medical studies confirm that ginger is a safe and effective tool for pregnancy related nausea and morning sickness. Synergy searched the world to create the purest and most effective organic ginger extract possible. Processed in France just for Synergy's Organic Prenatal, this ginger extract is pure, organic, concentrated, and provides stomach soothing benefits just when it is needed most.
Red Raspberry Leaf extract has been safely used in many traditions around the world to tone the uterus and prepare for a healthy birth process. Synergy's Organic Prenatal features red raspberry leaf extract is a classic tonic herb for moms to be: supporting all aspects of a healthy pregnancy and lending additional vitamin C to this whole-food formula.
SUGGESTED USE:
2 tablets twice daily with our without food. Because our Organic Prenatal is made from whole food, it is gentle on your tummy and can be taken any time of day.
Supplement Facts
Organic Prenatal Multivitamin
Serving Size: 4 veg tablets
 
APS
%DV
Vitamin A (as beta carotene)
10,000 IU
200%
Vitamin C
120 mg
200%
Vitamin D3
1200 IU
300%
Vitamin E
60 IU
200%
Vitamin K
160 mcg
200%
Thiamin (B1)
6 mg
400%
Riboflavin (B2)
7mg
400%
Niacinamide
40g
200%
Vitamin B6
8mg
400%
Folate
800 mcg
200%
Vitamin B12
42 mcg
700%
Biotin
600 mcg
200%
Pantothenic Acid
20 mg
200%
Iodine
150 mcg
100%
Iron
18 mg
100%
Zinc
15 mg
100%
Selenium
70 mcg
150%
Copper
2 mg 100%
Manganese
2 mg 100%
Chromium (GTF)
120 mcg
100%
Molybdenum
75 mcg
100%
Organically Grown Nutrients
Choline
20 mg
Organic Cruciferous Sprout Blend
Fresh freeze-dried Sprouts: Broccoli*, Upland Cress*, Daikon*, Red Radish*,
Cauliflower*, Cabbage*, Arugula*
250 mg
Organic Synergized Berry Power
Fresh freeze-dried: Black Currant*, Bilberry*, Aronia*, Pomegranate*, Lingonberry*,
Concord Grape*, Wild Blueberry*, Sour Cherry*, Elderberry*, Cranberry*, Red Raspberry*, Black Raspberry*
250 mg
-
Organic Synergized Herbal Extracts
Ginger Rhizome Extract
200 mg
Red Raspberry Leaf Extract
50 mg
Daily Value Based on a standard 2,000 calorie daily intake
Daily Value Not Established
*Certified Organic
Ingredients: Organically Grown Nutrients; Organic Cruciferous Sprout Blend; Organic Synergized Berry Power; Organic Synergized Herbal Extracts
Other Ingredients: Organic barley grass, organic gum acaia, vegetable cellulose (tablet coating)
Warnings: Contains organic fermented soy
Does not contain: Casein, Dairy, Gluten, Wheat
SKU: 1PN120
UPC: 852971004156
Distributed or manufactured from The Synergy Company. See more
The Synergy Company
products.
Login for Details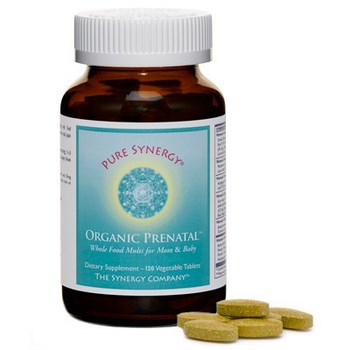 FREE SHIPPING
*Not intended to diagnose or treat diseases or ailments, and is not reviewed by the FDA.
Uses & Indications.
Organic Whole Food Multi-Vitamin For Mom And Baby
Ailments & Concerns.
Compare to these:
---
Questions and answers:
Asked on:
April 5, 2016
Question: Should I continue to take my Synergy prenatal multi after the baby is born and I'm breastfeeding?
A: The contents of a woman's breast milk depend on the nutrients she eats. Many Doctor's do recommend continuing with a multivitamin at least while nursing. Taking a multivitamin is a good idea to make sure you're getting adequate amounts of vitamins and minerals. Many women may get all the nutrients they need by consuming a healthy diet. With a new baby to take care of this may be difficult for some and why continuing with your multivitamin is important. Synergy Co. Organic Prenatal Multi is a 4* star choice when it comes to choosing an all natural prenatal multivitamin, free of additives, fillers, preservatives, GMO's, gluten and dairy free. 
Reviews
Tuesday 15 May, 2018
My Doctor suggested a prenatal vitamin and also to keep taking it while I was breast feeding. He was impressed with Organic Prenatal I brought to the office to show him. I highly recommend this product.
Explore More Products
Cures and side effects for Organic Prenatal Multi Vitamin have not been reviewed by Seacoast, nor the FDA. Individual results will vary. Contact a healthcare professional if you have questions about using Organic Prenatal Multi Vitamin.