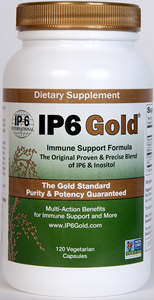 Full price 51.95
Savings 2%
IP6 Gold with Inositol (240 caps)*
price

Price is

too low

to show. Add it to your cart

Buy 3 - Get free delivery on whole order
IP6 Gold Immune Support Formula with Inositol, 240 vcaps
Original Patented Formula, IP6 Gold Immune Support represents a new standard for the purest and most potent IP6 (Inositol Hexaphosphate) and Inositol supplement available. Recognized as a potent antioxidant, research indicates IP6 and Inositol supports healthy renal function, promotes heart health, and helps maintain normal glucose metabolism. IP6 Gold is a rich source of calcium, phosphorus, and magnesium that supports and maintains strong, healthy bones.
SUPPORTS HEALTHY BONES - IP6 Gold is rich in bone building nutrients: Calcium, Magnesium and Phosphorus. It appears that IP6 may act as a carrier ensuring proper assimilation versus traditional mineral supplements.
HEALTHY GLUCOSE METABOLISM - Recent research indicates IP6 may play a key role in pancreatic beta cell response. This mechanism plays a crucial role in healthy glucose metabolism.
HEART HEALTH - Laboratory studies have demonstrated that IP6 with Inositol has the ability to bind excess iron, reduce inflammation, inhibit platelet aggregation and provide cholesterol support. These actions may in turn be beneficial to heart health.
HEALTHY RENAL FUNCTION - As far back as 1958, studies have shown that IP6 may reduce calcium in the urine and inhibit the likelihood of calcium oxalate crystallization.
NATURE'S SUPER ANTIOXIDANT IP6 – Recognized as a potent antioxidant, IP6 acts to neutralize the damaging effects of free radicals on body cells and has been shown to enhance immunity by boosting the activity of natural killer (NK) cells. These immune system cells (also called lymphocytes) are the body's first line defense mechanism.
Boosts immune system
Increases Natural Killer cell activity
Safe, Effective, All-natural
Vegetarian
Suggested Use: Adults take 2 capsules twice per day or as directed by a health professional. Most effective when taken on an empty stomach.
Supplement Facts
Serving Size: 2 Capsules
Servings Per Container: 120

Amount Per Serving
%DV

Calcium (from IP-6)

150 mg

15%

Phosphorus (from IP-6)

200 mg

20%

Magnesium (from IP-6)

42 mg

11%

IP-6 (Inositol Hexaphosphate from calcium magnesium phytate)

800 mg

*

Inositol

220 mg

*

*%Daily Value not established.
Other Ingredients
Hypromellose (derived from cellulose) capsule, Leucine.
This product is free from artificial flavors and preservatives and from corn, dairy, gluten, lactose, sugar and yeast.
*Not intended to diagnose or treat diseases or ailments, and is not reviewed by the FDA.
Uses & Indications.
Stimulating Natural Killer Cells
Promoting Healthy Heart And Circulation
Cleansing Liver And Kidneys
Supporting Strong Healthy Bones
Ailments & Concerns.
Cancers
Kidney Stones
Breast Cancer
Prostate Cancer
Brain Cancer
Carcinoma
Compare to these:
Reviews
Friday 15 January, 2016
A friend of mine recommended this product to me after she suffered from breast cancer. The natural killer cell activity in this product really works. It has really boosted her immune system. She has been cancer free for 3 years now. I have been taking this for 9 months now to help with bone density and immunity. I find that my immune system is much stronger than before. I used to get colds and Flu often and now that has diminished. My bone density test also showed improvement from my last test. Great product for the whole family in boosting the immune system.
Saturday 06 August, 2011
Dr. Shamsuddin's research and IP6 with inositol product is probably the best natural cancer-fighting weapon in the market. I use it primarily to remove iron from my system, since the only other way excess iron can be taken out of our bodies is by blood-letting. When the Red Cross needs my blood, they get it; however, I depend on IP6 to regularly remove any excess I have.
Saturday 30 April, 2011
In recent years I've changed my diet radically and included IP6 as the only supplement I want to take. The IP6 Gold from the Dr. who found the magic cell healing properties of IP6 virtually by accident has now developed a pure capsule product (instead of a hard tablet product) as the best IP6 I've found. If you or a loved one need IP6 as a daily supplement to clean out your cells, I can say this particular supplement is by far the best there is.
Wednesday 26 January, 2011
In lieu of taking prescription medication with adverse side effects for lowered bone density I have been taking IP6 Gold for the past year and a half. I am hoping that my next dexa scan will show improvement in bone density. I will return to this review after the test to give the results
Wednesday 06 February, 2008
I have taken this on and off for six years now. I was scheduled to have a hysterectomy six years ago when I was 57 because of vaginal bleeding and was told that I had a very large ovary and fibroid tumors. I was so afraid of having that operation, a friend told me about IP6 and started taking it. Six months later I had another pelvic ultra sound and everthing was back to normal. What a relief that was. I notice that I don't get as many colds as I used to and never the flu. My friend is a cancer survivor and swears by IP6.
---
Questions and answers:
Asked on:
February 27, 2013
Question: Is there a lower phosphate version of this supplement. I have kidney failure and have to watch phosphates so I do not have to take a binder. I am concerned as this nutrient is essential for those that have functional failures ,kidney, that helped produce this and now I am short of this nutrient. I have had much more anxiety and neurological issues since kidney failure and peritoneal dialysis. If this one is not available in a lower phosphate version,is that because of the chemical structure of IP-6 being bound to phosphates? Please help me find one that I could take. Thank you.
A: I'm sorry to hear of your challenges. Please view the following link to see if any of these IP-6 products are suitable for you. You might want to consult with your physician on the products you are interested in before taking. http://www.seacoast.com/topic.php?health=IP6
Asked on:
January 15, 2013
Question: What documentation do you have that this product coulddoes slow down prostate cancer (psa ). Can it help suppress cancer cells (prostate) after surgery and salvage radiation, when psa slowly starts to rise?
A: IP6 Inositol Hexaphosphate has been called a "natural cancer fighter" and proponents claim it slows or reverses the growth of various forms of cancer, including breast, colon, and prostate cancers. Please use the following link to read more about the benefits of IP6 Inositol: http://www.seacoast.com/ip6-inositol
Asked on:
January 28, 2013
Question: Can this product help when one has had a prostatectomy and then salvage radiation? He is 78 and healthy and active (more like someone about 68)....the one problem is a slowly rising psa......from 0.05 after surgery to 0.14. then radiation at surgeons advice....psa still rising after that so that in 2 yrs and 4 months it is now at 0.96. We are doing watchful waiting and the radiationoncologist feels my husband is doing well...and there is just micro scopic cancer somewhere. The surgery was successful with one of the best in the country, however, obviously didn't get it all. A friend of ours the same age swears by this product. So I would like your advice.
A: Thank you for your interest in IP6 with Inositol. I'm happy to hear that your husband is doing better. As you can see from all the positive reviews on our site about this product, many people continue to have great results from using this product.I hope this helps :) http://www.seacoast.com/ip6-gold-with-inositol/ip6-international/240-caps/p158
Asked on:
January 28, 2013
Question: Is this product taken instead of the vitaminmineral compound my husband now takes?
A: Thank you for your interest in IP6. It all depends on what you are using this product for. Both of these great products do help boost your immune system but contain different quality ingredients.
Asked on:
June 2, 2013
Question: My husband's stage 4 NSC lung cancer is in remission. His naturalpath recommendedhis taking IP6 because bloodtest showed deficiency of NK cells. What dose should he be taking without having to worry about becoming anemic?
A: The dosage recommended by the manufacturer is 2 capsules twice daily. For alternative dosing instructions you may want to ask your husband's naturopathic doctor.
Asked on:
July 2, 2013
Question: Shall you ship to P.R.China? thx
A: Yes we do ship internationally including to China.
Asked on:
March 13, 2014
Question: Is this manufactured in the United States? Will it fight infectious diseases such as the common cold?
A: IP6 Gold with Inositol is a powerful antioxidant that builds your immune system which in turn will fight off colds and gives your body the ability to produce natural killer cell activity to fight off infection and disease. In animal studies IP6 Gold has been shown to reduce cancer growth. It promotes cardiovascular health and liver health along with aiding in bone marrow cell metabolism. IP6 has been a very popular selling product here at Seacoast Vitamins from customers using it to help in recovering from serious illnesses to boosting immune system to maintain a healthy lifestyle. There are some interesting reviews on our site pertaining to this product. The manufacturer is located in the United States.
Asked on:
July 25, 2015
Question: Is this also used for depression?
A: Thank you for your interest in IP6 Gold. The formulation of IP6 Gold and Inositol was developed and patentded by Dr. A.K.M. Shamsuddin MD, PhD, at the University of Maryland, after 20 years of extensive research. Inositol is a natural compound found in numerous foods, especially cereal and legumes. This original formula has set the standard for the purest and most potent IP6 (Inositol Hexaphosphate) on the market today. Research indicates that IP6 gold supports healthy renal function, promotes heart health, support healthy glucose metabolism and boost immune health. IP6 gold is rich in calcium, phosphorus and magnesium to support strong and healthy bones. Data will be available Nov. 2015 from clinicaltrial.gov on the outcome of a study using patients with Bipolar Disorder and Manic Depression. Research has noted that taking inositol may increase the activity of the neurotransmitter serotonin. This hormone generates a feeling of well being and peacefulness.
Asked on:
July 26, 2017
Question: I have taken this product before and I find it helps with my bone density. My bone density was down when I didn't take it for a few months. I want to know whether i can take calcium and magnesium while taking this product?
A: IP6 gold Inositol contains 150 mg per serving of calcium and 42mg of magnesium. The Recommended Dietary Allowances (RDA's) for an adult suggests 1,000 mg of calcium per day and 300-400 mg of magnesium for healthy individuals. Depending on your daily dose of IP6 you should have the option for additional calcium and magnesium supplementation per day.
Asked on: October 27, 2017
Question: What country does the ingredients come from?

Asked on: April 3, 2018
Question: Can this be taken for Multiple Sclerosis ?

Asked on: April 4, 2018
Question: can you take this product if you are on Effexor 75 mg. a day and clonazepam .5 mg. a day? Asking because of what you said about the activity of the neurotransmitter serotonin.

Explore More Products