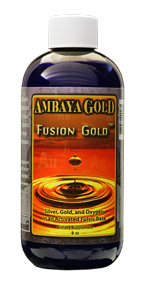 Full price 39.95
Savings 10%
Fusion Gold (8 oz)*
This product has been discontinued.
Seacoast recommends an excellent replacement. Click here.

Sorry! This item has been discontinued. See below.
Seacoast Direct - Membership Discount of 15% is available on this product.
Contact customer service when purchasing products from Ambaya Gold to receive the lowest price and save $$.
Ambaya Gold - Fusion Gold
Ambaya Gold's revolutionary Fusion Gold formula combines four vital ingredients into one powerful formula – blending Monatomic Silver, Monatomic Gold, and Oxygen with an activated Fulvic Base.
Benefits may include:
Overall boost in energy
Increased systemic fitness
Immune support assistance
Enhanced mental clarity
Heightened sense of well being
Proper Oxygenation is a key component in maintaining your energy levels and health. Unfortunately, for a variety of reasons, you may not be getting enough oxygen – leaving the door open to a diminished quality of life. Fusion Gold helps offset this by actively making more oxygen available to the body and creating an overall increase in energy and wellness.
Silver has been shown to help with Immune Support on a variety of levels and we've incorporated Monatomic Angstrom Silver at 5,000 ppm – more than just a powerful concentration of silver, it won't build up in your system like Colloidal silver and is easily absorbed and used by the body.
Monatomic Angstrom Gold has been used throughout history and we've included it for the increased feelings of mental awareness, grounding, and alignment that many users report.
This combination of vital earth elements has created a completely unique formula - ideal for helping your body and mind stay healthy, active, and aligned.
Suggested Use: Take 1 teaspoon twice daily. May be taken by itself or in 6-8 oz of water. Take more as needed.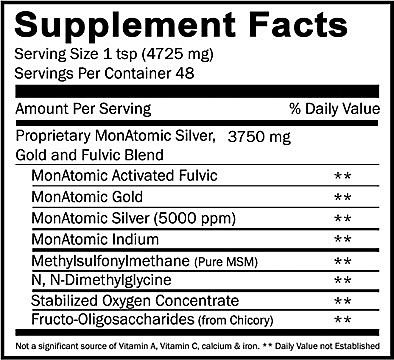 Other ingredients: purified bio-photon restructured water, plant-based enzyme phytonutrients, and 83 minerals, elements and amino acids - antimony, barium, beryllium, bismuth, boron, bromine, cadmium, calcium carbonate, carbon, cerium, cesium, chloride, chromium, cobalt, copper, dysprosium, erbium, europium, fluorine, gadolinium, gallium, germanium, gold, hafnium, holmium, indium, iodine, iridium, iron, lanthanum, lithium, lutetium, magnesium, manganese, molybdenum, neodymium, nickel, niobium, osmium, oxygen, palladium, phosphorous, platinum, monatomic potassium, praseodymium, rhenium, rhodium, rubidium, ruthenium, samarium, scandium, selenium, silicon, silver, sodium, strontium, sulfur, tantalum, tellurium, terbium, thorium, thulium, tin, titanium, tungsten, vanadium, ytterbium, yttrium, zinc, zirconium, alanine, glutamic acid, glycine, histidine, isoleucine, leucine, methionine, phenylalinine, serinine, threonine, tryptophan, valine.
*Not intended to diagnose or treat diseases or ailments, and is not reviewed by the FDA.
Uses & Indications.
Enhanced Mental Clarity
Immune Support
Heightened Sense Of Well Being
Boost Energy
Ailments & Concerns.
Compare to these:
Explore More Products