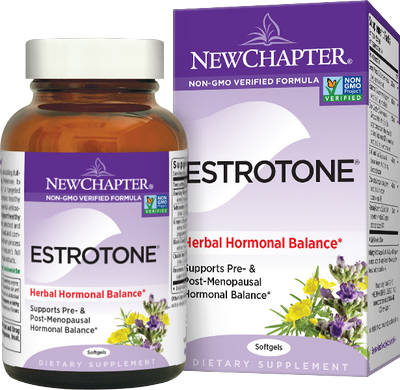 Full price 47.95
Savings 7%
Estrotone (120 softgels)*
| | |
| --- | --- |
| | |
| | |
| | Sorry! This item has been discontinued. See below. |
Estrotone by New Chapter combines multiple well known supportive nutrients promoting optimal hormonal balance and wellness.
New Chapter has extensively researched international medical databases and have found that old-world herbs, when properly blended, contain several phyto-estrogens and phytonutrients that help promote a healthier more mild hormonal transition. New Chapter Estrotone also helps to retain normal fluids for normal sexual function.
Contains Black Cohosh, Vitex, Schizandra, Rosemary, Evening Primrose and Ginger.
Suggested use: Take one softgel two times daily with food.
Benefits:
Healthy Hormone Transition
Herbal Menopause Support
Supports Normal Sexual Function
Estrotone
Serving Size: 2 Capsules
APS
%DV
Evening Primrose Oil (Oenothera biemnis) (seed) supercritical extract
200 mg
*
Schizandra (wu-wei-zi) (berry) extract (2% schizandrins - 3.2 mg)
160 mg
*
Ginger (rhizome) 27 mg supercritical extract (30% pungent compounds - 8.1 mg, 8% zingiberene - 2.1 mg) and 23 mg ethanolic extract (3% pungent compounds - 0.7 mg)
50 mg
*
Black Cohosh (root and rhizome) extract (8% triterpene glycosides- 3.2 mg)
40 mg
*
Chaste Tree (Vitex agnus-castus) (berry) extract (0.6% auntubin - 0.2 mg) (0.5% agnuside- 0.2 mg)
40mg
*
Rosemary (leaf) supercritical extract (23% total phenolic antioxidants - 2.3 mg
10mg
*
APS = Amount Per Serving
*% Daily Value (%DV) not established.
Other ingredients: Extra-virgin olive oil, maltodextrin, yellow beeswax and organic sunflower oil.
Capsule:Gelatin (Halal), vegetable glycerine, water and carob. Naturally gluten free.
Our premium softgel capsules are prepared without any chemical solvents and are BSE free.
*Not intended to diagnose or treat diseases or ailments, and is not reviewed by the FDA.
Uses & Indications.
Restoring Libido
Regulating Hormones
Restoring Hormonal Balance
Relieving Hot Flashes
Relieving Irritability
Ailments & Concerns.
Hot Flashes
Nervous Tension
Menopause
Mood Swings
Premenstrual Syndrome (PMS)
Breast Cancer
Hormonal Imbalances
Night Sweats
Compare to these:
Reviews
Friday 10 February, 2012
I used Estrotone to help me through the menopause. Before I found it I was having terrible problems. Tiredness, hot flashes, depression, aches, dizziness, memory problems, and most of all, my family couldn't stand my moods! I found Estrotone amazing! It reduced all my symptoms and made life bearable again. My family told me that it made a huge difference. So much so that they make sure I don't run out! Now I'm finished the menopause I still take Estrotone because when I don't I still get some flashes and my mood deteriorates!
Tuesday 09 November, 2010
This is a great product. When I use it as directed (2 capsules daily), my hot flashes disappear. I tried switching to black cohosh to save $$ and they came back. I throughly recommend Estrotone, try it, you won't be disappointed.
Sunday 27 December, 2009
This is the most amazing product. I had been having hot flashes that woke me up at night, and I've wanted to avoid synthetic hormones. This works perfectly. It took about a week to build up in my system but I have not had a hot flash since! 100+
Monday 11 May, 2009
I have tried many prescribed products and natural products with side effects and/ or simply uneffective. Newchapter's estrotone works for me and has been working for me for over eight years. I have moved to an area of the country where estrtone is not handled in the local health food stores. Yeah!! I found it online. Wonderful product.
Sunday 01 March, 2009
I developed severe headaches while I was taking Estrotone. I stopped taking this pill on day 14 and the headaches went away. I am so glad I stopped this pill.
Friday 20 February, 2009
the lady before me, ditto, itworks and i am looking to purchase it locally, if you know of a distributor on the Sunshine Coast, gibsons, sechelt, pender harbor, let me know, i have to go to vancouver to get mine. I am not a big over the internet shopper sorry
Monday 16 July, 2007
I was having hot flashes every few minutes for about 3 weeks in the winter months of 2006 and I went to the natural food market and bought Estrotone. It has to build up in your system. I also was having crying spells and I am not real big on crying or never have been a crier. By the end of the 2nd week I could tell a major difference. The hot flashes weren't as often and by the end of the 4th week, I had no hot flashes and no crying spells. It's been almost eight months and I have not had one hot flash or crying spell. I would swear by Estrotone and would highly recommend it to all menopausal women
---
Questions and answers:
Asked on: January 13, 2013
Question: Loved your story. I became a veraiegtan 20 years ago. (I'm from Texas, so it wasn't easy. HaHa!) The only way I knew I was going through menopause was that I stopped having a period. I had no symptoms whatsoever. I attribute most of that to my diet. Some people say it's hereditary, and I say, NO WAY! My mother had a horrible time with menopause. I say it's being a veraiegtan. Now, I'm trying to become a vegan, and am doing pretty good, although not perfect.I hooked up with you on Twitter, and I'm glad I did. I really enjoyed your website.

Asked on: January 16, 2013
Question: Newly going through posmienepaure at 48 I am voracious in understanding what is happening to me 3-4 hot flashes an hour 24 hours a day, huge memory problems, inability to sleep, unbelievably irratable and more I had no idea what to expect! And trying to determine the right course of action well when you become a different person within a year I am now having to figure out who I am and what to do with my new old body and mental health and now need to really address maintenance for myself. So I will anxiously be awaiting what you have to share!

Asked on: January 23, 2013
Question: Do you have anything that would help ,yet be safe for trandgender people in assisting growth of breasts tissue.Thank you again.Charlott

Asked on:
March 22, 2013
Question: can you take estrotone while on a very low dose of estrodial and progesterone. Since I am still symtomatic while on hormones, I would like more relief without increasing the hormones. Since my ultimate goal is to transition off all hormones, I would like to try estrotone to help transition me to not using hormones.and so I would like to try estrotone to help in that process. Please note that I had tried going off hormones and since I had a terrible time, I was forced to return to the hrt.
A: I am sorry to hear of your challenges. The warnings on this supplement are as follows: As with any dietary or herbal supplement, you should advise your health care practitioner of the use of this product. If you are nursing, pregnant, considering pregnancy, taking birth control pills, or have experienced severe or excessive uterine bleeding, you should consult your health care practitioner prior to using this product. Persons with gallstones should consult their health care practitioner prior to use . Please note that your physician is best suited to answer this questions as they are familiar with your medical history and your medication.
Asked on:
March 22, 2013
Question: Would you also recommend mood take care along with the estrotone?
A: Since it seems as if you are taking prescription medicines, it is recommended to consult with your physician first before starting. St. John's Wort is not recommended for children, or for women who are nursing, pregnant, or considering pregnancy. Although phototoxicity in humans is rare, fair skinned individuals should avoid excessive exposure to sunlight when using St. John's Wort (Hypericum perforatum). May potentiate pharmaceutical MAO-inhibitors. Use of Hypericum perforatum with pharmaceutical antiretrovirals such as protease inhibitors, non-nuclease reverse transcriptase inhibitors, and other drugs that are similarly metabolized (such as birth control pills, digoxin, cyclosporine, blood thinners, chemotherapy drugs, asthma medications or drugs relating to the treatment of HIV) is not recommended and should be done only under the direct supervision of one's physician. Other potential side effects may include gastrointestinal symptoms, dizziness, tiredness, and mild allergic reactions (skin rash).
Explore More Products