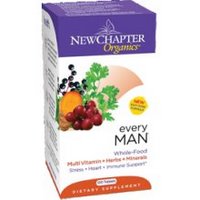 Full price 81.95
Savings 8%
Every Man (120 tablets)*
price

Price is

too low

to show. Add it to your cart

Buy 3 - Get free delivery on whole order
New Chapter
Every Man (120 tablets)
Every Man® delivers 23 different vitamins and minerals as well as 13 stress-balancing and free-radical scavenging herbs cultured for maximum effectiveness. Herbs like schizandra and maca have long been revered for supporting a man's vitality while other free-radical scavenging herbs like cinnamon, oregano and rosemary protect and sustain New Chapter provide you an organic probiotic alternative to isolated or USP vitamins and minerals. All of our vitamins and minerals are cultured in organic soy using nature's most prized and studied probiotics, featuring Lactobacilli acidophilus, bifidus, rhamnosus, and Saccharomyces cerevisiae. New Chapter's Probiotic Nutrients™ deliver biotransformed vitamins and minerals in their finest cultured form, much in the same way as miso, kefir, tempeh, and yogurt. Your New Chapter nutrients:
Promotes endurance and immune function
Supports dynamic male energy
Are easy to digest, even on an empty stomach–they're cultured whole food!
Deliver essential nutrients in their safest and most active form within the infinite complexity of whole food.
Provide an energizing and protective array of phytonutrients and ferment metabolites, including cultured soy isoflavones, beta glucans, bacteriocins, glutathione, lipoic acid, and enzymes.
Suggested use: Two tablets daily. Can be taken anytime, even on an empty stomach.
Supplement Facts
Every Man
Serving Size: Two tablets contain
APS
%DV
Probiotics Nutrients™
Vitamin A † (100% as beta-carotene)
5,000 IU
100%
Vitamin C †
60 mg
100%
Vitamin D3 †
1000 IU
250%
Vitamin E †
30 IU
100%
Vitamin K †
70 mcg
88%
Thiamin-Vitamin B1 †
4 mg
267%
Riboflavin-Vitamin B2 †
5 mg
294%
Niacin †
20 mg
100%
Vitamin B6 †
5 mg
250%
Folate †
200 mcg
50%
Vitamin B12 †
30 mcg
500%
Biotin †
300 mcg
100%
Pantothenic Acid †
25 mg
250%
Calcium † (from Algae)
30 mg
3%
Iodine †
75 mcg
50%
Magnesium † (80% cultured, 20% Algae)
10 mg
2%
Zinc †
15 mg
100%
Selenium †
100 mcg
143%
Copper †
1.5 mg
75%
Manganese †
2 mg
100%
Chromium †
100 mcg
83%
Molybdenum †
10 mcg
13%
Mixed Carotenoids †
3 mg
•
Herbal Blends
Stress/Energy Support Blend † [Organic Schizandra (berry), Organic Maca (root), Organic Chamomile (florwer)]
90 mg
•
Cardio Support Blend † [Organic Fenugreek (seed), Organic Oregano (leaf), Grapeseed Extract (not cultured), Organic Hawthorn (berry and seed)]
75 mg
•
Immune Support Blend † [Elderberry Extract (Sambucus nigra) (berry), Organic Eleuthero (root), Organic Astragalus (root)]
60 mg
•
Digestive Support Blend † [Organic Aloe (leaf), Organic Peppermind (leaf), Organic Coriander (seed), Organic Cardamom (seed), Organic Artichoke (leaf)]
45 mg
•
Prostate Support Blend [Saw Palmetto Extract (fruit), Pumpkin Seed Oil (seed), Nettle Etract (root)]
40 mg
•
Herbal Extracts
Turmeric (rhizome) 9.6 mg hydroethanolic extract and 2.4 mg organic supercritical extract
12 mg
•
Ginger (rhizome) 4.8 mg hydroethanolic extract and 1.2 mg organic supercritical extract
6 mg
•
• Daily Value not established.
† Lithothamnion: (L. Calcareum and L. corallioides)
† Nutrients and herbs are cultured in organic media that may contain: organic milled soy, Saccharomyces cerevisiae (organic yeast: active and inactive), organic maltodextrin, organic gum acacia, organic orange and lemon peel - natural sources of bioflavonoids, organic carrot powder, organic alfalfa powder, enzymes and Lactobacilli (L.acidophilus, L. bifidus, L. rhamnosus)
Other ingredients: Organic gum acacia, silica, lac resin and carnauba wax.
Contains: Fermented soy
Naturally gluten free. 100% vegetarian; no artificial flavors or colors.
Caution: As with an dietary or herbal supplement, you should advise your health care practitioner of the use of the product. If your are nursing, pregnant, or considereing pregnancy, you should consult your health care practitioner prior to using this product.
*Not intended to diagnose or treat diseases or ailments, and is not reviewed by the FDA.
Uses & Indications.
Stress
Heart
Immune Support
Ailments & Concerns.
Compare to these:
---
Questions and answers:
Asked on:
November 26, 2012
Question: If McG actually reads this, and I hope he does as well as the wrietr, I would like to convey that if he actually goes with proposed plot that he stated .THE MOVIES WILL SUCK. Now if he is reading this, please continue, and hear me out. Why the hell would you go back AND CHANGE AND ADD TO THE STORY that we already know? The problem is that your adding extra completely unnessecary story lines that really contradicthave nothing to do with the overall story and actaully complicates it, and doesn't leave room for T6 to actually finish the real story. (Unless you plan on making a trilogy of trilogies, and do you wanna stretch it that far?) I mean no offense, but I think you are confusing yourself with how the story should go, or was just really lost on what to do and came up with something on the whim, whatever the case, MOVE FORWARD. Why would you make a WHOLE movie about a piece of time that has nothing to do with completing the story and contradicts what was already made in T3. You set yourself up with T4, even if the some of the fans didn't like it, to make a bigger blockbuster than T2 was, but not if you go back and have John fighting in 2011 against some big Transforminator ? It obviously didn't happen, or we would have heard about it in T3. That past is already done in that movie and YOU CAN'T CHANGE IT. You can't go back and change anything that happened before Judgement Day. It already happened in between T3 and T4. If you wanted to do the plot for T5, you should have done it for T4. You're becoming one of the cliches.T6 will be the End of the Machines, and with the amount of story thats remaining to get to that point after T4, it will be impossible to tell in just T6, if you go and add a completely different piece of storyline in the past and make a WHOLE movie out of it. I'm telling you and the world right now, you will not be pleased with the outcome and you'll be branded for it. All because it has NOTHING TO DO WITH THE STORY AND YOU CAN'T CHANGE WHAT ALREADY HAPPENED. Proposal:The thing is, is that T4 ended with it explaining how Sky-Net had it's global nework so move on with that. You have to send Kyle back to 84, make that your plot drive, we already know what happens with Kyle, we saw it in the first one. John's having a baby, so show him being a little boy and use John's storytelling to him, along with back-flashes to show why Kyle had to go back (for a couple of minutes), along with the T-101. And show how time travel was possible, all kinda mixed together. How is time travel possible, well like Sky-Net inventing it, and John having to find it and steal it from them. BAM John know's they are sending one back obviously, but hes got to struggle to steal the technology, and send Kyle back to the same point in time that Sky-Net sent there T-101. BAM, there's your time-travel without screwing it all up and making too over the top to the story about John time-travelling to try and build an army. Then once John strugglessuccessfully succeeds in getting the technologyKyle back to 84, and finding a way to eradicate at least part of the US of the Machines end the damn film. Start on 6, with John a little older, and his son a late teen. You gotta capture a machine and re-program it and send back Arnie to prtoect John and save Sarah, fill the film with T-1000's and maybe a better brand of such, or hell even your Transforminator . Have the same double struggle of sending Arnie back to the past and finding a way to end the Machines once and for all in the present. Get intel about and find an EMP in an old arsenal somewhere in Russia or some crap, find a way to set it off, spend the last 30 minutes doing that (last major fight scene of the Terminators film history, so make it a big one) have John almost die in the process, and then have John's son set it off, disabling all Machines. Find a couple of good lines for John and his son to say, look to the horizon, and you see better days. The End. Something to that effect, but if you take John back to 2011 and changeadd-to the story that was created in T3, it's doomed. It will interfere with T3's storyline, even though it sucked it still was moving forward in the present, as each film has. We were already warned when Sarah tried to do it in the 80's, so why try to send John back to warn everyone, and try to gain an army which he would obviously fail at cause if he did succeed, it would have been acknowledged in T4(as he apparently wasnt the Leader of the Resistance, how could good ol' Ironside relieve him if he was??), he still has to earn that, and holy shit, he prolly could if he stole the Time-Travel technology from Sky-Net (the actual KEY to the Kyle Reese door, and the T-101 door Arnie in T2 . We already know there is an army, The Resistance, all they are is anyone who survived so why go and make a movie about him trying to gather an army from the past?? you are contradicting yourself and confusing the story for action. Look, I'm not saying this is a perfect storyline, but it's true to all the Terminators that have been made so far, and if T5 is going to be anything like you say I won't buy it. But I'm sure my 20 bucks doesn't mean anything to you because you obviously know people will go seebuy it anyways but what about the fans and what they deserve to see? Some crazy story that's got nothing to do with the overall story and contradicts movies already been made? and a Transforminator ? We don't deserve that. I move to poll against the current plot of T5 and scrap it, and start with how it should be. Hell, I'm betting you would out-gross your 140 million from T4 to a 250 million if you went with my story. And I bet you only gross 120mil if you stick to your current plot guess we'll see.Nevertheless what you are doing is wrong to the story. It's probably too late to change your story now, because I know if you McG actually read this, you're first words would probably be Oh shit.
Explore More Products