Every Man II (96 tablets)*
New Chapter
Every Man II (96 tablets)
Every Man® II delivers for men 24 different probiotic nutritive and energizing vitamins and minerals as well as 13 protective and free-radical scavenging herbs cultured for maximum effectiveness.* Herbs like saw palmetto are included to support prostate health while other free-radical scavenging herbs like cinnamon, oregano and rosemary protect and sustain.* The addition of supercritical ginger and turmeric extracts maximizes bioavailability and efficacy.
New Chapter has formulated an exceptional organic probiotic alternative to isolated or USP vitamins and minerals. All of our vitamins and minerals are cultured in organic soy using nature's most prized and studied probiotics, featuring Lactobacilli acidophilus, bifidus, rhamnosus, and Saccharomyces cerevisiae. New Chapter's Probiotic Nutrients deliver biotransformed vitamins and minerals in their finest cultured form, much in the same way as miso, kefir, tempeh, and yogurt. Your New Chapter nutrients:
Supports healthy prostate and liver function
Promotes energy and optimal immunity
Are easy to digest, even on an empty stomach they're cultured whole food!
Deliver essential nutrients in their safest and most active form within the infinite complexity of whole food.
Provide an energizing and protective array of phytonutrients and ferment metabolites, including cultured soy isoflavones, beta glucans, bacteriocins, glutathione, lipoic acid, and enzymes.
Suggested use: Three tablets daily. Can be taken anytime, even on an empty stomach.
Supplement Facts
Every Man II
Serving Size: Three Tablets Contain:
 
APS
%DV
Probiotic Nutrients
 
Vitamin A † (100% as beta-carotene)
5,000 IU
100%
Vitamin C †
60 mg
100%
Vitamin D3 †
1000 IU
250%
Vitamin E †
30 IU
100%
Vitamin K1 †
70 mcg
88%
Vitamin K2 (MK-7)(from MenaQ7)
10 mcg
12%
Thiamin - Vitamin B1 †
8 mg
533%
Riboflavin - Vitamin B2 †
5 mg
294%
Niacin †
20 mg
100%
Vitamin B6 †
10 mg
500%
Folate †
200 mcg
50%
Vitamin B12 †
50 mcg
833%
Biotin †
300 mcg
100%
Pantothenic Acid †
25 mg
250%
Calcium † (from Algae)
30 mg
3%
Iodine †
90 mcg
60%
Magnesium † (80% cultured, 20% from Algae)
10 mg
2%
Zinc †
15 mg
100%
Selenium †
100 mcg
143%
Copper †
1.5 mcg
75%
Manganese †
2 mg
100%
Chromium †
100 mcg
83%
Molybdenum †
50 mcg
67%
 
 
Mixed Carotenoids †
3 mg
 
Herbal Blends
 
 
Prostate Support Blend [Saw Palmetto Extract (fruit), Pumpkin Seed Oil (seed), Nettle Extract (root)]
180 mg
 

Stress/Energy Support Blend † [Organic Schizandra (berry), Organic Maca (root), Organic Chamomile (flower)]

100 mg
 

Cardio Support Blend † [Organic Fenugreek (seed), Organic Oregano (leaf), Grapeseed Extract (not cultured), Organic Hawthorn (berry and seed)]

100 mg
 

Digestive Support Blend † [Organic Aloe (leaf), Organic Peppermint (leaf), Organic Coriander (seed), Organic Cardamom (seed), Organic Artichoke (leaf)]

80 mg
 

Immune Support Blend† [Elderberry Extract (Sambucus nigra) (berry), Organic Eleuthero (root), Organic Astragalus (root)]

60 mg
 
Herbal Extracts
 
 

Ginger (rhizome) 9.6 mg hydroethanolic extract, and 2.4 mg organic supercritical extract

12 mg
 

Turmeric (rhizome) 9.6 mg hydroethanolic extract and 2.4 mg organic supercritical extract

12 mg
 
• Daily Value not established
Lithothamnion: (L. calcareum and L. corallioides)
Nutrients and herbs are cultured in organic media that may contain: organic milled soy,
Saccharomyces cerevisiae (organic yeast: active and inactive), organic maltodextrin, organic
gum acacia, organic orange and lemon peel - natural sources of bioflavonoids, organic
carrot powder, organic alfalfa powder, Lactobacilli (L. acidophilus, L. bifidus, L. rhamnosus)
and enzymes (deactivated).
§ MenaQ7™ is a trademark of NattoPharma, Norway. International patents pending.
Other Ingredients:  Organic gum acacia, silica, lac resin, and carnauba wax.
Contains: Fermented soy.
Naturally gluten free. 100% vegetarian; no artificial flavors or colors.
Caution:
As with any dietary or herbal supplement, you should advise your health care practitioner of the use of this product. If you are nursing, pregnant, or considering pregnancy, you should consult your health care practitioner prior to using this product.
SKU: 0331
UPC: 727783003317
Distributed or manufactured from New Chapter Nutrition. See more
New Chapter Nutrition
products.
Login for Details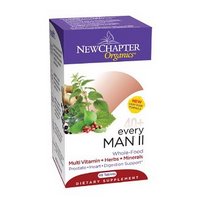 FREE SHIPPING
Compare to these:
Explore More Products